Support These Causes While Celebrating Halloween this October!
Halloween is a great time to dress up in scary costumes but that doesn't mean that is all it can be used for. It can also be used to show your support to causes such as Breast Cancer and Domestic Violence Awareness, which are also affiliated with the month of October. Here are some product suggestions and makeup how-to's for a great Halloween look on Zoom or any other socially-distant activity you are participating in this year.      
Activism Halloween Makeup:
In support of Domestic Violence and Breast Cancer consider going with pink and purple make-up looks. Florence by Mills has a few different ways for you to add pink to your look; their Bouncy Cloud Highlighter in Rose Glow is an amazing pink. It goes on smoothly and lasts a long time. She also has lip glosses in 'get glossed.' They are high shine and packed with color! I also found it to be very moisturizing. Mellow Mills in Get Glossed Lip Gloss is a beautiful pinky tone that is great for everyday looks but also a variety of Halloween looks especially with clear masks becoming a thing recently.  The lip glosses are great for virtual Zoom parties where you don't have to worry about masks or social distancing. Bert's Bees tinted lip color in pink blossom is an amazing lip balm that will give you a nice pink flush to your lips while keeping them moisturized for hours. 
Hourglass's Ambient Lighting Blush in Sublime Flush is a beautiful pink blush that contains a hint of lilac, giving you the perfect glow. This blush is perfect for many looks, including a sweet baby doll look or a broken baby doll look.  I am absolutely obsessed with the color. It isn't overbearing and creates a luminescent look, and who doesn't like to glow? If you want something with a little more rouge to it, At Night from Hourglass, a brick red color is perfect for combining a rouge tint and a luminescent glow.
 Uz by Flowfushi has a baby pink eyeliner and a royal purple, both are equally beautiful. The liner goes on easily and stays all day and is great for creating makeup looks!
If you want to go for a purple look, which is not just a Halloween color staple but also the Domestic Violence Awareness's support color, Kylie Cosmetics The Purple Palette Kyshadow. It is currently on sale at Ulta for $15 (and who knows how long that will last!) It has various shades of purple, so if you want a smokey look or a light look you can easily get both with Kylie's Purple Palette. You can do a simple eyeshadow look or go diva style and pack on the pigment with the shadow extending to your eyebrows. You can even try putting the purple on your cheeks as a blush shade!
Nomad Cosmetics also has pastel purple in thier Tokyo Harajuku Palette as well as glitter purple in addition to pink colors as well. 
Nails:
You can't leave your nails out of the fun! Orosa Beauty's Piggy Pink, Baecation as well as Beachy Sunset, are pinks and purples from their Costal Craze Collection, their collaboration with influencers Charlie and Dixie D'Amelio. These are great colors for those looking for regular nail polishes. If you are a gel nail lover, Le Mini Macaron's Strawberry Pink is a beautiful pink that comes in a kit. In truth, Le Mini Macaron has more pinks to count on, so if you are looking for a subtle to bright pink you will be able to find it here. They also have a few purples including Lilac Blossom, which is a pastel purple. You can find all their purples here. Le Mini Macaron also has a collection called Petit Bouquet Les Minis Gel Polish Trio, which include a pink, a purple and a lavender/blue-gray color.
For nails you can do a variety of designs if you are going for a traditional halloween look. One of my favorites include dripping blood and Jack-O-Lanterns.
I used Le Mini Macaron in Midnight Blue  and topped it with their Velvet Matt Topcoat. Then I used a red, Pomegranate to simulate the blood dripping.
For the Jack-O-Lanterns, on my thumb and pinky I used the same colors.  I used 'Orange Drink,' a holographic color from halotac. Once that dried completely and I mean 100% dry no stickiness I applied a nail vinyls  from WhatsUpNails and covered the vinyl with Black Magick,   (yes it is spelt magick) a black holographic nail polish from Maniology. I then topped both my pinky and thumb with the 3x shine gel top coat from Le Mini Macaron.
Accessories:
Crescent Crystals has some amazing bling masks that you can use to showcase your breast cancer support on Halloween! Among her products is a Neon bling line that glows under black lights! Perfect for Halloween! Her line includes a Neon Pink. She also has a rainbow bling mask that often gives off a pink sunset vibe! Her products are beautiful and handmade but look like it's factory made. 
Thier aqua bling mask is great if you are dressing up as Dorothy from the Wizard of Oz or Belle in her pesent outfit from Beauty and the Beast and even Ariel from The Little mermaid. I am constantly getting compliments on my aqua bling mask.
Marc Defang has a set of three pink Cooling Nylon Streachable Face Masks. They are breathable, cool and stretchy so they fit all face shapes. They are machine washable, and also come in a three pack of blue or black as well as an assorted three pack with one of each color.
Hair extensions is something that is often done to show support for any organization/cause. Some salons aren't doing extension or other Breast Cancer Awareness fundraisers this year, however, Salon Artique on Long Island is one of the few salons still doing them and donating a portion to charity!
If you are going for a movie star look, shades are a must and if you want to go pink to show your support for Breast Cancer,  brands like TopFoxx have a variety of Rose Gold Shades to choose from. The shades are very comfortable and the mirror ones are truly like mirrors and can be used to touch up your face!
Halloween Makeup Looks:
The easiest way to create halloween makeup looks is to use Tattoo Stamps from Milk Cosmetics. Priced at $12, you can get a few and just stamp them all over your face. If you feel daring you can take an eyeliner and outline the stamps. And if you were looking for a faded look instead of deep black wait for it to dry, and then take a damp washcloth or paper towel  and go over it. The stamp will look a bit faded and you can leave as is, or use a colored eyeliner to go over it. 
For a starry eyes look or rather starry faced look, I used the stars left over from my glamglow mask and kiss adhesive to stick the stars on my face. I added in sailor moon's body glitter from ColourPop's Sailor Moon collection. The body glitters Moon Legend is pink and Moon Prism Power is purple. You can apply the body glitter on top of bare skin or any color for a nice pop and a starry look effect,
Another easy one is a spider web! From the outside corner of your eye or all around your eye you just need to draw lines using any sort of liner straight out and connect them with u shapes. 
Clown: You don't have to go all 'It,' but a simple clown look is easy to do. You can take a liquid eyeliner pen and draw a diamond shape around each eye. For a simple and quick look simply fill that in with a solid color. You can also make it more intricate by drawing stripes or even making a leopard print. And if you pair it with Hourglasses High Intensity Refillable Lipstick on the Brick Red shade of At Night, you are sure to get a hauntingly good look.
Butterfly:
You don't have to turn your whole head into a Butterfly, but rather you can draw wings on the ends of your eyes. With an eyeliner pen, (I prefer liquid) draw a half circle and a connecting smaller half circle. Then on the top of the bigger half circle make a point and repeat on the lower circle. Afterwards taking colorful shadows such as Nomad Cosmetics Tokyo Harajuku Palette or Cartagena Magica Palette  fill in the circles and your butterfly wings, then taking the eyeliner pen make short lines sectioning the spaces inside the wings. Use the same liner you used for the butterfly wings for your eyeliner. For an extra effect use a white eyeliner, concealer or eye shadow and put small white dots on the wings. Plus you can also double your butterfly look with a coordinating reflective rainbow Butterfly Mask from Crescent Crystals. 
Lisa Frank's inspired leopard is an easy and quick way to get a halloween look. I used Patrick Starrr's Point Made 24 Hour Liquid Liner Pen liner with Nomad Cosmetics in Tokyo Harajuku Palette. All you have to do is make 3/4 circles around your face with a liner and then color them in with various bright pastel colors.
Another popular one is a fawn. Take a brown color and start from the tip of your nose and go upwards as if you are contouring your nose. Once you get to your eyebrow blend outwards all the way to the side of your hair. You can use white makeup to make white dots, use micellar water on a q-tip or Neutrogena Vitamin E Makeup Remover Eraser Stick to clear off the brown makeup to make dots. For the later three make sure you also use a q-tip to dry the area off completely before applying a white color.  Once your halloween night is over, don't forget you need to take the makeup off! The Makeup Eraser is great for that, but depending on how much makeup you have on you way want to use a cleanser as well. If you skin is sensitive foaming cleansers may be too rough on your skin, however, I have found that KylieSkin Walnut Face Scrub and KylieSkin Foaming Face Wash used together are amazing at getting very thick makeup off easily without irritating the skin. CeraVe also has numerous cleansers that are great for sensitive skin and removing makeup. After all that makeup is off make sure you don't forget to rejuvenate your skin. I find First Aid Beauty's Ultra Repair Cream is great for that regardless of what type of skin you have.  If you notice any breakouts from all that makeup, which can occur, my go to is Ellis Day Wild Resilience. It is a serum and has literally cured my pimples overnight!
I hope this Halloween list inspired you for any last minute Zoom party invites you may have received this week. No matter what you choose to do this Halloween remember to celebrate safely and have fun!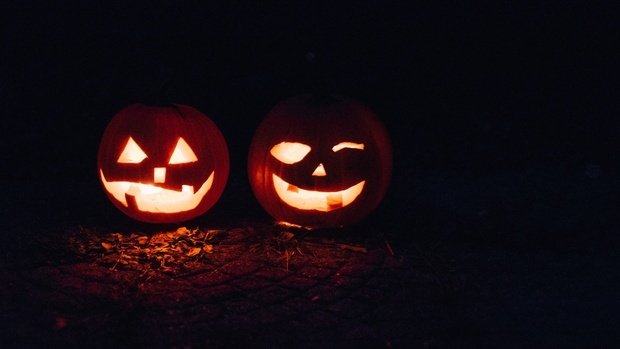 Photo by Beth Teutschmann