As the semester comes to a stressful end, it's hard to find an outlet from assignments. Some turn to Hulu, but those advertisements are irritating. Others turn to Netflix, but those episodes seem to be rather lengthy. Others have turned to one of HBO's newest shows, Insecure. The half-hour commercial-free episodes follow Issa Rae, who is the creator of the show as well as the star. Issa Rae teams up with writer Larry Wilmore and director Melina Matsoukas to create the series that breaks common stereotypes and misperceptions of black women.
In a world where television prefers to show black women as either strong and independent (Scandal, How To Get Away With Murder, Being Mary Jane) or fighting with each other over petty drama (any reality television show on VH1 or Bravo), it's gratifying to see a perspective that most black women can actually relate to.Insecure follows the life of Issa Dee, who lives a humorous life in Los Angeles, working at a non-profit youth organization. Each episode begins with Issa finding herself in an uncomfortable situation, making her feel… insecure. She lives with her long-term boyfriend, where the relationship seems to have dulled out. In every episode she finds herself confiding in Molly, her best friend who has an equal amount of insecurities. The successful and stylish lawyer Molly has terrible luck with men, so she finds herself confiding in Issa just as much.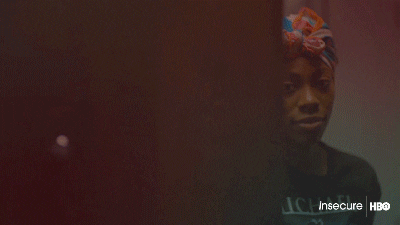 To many, Issa Rae may be a name you have never heard of. But to others, we're cheering on her success. She started off on Youtube, creating her own cluster of mini-series. The series take on general themes of relationships, community issues, and pop-culture. Her most successful Youtube series, The Misadventures of Awkward Black Girl (2011), has striking similarities to Insecure.
In the YouTube Series, it follows the life of "J" played by none other than Issa Rae. Each episode has J in an awkward situation, and as the episodes unfold, she continues to deal with issues such as relationships, crushes, and co-workers. Those awkward moments are transferred over into the HBO series, along with the battles she faced. In Insecure she finds herself working amongst less-than-intelligent bosses and coworkers, as she was in TMOABG.
Both the series appear to be parallel with Issa Dee's real life, or at least have similar qualities. Both the Youtube and HBO series frequent Issa and J coping with stressful situations by writing and performing raps. Her amateur lyrics express the characters' true and raw emotions as she uses her raps to face what's really bringing her down.
Another striking similarity is how the characters deal with ignorant and brainless questions and comments hurled at them by everybody. Both Issa and J react to the offensive remarks by telling off the offender with rage and vulgarity… only for it to be revealed that the outburst was a figment of their imaginations. Wishing they could reprimand those making the statements, both characters respond in passive aggressive ways.So it seems that Insecure really is a continuation of TMOABG. With better production quality, Issa's message has not changed since it hit the big screens, as the first season of eight episodes just finished. Insecure is making strides, being the first HBO series with a black female lead (a little late for firsts, right?).
The series focuses on both Issa and Molly's relationships. Issa struggles between two men: her current boyfriend, where the flame in the relationship has burned out, and her ex, where she's constantly wondering "what if". We watch as Issa makes risky decisions that keep us on our toes. The viewers want her to have a successful relationship… but with who?  While Issa can't choose between two men, Molly can barely find one. Although she puts herself out there in the dating world, she fails to hold the interest of a man for more than one night. As she goes on her dates, we see where she continuously fails in the dating process. When she finally meets a man who seems perfect, trying to accept his deviating past isn't as easy as she thought. There are many reasons for the show's success, from the writer's comedy to the depth of the situations. Yet, what many seem to love about the show is its relatability. Black women who don't fall into either category mentioned earlier, often find it difficult to relate to any of the characters put on mainstream television. In an interview with FreshAir on NPR, she described how she always felt out of place growing up, saying "People always said that I talked like a white girl. ... I was just out of place."
Many people understand that feeling, whether it be that specific situation, or just feeling out of place. Issa Rae channels her own life insecurities into each episode. Finally being able to watch a television show with similarities to one's own life is gratifying. But the best part about this series is that you don't have to be a black woman to enjoy it. Anybody can enjoy it, because it provides a different perspective to young adulthood. The circumstances she finds herself in are relatable for everyone. Watching the episodes can give great insight as well as laughs to the humorous pop-culture references sprinkled in each scene. 
So if you need something to do while you take a break from studying for finals, Insecure will definitely entertain you, giving you positive energy to finish the semester.