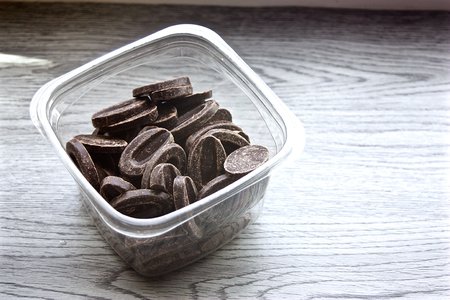 During the quarantine, I have had a lot of extra time on my hands and have been able to try out new baking recipes. I have made everything from vegan banana bread to homemade granola. Last night, my sister and I were craving something chocolate but didn't want to go through the whole process of making brownies. Instead, we decided to make FUDGE! I had never attempted to make fudge before so it was new to me.
It only requires three ingredients:
one 14 oz can of sweetened condensed milk

2 Tablespoons of butter

3 cups of chocolate chips
For the chocolate chips, we decided to make it with 1 ½ cups of dark chocolate chips and 1 ½ cups of milk chocolate chips.
All you have to do is put all of the ingredients into a saucepan and stir until the chocolate chips completely melt. Then, you pour it onto a tray that is covered in parchment paper.
We then were debating about what toppings to put on the fudge. We were deciding between crushed Oreos, crushed almonds, or sea salt and decided to put sea salt on the top.
After putting your toppings on, you just put the whole tray into the fridge and then cut into cube sized bites. It didn't take long to cool and took probably 10 minutes to prepare.
I think we both agree that this is one of the yummiest and easiest desserts we had ever made and we were shocked that it only requires three ingredients! I would highly recommend this recipe and we will definitely be playing with the toppings more in the future.