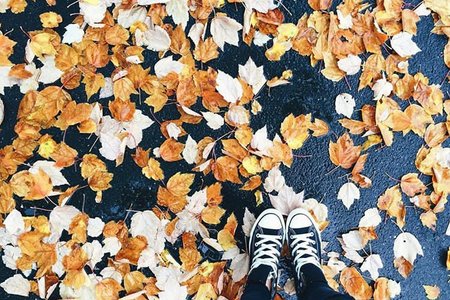 Siena College: Fall Perks
"I'm so glad I live in a world where there are Octobers," once said L.M. Montgomery, from Anne of Green Gables. It's true, I am glad, and I am particularly glad that I live on a campus where there are Octobers, because there is something very special about being at Siena College in the Fall months. From Fall foliage on campus and off, to tasty treats that define the season, here are just a few of the perks of living at Siena College in Autumn.
1.

Campus Trees with School Pride

A lot of college campuses look pretty in the Fall, but few have leaves that change to match their school colors. At Siena, for a solid two weeks barring any severe weather, long walkways throughout the campus take on breathtaking greens and golds. It's almost as if the trees sway in the breeze to the tune of "Saints Go Marching." As midterms roll in and the days get shorter, the leaves make up for the lost sunshine by painting campus in colors that look like they were photoshopped. I will never forget the first day that I walked outside to see our green and gold (and red, orange, pink...etc) campus. It's part of what makes Siena feel like home.

Original photo by Kelsey Baron

2.

Pumpkin Spice & Everything Nice

There are few things as satisfying as walking through beautiful foliage while drinking a hot pumpkin spice latte or apple cider with (if you're gluten free like me) a delicious rice krispy treat. Starbucks in the SSU always starts serving the best seasonal Fall treats right at the correct time. It feels like as the first leaf turns to a pretty color, pumpkin spice and salty caramel appear on the menu. Plus, if you are working on using your meal swipes, the dining halls join in as well, providing fresh cider donuts and fun themed dinners. 

If your Fall favorites involve horror movies and jump scares, there are plenty of Autumn activities for you in the Capital Region. Corn mazes, pumpkin patches, haunted houses and scary movie showings are all staples of the season and are easily accessible to Siena students. The school even organizes a trip to the Field of Horrors in Troy, New York. Just 15 minutes away, the field holds five separate haunted houses with different frightening themes, and terrifying characters around every corner on the premises. With plenty of other opportunities for terror around the campus, there are many options to try out…if you dare!

Siena has the best location. Close to a little city, close enough to the big city, and only an hour or two to some of the most beautiful views in the Northeast. Lake George, about an hour away, has delicious food, downtown fun, and plenty of hiking trails from easy strolls to mountain day-hikes. If you're looking for something a bit more remote and some more challenging hikes, the Adirondack State Park and Lake Placid is only about a two hour drive from our home on Loudon Road. Here you'll find small town charm, quirky shops, and (my personal favorite) the 46 Adirondack High Peaks. Perfect for weekend day long or overnight excursions, High Peaks are challenging hikes that range from 3820 feet to 5344 feet in elevation. These hikes are challenging for even the most experienced hikers, so start small with one of the shorter hikes Cascade Mountain and Porter Mountain and work your way up. Get a group of friends together and set a goal! This Fall, my friends and I climbed Giant, Ester and Whiteface Mountains.

Original photo by Kelsey Baron
One of the best things about being at Siena in the Fall is that while everything around you is changing, the friends by your side will keep you grounded. Campus walks to admire foliage and procrastinate midterm studying, late nights spent by the fire pit outside of Casey's, and sunny days playing cornhole outside of a Maclosky townhouse make even the chilliest, rainiest, most stressful days seem insignificant. The leaves might change, but Siena friendships last a lifetime.