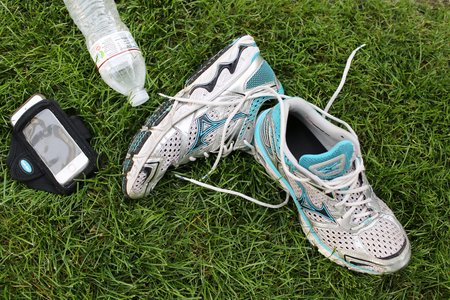 The At-Home Workouts I Loved While Gyms Were Closed
Hearing the gyms would be closed for three months or longer was a sign to me that I needed to find something else to do to keep active, but stay safe at the same time! I've always been someone who enjoys physical fitness and activity, but not having the gym as an option allowed me to be a little more creative! Over the four months of quarantine, I found new outlets that allowed me to stay in shape while getting in a daily dose of movement, even if it was in my bedroom! I've narrowed it down to three of the best at-home workouts I used while gyms were closed!
1.

Sydney Cummings At-Home Workouts on YouTube

When I tell you I have never felt more accomplished after a workout, I mean it! A friend of mine recommended that I try her workouts that she posts daily, and once I completed one of them I knew that I would continue using her as a trainer! All of her videos are free to watch, which is amazing, and her workouts change every day, which I found very useful. The only equipment that you need is dumbbells and occasionally resistance bands, but if you don't have these, you can still do the workouts! She also throws in some no-equipment videos, so look for those if that is what you'd prefer! I never felt like I was repeating the same things day after day, and I always felt a burn afterward! She also has her own platform known as the Sydney Squad that you can visit for more tips and information (as she is a trainer), as well as her own brand of apparel!

2.

Planet Fitness At Home Workouts

In usual circumstances, I would be a member at the Planet Fitness that is closest to my house, and that's where I would preferably work out. Since I still had my membership, Planet Fitness allowed all members to download their app and follow along on Daily At-Home Workouts that trainers posted! My mom and I found these workouts to be a good start to the morning because they were versatile for any level of ability in terms of skills, balance, and strength! Similar to Sydney Cummings, it was something different every day, which helped in the sense of not getting bored quickly and being surprised by what was coming next! Since they uploaded the videos to the app, you must be a member to access them. The alternative to the app is to friend the Planet Fitness account on Facebook and gain access to the United We Move section, which produces similar at home workouts!

Following some of the trends that were floating around during quarantine, I tried the Chloe Ting workouts to see if they were worth the hype! She designs a program with different videos to complete each day to lead you towards improving the strength in one target area. She also adds or takes away videos depending on what she thinks would best benefit the design of the program. All of her programs are free and take different amounts of time to complete anywhere between two weeks and eight weeks. I tried out the two-week shred and didn't see any immediate results, but I felt a burn while doing it! Her workouts are fast, back to back, and full of exercises with no equipment to give you the best workout in a short amount of time.
There are so many more online resources that are available now in the realm of at-home workouts, but these are just the few I used most over my time in quarantine! It's so easy to find new platforms that include workouts, and I always think it's fun to explore the options to find which style you like best! There have been a few trials and errors in finding which types work the best for me, but once I did I used them consistently! Occasionally now, instead of heading to the gym, I do workouts at home with one of these amazing programs that I've discovered! Working out at home is easily one of the best ways to stay fit, even with limited time on your hands!