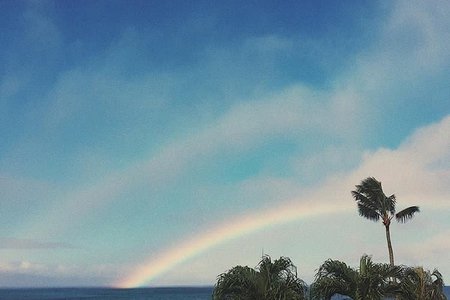 Tessa Pesicka / Her Campus
"Try to be a rainbow in someone else's cloud."
—Maya Angelou
With everything going on in the world as of late, it is extremely hard to feel anything but despaired. Many of us are struggling with the loss of motivation, lack of productivity, and, for several, moments of sadness/depression. These things are just a few examples of the rollercoaster of feelings and emotions that people all over the world have been experiencing. These unprecedented times are rough for everyone, and we have no way of knowing for sure when things will get any easier.
Despite there being many people who are suffering during this time, there are also a good amount of those who are handling things quite courageously. For instance, our essential workers such as doctors, nurses, first responders, grocery store clerks, and many others. These individuals are literally fighting and working to keep us healthy and safe each day. However, these essential workers aren't the only ones providing light within these dark times, many everyday people are and have been doing things to be—as the late poet Maya Angelou would put it—a rainbow to someone else's cloud.
For instance, a man in the United States decided to leave out tissue, sanitizer, and other essential supplies —that due to this pandemic has been difficult to come by—for workers like mail carriers and UPS deliverers. It was such a sweet and simple act of kindness that I am sure put a smile on a lot of people's faces. Another example of someone being a rainbow would be actor John Krasinski— "Jim Halpert" from the hit NBC sitcom The Office—and his new YouTube show called "Some Good News" or SGN.
Mr. Krasinski stated in the first episode of SGN that he wanted a platform to showcase all the good stuff that was happening all over the world since the good news never gets as much attention as the bad does. SGN has only had two official episodes, both of which views have surfaced between 8 to 14 million, and the channel already has 1.48 million subscribers. I personally love the fact that celebrities such as himself have been trying to do things to bring joy and a bit of ease to individuals lives.
It is very important for those of us who are a bit stronger and more confident in this given situation to stand out and be that rainbow to other people's clouds. So many of our peers, loved ones, friends, neighbors, and so on are hurting. This disease and quarantine have caused them a great deal of stress and has completely flipped their world upside down. If you have the strength and the courage to be a rainbow in somebody's life, please do. It will not only benefit them, but it can also serve as good karma for you. My hope is that there will be more rainbow people and good news in this world sooner than later, but for right now let's just take each day one at a time.