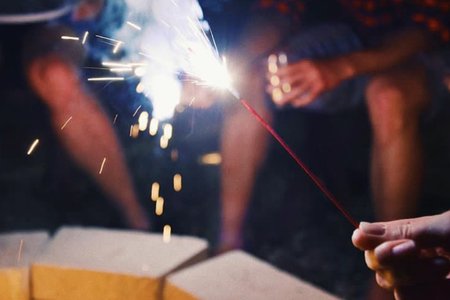 Anna Thetard / Her Campus
How to Make a New Year's Resolutions List and Stick With It
The year is ending and that means that it's time to start making your New Year's resolutions for 2020. What makes it even more special is that next year is the start of a new decade. This might motivate you more to actually stick with those resolutions. Most of the time, people make resolutions but end up failing because they simply don't have the willpower or the motivation to continue on with it. I personally am guilty of this which is why I end up not making resolutions in the first place.
If you're looking for a way to get started with your resolutions list, keep on reading.
1.

Start out with smaller goals 

Most people tend to set broad goals such as losing weight or saving money. This usually goes nowhere because then people will find ways to get around it. It's better to start with small, specific goals that you know you are able to accomplish and track. Instead of saying "lose weight" try saying "go to the gym 3 times a week."

2.

Physically write out those goals 

You've probably heard of the saying that writing things down will help you retain it better. Not only will it help in that sense, but writing things down will most likely motivate you to actually do them. By writing down your goals, you're also able to put them in a place where you will look at them every day to remind yourself.

3.

Share with a close friend 

Some people like to publicly share their resolutions with the rest of the world through the use of social media. As for others, sharing with close friends is another option, especially if they aren't comfortable sharing personal thoughts with everyone. Sharing with someone close to you can also benefit you because they can keep you remain accountable as well.

4.

Keep yourself in check 

No one knows you better than yourself. You know when you'll fall short and you know when things might not go as planned. Change has to start from within so it's important to have a positive mindset throughout the process. It's okay to not follow through with everything you may have wanted to happen, that's what makes us human. We will learn as we go along and that will take a lifetime of experience. 

5.

Always reflect on your progress 

Reflecting is definitely something that should be done daily in order to ensure that you're meeting your goals. This part can be done however you would like it to be. Some people like to jot down their thoughts and progress in a journal, some might use an app since technology is on the rise these days and some might just meditate upon their progress and go over what they can improve on. After doing so, it's important that you acknowledge yourself for how far you have come along. Be proud of yourself because that's only going to motivate you more to stick with these resolutions.
Keeping up with resolutions is definitely not an easy thing for most people, but it also isn't impossible either. No one is perfect but we can always strive for perfection even though we fall short sometimes. As the new year rolls along, remember to stay true to yourself and keep working hard because it will all be worth it in the end.