5 Apps to Help You Have a Fresh Start This Semester
Not quite buying into the new year, new you sentiment that's been trending across social media over the past few weeks? It's easy to feel jaded when it comes to New Year's resolutions, even during the start of a new decade, since many of them are so short-lived that they barely last into the second month of the year. Sometimes resolutions fail to work because you pledge to take on a task that's so drastic from your everyday routine, like running a mile each day when you previously never worked out, that you struggle to stick with them after that initial post-holiday motivation fades. The argument that New Year's resolutions aren't really worth making to begin with because the start of a new year doesn't mark a big difference from the previous one does have some truth to it, but new year or not, there is never a wrong time to make changes in your life. Whatever your resolutions may have been a few weeks ago, these apps might help you develop small changes to work on throughout the semester.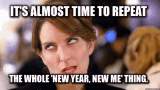 (GIPHY)
If you know that you want to improve something about your life, but just aren't sure what, then The Fabulous is the perfect place to begin. This app helps you establish morning, afternoon and evening routines starting with a task as simple as drinking water when you first wake up. From there, users can build up their individual routines through customizing the tasks best suited for them and follow along with the app's set journeys, which aim to help with specific goals such as feeling energized in the mornings and mindlessly scrolling through your phone less. Scheduling out three of these routines during the course of a day may sound daunting, but The Fabulous runs on the idea that users should start small in order to make their goals a daily practice. Users can even customize how much or little time they want to spend on certain tasks, if they want to set a time length for them at all.

Calm is another great app to download for guidance on how to start learning a specific beneficial task. With meditation guides surrounding topics of stress, sleep, anxiety, focus, and personal growth, there is bound to be something for everyone wanting to start meditation on this app. Beginners to meditation may at first be slightly overwhelmed with the vast amount of content on the app, but there are enough meditation guides specifically developed for new users to teach them how to navigate the practice. Calm also includes an entire sleep stories section outside of meditation, featuring narrated stories meant to lull you to sleep. For more information on the benefits and limits of meditation, read here.

Working out on a more regular basis is a common New Year's resolution that can be difficult to stick to. The Workout for Women app includes exercises for users of all fitness levels that can easily be done in a dorm room or apartment to save you the stress of having to go to a gym each day. Most of the workouts can be completed in under fifteen minutes, depending on the level of intensity users choose, and target specific areas of the body such as legs or abs. Although the titles of some of the fitness routines can be a bit retroactive, like one focusing around a bikini body, the workouts themselves are easy to follow and ideal for those who want to exercise more but not push themselves too far. Workout for Women also includes a handful of yoga exercises at easy levels.

Probably one of the most relaxing games you'll ever play on your phone, #SelfCare is a role-playing game centered around the idea of looking after your own well-being. Activities include simple mini games such as color-matching clothes in a laundry bin, taking care of plants, tarot card readings, journaling, and even a digital cat to pet. After completing enough tasks in the game that the sun meter at the top of the user's screen rises, they are gifted with a token (usually some type of flower or crystal) to place on the altar above the bed. While this app does not necessarily influence direct results on users as some of the other ones on this list might, #SelfCare reminds you to practice self-care in your own daily life and can help alleviate a stressful day in as quickly as five minutes.

A journal app that allows you to track your moods, Reflectly lets you rate your day on a scale ranging from really terrible to completely okay or super awesome. With each entry, users can then list the reasons for what contributed to their moods on any given day. In addition to writing down your thoughts as one would with a traditional notebook and pen, the app lets users view their own stats after a week of use to get a better understanding of how their environment impacts their moods. Consider Reflectly a beginner's guide to journaling – users are not just writing down what happened in their day, but are able to fully reflect on their mindsets throughout the week to get a sense of their patterns. The app also prompts fun questions every now and then, asking users to think on topics such as what superhero they could live as for a day.
Changing aspects of your daily lifestyle for personal benefit may take some time at first. But the beginning of a new semester, or even a new decade, is a good a time as any to start.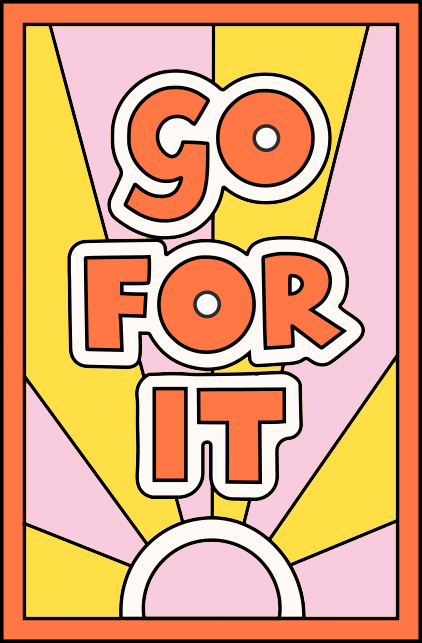 (GIPHY)