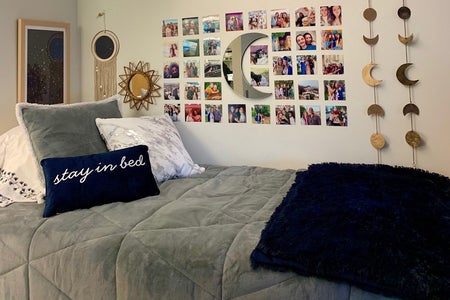 9 College & Dorm Room Essentials
For many of us, living in a dorm is the first time we've been living on our own. This big transition can feel very overwhelming & if you're anything like me there are certain items that you haven't even thought about because at home they were always available. Here's a list of 9 College & Dorm Essentials that have made my transition so much easier.
Laundry is an annoying but very necessary task. I have found that having a separate laundry bag makes it easier to carry your clothes and other supplies to and from the laundry room (especially if it's on another floor). I bought my laundry bag from Walmart.  

When you're busy and have to go to classes, clubs and meetups with friends, your phone and other devices can quickly run down or you can easily forget to charge it. Having a portable charger in your bag can save you from having to stop what you're doing to go back to your dorm and grab a charger, and save you from being worried that you won't be able to contact someone if you need to. 

College dorm rooms seem to never have enough storage space, so having extra storage drawers or cubes is a great way to have extra organization and space to put things where otherwise you would not have anywhere to put them.

If you enjoy snacking in your room or you just have a schedule that may not align with your school's dining hall, having your own mini fridge is great in order to keep food in your room and eat at any time. (It also helps to have a microwave in your room too.) This is also a great way to keep healthy snacksin your room without them going bad.

A lanyard is the best way for college students to keep all of their keys, student ID's's and other cards in one place. It's easy to carry, and is a great way to hold all of your necessities and lessen your chances of losing them.

When being involved in multiple classes, clubs, jobs and activities, keeping track of everything you have to do can be difficult. One of the best ways to combat this is by using a planner to write down what you have to complete throughout the week.  If this does not work for you, some other alternatives to using a planner can be using websites and apps like Google Calendar and Notion to keep track of the times and dates of when you have to do different tasks.

Similar to the laundry bag, having a shower caddy makes it easier to carry all your supplies that you would generally need for getting ready for the day and can also help keep your products separated from your roommate and hallmates. The shower caddy that I use is from Amazon.  

8.

Multi Purpose Cleaning Products

When buying supplies for your dorm room you tend to forget smaller things like cleaning supplies, but they are very necessary especially in a dorm room which seems to always be dusty. A Swiffer, or a similar multi purpose cleaning tool, can be used as a broom or mop & is also compact enough for easy storage. Personally I use a Swiffer which I got from Target.

When I first came into my dorm room it was a lot darker than I was expecting. Having extra lights really helps to brighten the room and just make it feel more comfortable, "homey" and fun. Whether it's fairy lights or trendy LED strip lights, they can really make a difference and brighten up a room.
Of course everyone has different things they may deem as "essential" and you will settle into your own routine, but these are items that hopefully you can add into your new lifestyle so that your main priority in college is your schoolwork, not stressing over things you may need in your shoebox sized dorm.