How to Keep the Peace This Holiday Season
The holidays can be such an amazing time of the year, but they can also be exhausting. 
It is not ideal to discuss topics you'd rather avoid or be forced to overshare your life to relatives you only see once a year. Holidays are supposed to be a warm, happy time – not something you dread. 
So, here are some tips to try and make your holiday season as enjoyable as possible. 
Stay Neutral. 
In the midst of this year's world-changing news, we expect controversial topics to be brought up. Try your best to steer conversations away from these topics for as long as possible, but when they do arise, stay neutral. 
We all have the freedom to voice our opinions so openly on social media, so when it comes to the dinner table, try to keep them in. If no one argues these topics, the conversation should end faster than usual. It may be frustrating as hell to keep it all in, but it is for the better when it comes to keeping the peace for a short amount of time. 
Steering clear of those difficult topics isn't too hard either if you're willing to speak up and ask general questions to other family members. Good questions include asking them to recall their favorite holiday memory, their funniest vacation memory, or stories from their own or other family members' childhood. These could all spark a happy, memory telling time where everyone chimes in to tell their side of a fond memory. 
If you are close with your relatives, then ask them more personal questions — how their work or school is going, what their favorite podcasts/shows are, what the biggest event in their life is right now, if they have picked up any new hobbies, what they are looking forward to, or if they have accomplished anything since the last holiday. 
Most people love to talk about themselves, and most people want their family members to be proud of them. So, start that conversation and let everyone have the chance to speak if they want to share. 
Suggest something everyone would enjoy doing.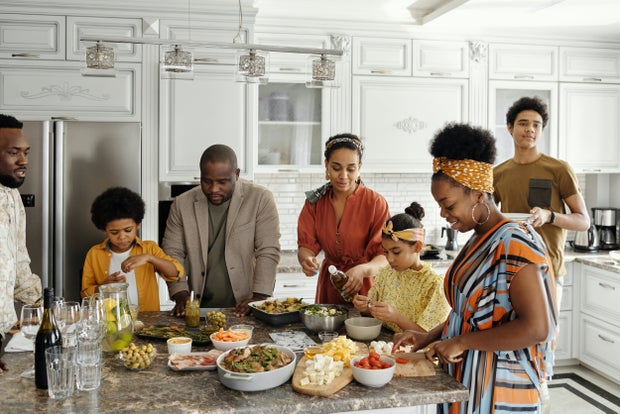 Photo by August de Richelieu from Pexels
Another way to avoid unwanted conversations is to minimize the amount of downtime you all have. If everyone is just sitting around, the opportunity to talk politics is up for grabs, so stay busy.
Suggest playing a board game or play with cards — A deck of cards opens the door to thousands of different games that can take up a lot of time. Make some friendly competition and have fun together. 
Drive around and look at the holiday lights in big neighborhoods. Turn on some holiday music, the butt warmers, and crank the heat! This is an easy, socially distanced activity that helps everyone get in the holiday spirit. 
Suggest a craft like making holiday decorations, a gingerbread house, or ornaments. Bake sugar cookies and have everyone decorate their own, then make it a contest. Everyone can vote on the best-decorated cookie before all the creations are eaten. Keep an open mind and allow yourselves to have fun together. 
You could have a holiday movie night. Everyone enjoys holiday movies and there are thousands of them to choose from. Watching certain movies every year can start a family tradition, too. My family and I do this with multiple movies like "The Grinch," "It's a Wonderful Life," and "National Lampoon's Christmas Vacation." 
We always have so much fun snuggling up to watch them together, and I look forward to it every year. 
Understand what you can control. 
No matter what happens at your holiday celebrations, the most important thing to remember is you can only control your reactions. You cannot control what happens during a family gathering or what anyone says while you're all together. 
So, if something happens that you're not happy about, remember not to blow it out of the water. Don't make anything a big deal if it doesn't have to be. Staying silent or giving a comment no reaction is better than lashing out. Responding in a very light-hearted way can help diffuse a situation as well.
Understanding this power you have can help keep the peace at the dinner table. Without fuel for a fire, the conversation will move on. This requires some serious self-control, but it is only for a short amount of time. This simple action can seriously make the holidays easier for everyone. 
Increase your self-care.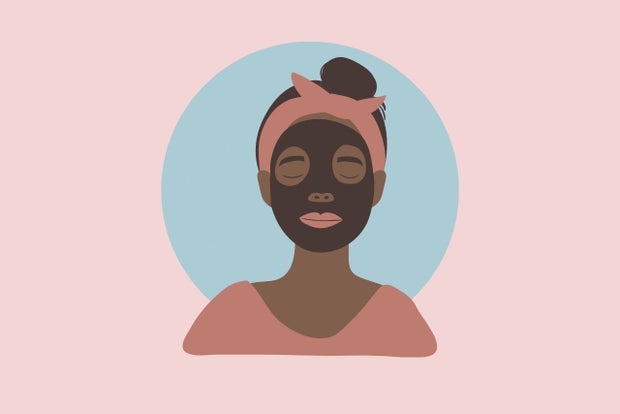 Original Illustration Designed in Canva for Her Campus Media
Since you're going to be putting a lot of effort into staying neutral and controlling your reactions, it is important to give yourself little breaks. Have time to yourself to keep your annoyances low — it is helpful and needed to fully enjoy the holidays. 
Sneak off to the bathroom for a deep breath or offer to take the trash out for some fresh air. If the weather is nice where you spend the holidays, go for a short walk. Getting active can help you clear your mind and destress a bit. 
Increase your self-care during your visit or the night before a gathering. Relaxing before a long day can set you up to be more balanced and less impulsive. Or, relaxing after a long day can help you destress and let go of all of the tension from the day. Either one helps, and it is super important to keep this in mind and make this time for yourself. 
Practice gratitude. 
Although the holidays can be a tricky time, try not to dread them with such a closed mind. Adjust your attitude and think more positively about it all. Go into it with an open mind and don't expect the worst from the important people in your life. 
At the end of the day, these people are your family and you wouldn't be here without them. Just be grateful you get to see them and you all get to spend time together. There are thousands of other families that cannot do that every holiday — and especially can't for this one. 
Instead of taking it all for granted, think of the amazing food you will have and the connections you can make. Think of the warm feeling of football on Thanksgiving, latkes on Hanukkah, thoughtful gifts on Christmas, or sweet potato pie on Kwanzaa. It is a wonderful time of the year.