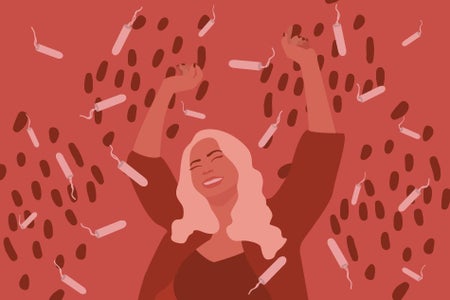 Adebusola Abujade / Her Campus Media
TreasurHER Comes to Pitt Ready to Tackle the Period Stigma
You slip a tampon up your sleeve when you need to use the bathroom during lecture so no one notices.
You pray that you don't bleed through your pants when your period comes earlier than expected and you don't have a tampon or pad on you.
You may even feel embarrassed purchasing a box of pads or tampons at the local convenience store, especially when a male cashier is ringing up your order.
The list goes on and we've all been there.
Whether or not you realize it, the stigma towards menstruation is ever present and impacts a woman's life constantly. Here in the U.S., 34 states still tax tampons and pads, and multiple national organizations classify these products as "luxury" items rather than a necessity. Women and girls living in poverty struggle to gain access to menstrual products; it can come down to the choice of a pack of pads or a meal. What can be done to eliminate these problems affecting the female population every day?
Enter TreasurHER, a national nonprofit organization with a mission to reduce the stigma towards menstruation and reproductive healthcare as well as make menstrual products and women's healthcare more accessible and sustainable. TreasurHER was founded by Pitt sophomore, Anushay Chaudhry, at age 16. While volunteering at women's shelters in her community, she was alarmed when almost all of the women told her that dealing with their periods was one of the biggest hardships that they regularly faced. She realized that there weren't any prominent movements nor organizations that were implementing initiatives that would serve women, thus leading her to start TreasurHER.
She's now brought TreasurHER to Pitt's campus, the organization's first collegiate chapter, and has a team with the same drive to make a difference in the realm of reproductive health. Although the organization is new to campus, Anushay and her team, including fellow sophomores Nabeeha Affan, Sean Steinle, Aliana Rao and Izza Choudhry, are hitting the ground running with projects and service work to make their goals a reality.
Below are just a few of Pitt TreasurHER's plans for this year:
Period Pilot Program – this project aims to make menstrual products readily available to students by stocking the bathrooms in the William Pitt Union with free tampons and pads.
Protecting and expanding women's rights – the chapter will be hosting a webinar on reproductive justice in the United States and discuss what students can do to continue to fight for it.
HERstory – they want to hear from you! They will be accepting and sharing stories of what you, the students, do to make Pitt a better place for women.
Service – the chapter plans on partnering with local charities and nonprofits that share the same mission of improving women's healthcare. One organization that Pitt TreasurHER will be assisting is Days for Girls, where they will be sewing and packaging reusable pads for girls in developing countries, with the efforts to keep them from missing school due to the lack of resources to manage their periods.
Inspired by her remarkable journey at such a young age, I sat down with Anushay to learn more about what her experience so far has been like.
Erin Lalli: What was it like bringing your national organization to a college campus?
Anushay Chaudhry: It was scary at first. I attended the Panther Leadership Summit, and I was the first student speaker in 13 years. Getting up there and talking about periods in front of renowned faculty was so nerve-racking! People came up to me and said they never knew it was an issue and wanted to help and get involved. I was so excited!
EL: Have you faced any backlash or discouragement while starting this organization and running it on campus?
AC: Yes. For example, we asked for funding, about $40, so we could buy and hand out free period products at our meetings – no questions asked to those who take them. They denied our request to do so. We would love to have their backing but it does not seem feasible at the time.
EL: Where do you see TreasurHER in the next five years?
AC: When I was 16, I was scared to even say the word period. Three years later, I would never have thought I would be leading a period pilot program and having support. We will only get bigger and do better from here. The drive that we have will help us implement initiatives that support our missions and change attitudes.
EL: What advice do you have for those who want to become active in this mission, whether through TreasurHER or another path?
AC: Talk about periods! Don't be afraid. Be in a position within yourself that period equity is a right. Have conversations and speak up for yourself and others.
EL: What advice can you give to those who want to start their own organization but aren't sure what steps to take?
AC: Find a mentor. Nadya Okamoto, who started Period, helped me with development and getting the first steps started. Mentors share the same enthusiasm and drive to help. Also, take advantage or Pitt's resources, such as their free lawyers for students.
Needless to say, Anushay and Pitt TreasurHER's ambitions are quite impressive and with the help of you, the Pitt students, we can expect to see positive changes on our campus.
If you'd like to get involved or want more information, check out TreasurHER's national website, their chapter Facebook page and Instagram.
Sources: 1