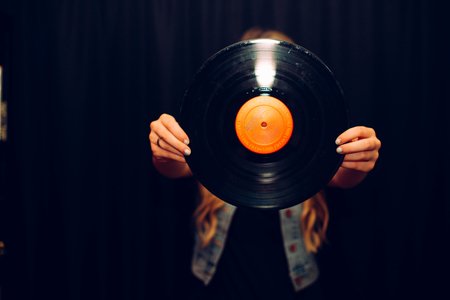 Breanna Coon / Her Campus
Album Review: "Three. Two. One."
Anyone who knows me knows I'm a huge Lennon Stella fan. Ever since her EP's release in 2018 I've been waiting for her debut album, and it's finally here. "Three. Two. One." was released on April 24, 2020, and is worth the wait. 
The record opens with "Much Too Much," which I had the pleasure of seeing her perform last year and have been counting down the days until its release ever since. The synth-y bop details a relationship on the brink of failing as the narrator debates on whether it's broken beyond repair ("what if I'm just a little much too much for you?"). This break-up seems to inspire much of the album, and on the next track "Kissing Other People," she describes moving on from an ex and the lack of guilt she now experiences in exploring new relationships. Much like that feeling of freedom, the track is perfect for dancing. 
"Games" features beats that sound like they came right from a Super Mario game as Stella sings about a love interest who likes to play, well, games with her emotions. She told Apple Music "this one is about falling into this trap- and I've fallen into it so many times… he'll wait two hours to text me, and then I'll wait two and a half because I have to prove that I care less than he does... It's so normal in our generation, and it's not about treating each other properly and respectfully and with love… it's just insecurities." 
Next comes "Fear of Being Alone," which is dark, unsettling, and unique while being incredibly catchy. The fast-paced beat and eerie vocal effects combine to perfectly represent the insecurity of clinging onto a relationship just for the sake of not being alone. "Pretty Boy" starts out with a guitar riff and soft, ethereal vocals that make it sound like it would be played on a beach and slowly adds in a hypnotic beat. Stella was inspired by "DJ duo The Blaze- their synth sounds and drums sounds are so watery and unique." She recounts a relationship in which she tried to push past the surface level, but her partner was too closed off. 
The album takes a turn with "Golf on TV," which finds Stella in a healthy, happy relationship. The ultimate feel-good, warm and cozy, listen-to-this-with-the-windows-down song, Golf on TV cleverly compares confusion over why people partake in open relationships to why people watch golf on TV! After that is "Older Than I Am," my absolute favorite on the album. Stella's trademark breathy vocals really shine in this one, especially when she belts the last line. While she didn't write it, she finds it incredibly personal (much like anyone listening); "when I heard this song for the first time, I was literally sobbing uncontrollably, and I was quick to put my vocal on it and dive in…" 
​
"Bend Over Backwards" is the most upbeat song on the record, and the most unique-sounding. Subsequent to that is "Jealous," which was co-written with FINNEAS (as in the amazing musician and brother of Billie Eilish)- a songwriting dream team if you've ever seen one. Not to mention it has one of the cutest music videos ever made- all home videos from Stella's childhood, starting with her as a baby in the hospital. Another tear-jerker is "Weakness (Huey Lewis)-" it opens with home video audio of little Lennon, for heaven's sake ("she [Maisy, Stella's little sister] just laid on me and she just fell asleep on me..."). Maisy is featured, and the lyrics are GORGEOUS; "when your eyes are leaking, that my weakness/when your smile's in pieces, that's when I feel it all." "This song was very much written about her and for her," Stella mentioned. "Save Us" is a beautiful, bright song that's also about Maisy; "the idea of no matter what, no matter where you go, no matter how fast you'll get there, I'll always be there with you." If that didn't make you cry, the last lines feature a sample from Donna Lewis; "I love you, always, forever/ near and far, closer together." Its heartwarming sentiment and overall ability to feel like a big hug places it in my top three. The very last song, "Goodnight," is a reluctant farewell. She doesn't want to say goodbye- just goodnight- so it doesn't have to end (much like how I feel about this album). 
Now, "Three. Two. One." is a no-skips album, which is not something I say in passing. It's a record you listen to from front to back- dancing, crying, singing along, and then pressing play again. The title was chosen because it's Stella's own countdown to baring her own soul and hoping fans can relate, which is exactly what she has achieved. If you haven't, do yourself a favor and listen to Lennon Stella's angelic voice on this album and its beautiful production and lyrics. You won't regret it.