7 Spring Road Races to Put on Your Calendar
As you guys may remember from an earlier post, I'm planning to run the Chicago Marathon in the fall! I've never run a marathon, but I've run a couple halves and feel like this is the next step. However, I'll admit, I haven't been the best with running in the winter in these freezing temps. The wind is brutal, the dustings of snow are tedious and the sidewalks usually have patches of ice on them. But I'm hopeful that spring is coming soon, and I can't wait to finally get back on the pavement (and off the treadmill) when the weather is nicer. Luckily, Chicago has a large running population, which means a ton of super cool and creative road races are right around the corner! I've compiled a list of some spring runs that could be just what we need to get out of our winter funk — check them out!
1. Shamrock Shuffle
Distance: 8K (5 miles), 2-mile walk
Date: March 24
From what I understand, the Shamrock Shuffle is a staple in the Chicago running world. Everyone knows about the city dyeing the Chicago River green on St. Patrick's day, so why not add a race to your schedule to enhance the festivities of the day! Plus, if you run this race enough times, you can earn automatic entry into the Chicago Marathon and not have to fundraise or rely on lottery like I did.
2. Bunny Rock 5K Run/Walk
Distance: 5K (3.1 miles)
Date: April 20
What's better than a fun race? A fun race and an egg hunt! And the Bunny Rock 5K Run/Walk has got you covered! This race seems like a cute way to kick off the spring season of running, and all participants receive a pair of bunny ears — how creative! I definitely want to give this race a shot, and you should, too!
3. Race to Wrigley
Distance: 5K (3.1 miles)
Date:  April 27
I ran Boston's Run to Homebase a few summers ago — which ended at the Red Sox's field, Fenway Park—so when I heard about the Race to Wrigley, I knew I wanted to run it, too! Ending at Wrigley Field, the home of the Chicago Cubs, this run should be on every Chicagoan's bucket list. Don't you want to step onto Wrigley Field? I'm not even from Chicago, and I know I do! Register before it sells out!
4. Cinco de Miler
Distance: 5 miles
Date: May 4
Races on holidays are always so festive, and I bet the Cinco de Miler is no exception. This year, the run will support Gilda's Club, which offers free programs to cancer patients and their family. We all know someone affected by cancer, so this run would be a special way to honor that person you know. Also, the weather will definitely (hopefully) be warm once May hits!
5. Night Nation Run
Distance: 5K (3.1 miles)
Date: May 18
I can't wait for the Night Nation Run! I signed up for this with some of my friends last month, and I'm already counting down the days. In reality, this run is more of a music festival, and singers, DJs, and other performers will line the course. I don't think the race even has an official timer! Night Nation is an exciting, fun race with low pressure, so runners of any level would enjoy it. Plus, I hear there's a sick after party!
6. Soldier Field 10 Mile
Distance: 10 miles
Date: May 25
For those of you looking for a longer run, here you go! Like the Race to Wrigley, the Soldier Field 10 Mile ends at the home of a beloved Chicago team, the Bears. This run not only will give you a good workout, but it will also give you an unforgettable experience of running on the Bears' field! The race will support Folds of Honor, which provides educational scholarships to children and spouses of those killed in war. What an important group to support on a Memorial Day weekend run.
7. The Color Run
Distance: 5K (3.1 miles)
Date: June 15
The Color Run is a classic! I did a Color Run a few years ago, and it was one of the most light-hearted and fun races I've done. Volunteers will throw colored powder at you, and by the end of the jog, you'll be a beautiful rainbow—but don't worry, the color comes out of your clothes! Usually, the finish line of these races has several different vendors, so you'll get to reward yourself with some treats when you complete the run! This year, race entry fees will support Back on My Feet, a national organization aiming to combat homelessness by leading runs for the homeless. It's a great program, so you'll feel good about where your money is going.
Learn more here!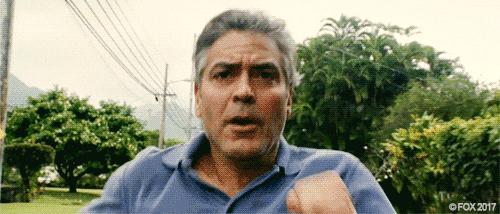 If George Clooney can run, so can you! 
Image Courtesy of 20th Century Fox Home Entertainment on GIPHY