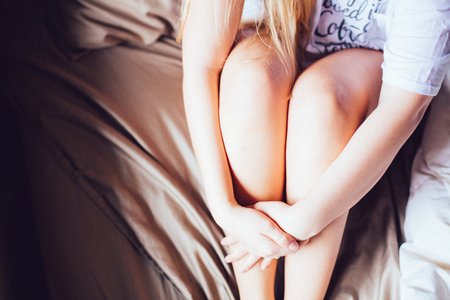 Breanna Coon / Her Campus
"Each Mind Matters" Conference with Joshua Rivedal
I attended the "Each Mind Matters" conference that Huffington Post writer, Joshua Rivedal, was the speaker for and let me tell you that I was very glad I did. A little background about Joshua Rivedal is that he is a 36-year-old writer, actor, and public speaker from New Jersey. He says that New Mexico was the 49th state he has visited, that this was actually the first time he visited New Mexico. 
The conference began with Rivedal performing his "Kicking My Blue Jeans In The Butt" one person show that he wrote about 10 years ago, after he hit rock bottom when his father died by suicide. The show was very real and I liked it a lot. It began with him, being in grade school, he grew up in a very religious family so he demonstrated how that went. He demonstrated how harsh his dad was about Rivedal's dream of being a big-time actor. Rivedal pursued choir and auditioned for various school plays in which he always got the lead in. After high school, he tried community college and then quit to move to New York City to audition for acting gigs. Time later, his mother filed for divorce of his father and his father died by suicide after that. Rivedal was diagnosed with clinical depression and generalized anxiety disorder eight years ago. He says he was untreated for this for 20 years. 
I am sure you have noticed how I have been saying "died by suicide" instead of the common phrase "committed suicide", this is because Rivedal said that saying "committed" makes it sound like a sin to the people, it gives it a negative connotation and we are not trying to shame people with it. We all need to change this. 
Rivedal says that 45,000 people die of suicide each year. The youngest age that tries to die by suicide is 6-years-old. This really made me feel terrible, that children will feel the need to end their life. It is such a sad fact. Rivedal said that suicide is VERY preventable as long as you see some of the 12 signs which include: isolation, hopelessness, anger, feeling trapped, feeling anxious, and recklessness. Also, do not forget to ASK. Rivedal says that asking someone if they are considering suicide does NOT push them to do it as it is commonly believed, so do not be afraid of asking. 
He provides different ways to help someone dealing with suicide thoughts which are: LISTEN, do not judge, have empathy (not sympathy, no one wants to be pitied), make it explicit that their life is important to you, make sure that when they go home, there is no way they can hurt themselves (with pills or blades,etc.), and lastly, refer to professional help. Do not say to someone with suicide thoughts that "it will get better" instead tell them that "it will be different". Tell that person that you see them, it will make them feel validated. 
Rivedal said a few quotes that I think were very important. 
-"You are the company that you keep"
-"You are somebody now, own it!" which means that we should not look at life like, "oh i cannot wait to graduate college and be a ____". Live in the now. 
-"Change is a constant", which means we need to stop being afraid of change because it is bound to happen whether we like it or not. 
Rivedal finished the conference speech with two challenges, 
"Be the change you want to be in the world" which yes, is a Ghandi quote but Rivedal believes it is very important. 

"Tell your story, there's so much power in your story"
This conference was so refreshing and real and I enjoyed it very much. No one ever really wants to talk about mental health or suicide and hearing someone talk about it with no shame, really is a mind opener. He made it clear to not shame anyone who may have suicide thoughts, instead, to help them. 
If you or a friend has been having suicide thoughts or needs to talk to someone here are some resources: 
-Suicide Prevention Hotline: 1-800-273-8255
-Crisis Text Line: Text "Go" to 741741
-NMSU Counseling Services 
Call 575-646-1512

Hours: 8am-5pm Monday-Friday (closed 11:30am-1pm )

Aggie Health & Wellness Center (corner of Breland and Stewart)