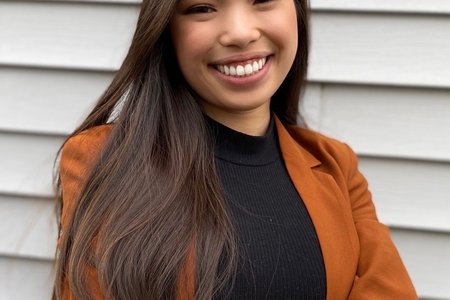 Valerie Nguyen '22: One of Many COVID-19 Heroes
Name: Valerie Nguyen 
Year: Junior 
Major: Physiology 
Minor: Health Promotion 
Hometown: Byron Center, Michigan 
Valerie Nguyen is a member of a non-profit student organization called "Med Supply Drive" that is made up of student volunteers who collect and redirect unused personal protective equipment, or PPE, to health care providers that are working the frontlines during the COVID-19 pandemic. This organization is truly incredible, as they've delivered over 30,000 supplies to Michigan healthcare workers.  
How did you become involved in "Med Supply Drive Michigan?
"I've been wanting to invest my time in a volunteering organization for some time now. I randomly saw an ad on Facebook or Instagram about joining MedSupplyDrive. I immediately signed-up and a few days later the co-coordinator of the Michigan branch of MedSupplyDrive, Neej Patel, contacted me!"
Why did you become involved in this organization? 
"Hospitals are experiencing dangerously low supplies of personal protective equipment (PPE) as COVID-19 cases continue to rise and fluctuate. This increases their chances of exposure and sickness. As an aspiring medical student, I felt that helping others was more imperative now than ever and I wanted to help out in the community as much as I could while maintaining safe practices such as social distancing. I joined Med Supply Drive Michigan in hopes to protect our healthcare providers who are working on the frontlines of the pandemic. I felt it was the least I can do as healthcare providers risk their health and safety."
What does PPE Involve? 
"The FDA defines personal protective equipment (PPE) as "protective clothing, helmets, gloves, face shields, goggles, facemasks and/or respirators or other equipment designed to protect the wearer from injury or the spread of infection or illness."
What is your role in this organization? 
"I am the Public Relations Coordinator of the Michigan Branch of Medical Supply Drive. My responsibilities include educating the public on the need for maintaining safe practices and the stigma surrounding COVID-19 as well as promoting the need for redirecting unused personal protective equipment to our healthcare providers through multiple social media platforms."
What are your future goals for "Med Supply Drive Michigan?"
"Aside from redirecting PPE to healthcare workers, as a student organization, I hope Med Supply Drive Michigan can help educate the public on the need for maintaining safe and healthy practices as well as encourage others to help out in their community. This pandemic has proven that this is a challenging time for everyone, not just those directly affected by COVID-19, and people are struggling at home, too. It's very important now than ever that we all look after one another and offer a helping hand when and if possible".
How can someone become involved? 
"It's quick and easy! Visit our website https://www.medsupplydrive.org and click "Get Involved". You can help out anywhere in the country!" 
COVID-19 has greatly impacted citizens all around the world. With your help, you can visit https://www.medsupplydrive.org and help healthcare providers working on the frontlines, so that they can continue to help those who are in need of medical attention!