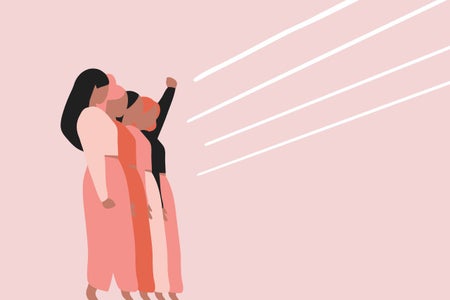 Original Illustration by Gina Escandon for Her Campus Media
A hero to me is someone that puts others before themselves, has accomplished great things, and has wonderful qualities, such as kindness, knowledge, courage, and is unselfish. My hero is just like that and is known to many throughout the world. Even though she only came from a small community called Grosse Ile, Michigan. The person that is my hero is Dr. Michelle Mary Leblanc, an equine Theriogenologist. Michelle accomplished many medical advancements in equine Theriogenology. What is equine? I am glad you asked! Equine is the study and observation of horses. It involves riding, caring, breeding, and the study of new and old horse breeds. I consider it amazing! Then there is theriogenology: the branch of veterinary medicine concerned with animal reproduction. 
A hero in my opinion is someone that is unselfish because they have to have the ability to care and put others before themselves. You also need the courage to be able to face fearful situations and impossible problems, which leads you to achieve more goals and to do the unthinkable. A hero has to have the knowledge to uncover important solutions such as finding a cure to a horrible disease or solving a difficult problem. Knowledge is better than power, and there is wisdom in knowledge. My final one is kindness, which I believe to be the most important. Without kindness, there would be no peace or harmony. You have to have the heart to help others in need even if they may not ask because it is the right thing to do. 
My aunt had many great traits. For example, she was the reason I am so involved with horses. Michelle had taught me and showed me the true beauty of the horse. She was not only my aunt, she was my friend and an honorable woman. Her achievements also included doing great deeds for her community, besides improving the health of horses. She sponsored an annual 100-mile bike ride that helped students get an education and pay for veterinary college. She also had an endowment that enriched two universities, a hospice facility, and a scholarship program for students in need. Her ways of having so much knowledge and her abilities to inspire others is a gift that only a few are given and she used it wisely. She was a role model for many veterinary students and adults. Traveling the world and spreading her knowledge to many important people. By doing this, she had received many awards and trophies in her field. For example, she was one of only 30 people throughout the world to be inducted into the Equine Research Hall of Fame. She also received the Lifetime Achievement Award, many Professor of the Year Awards, and numerous other awards. She also has ties to many important people in the equine world. I just hope that one day I will be doing great things like her. 
I chose my aunt because she was a person who could put a smile on anybody's face,  even if they had a bad day. She was not selfish and cared more about others than herself, even when she was in a lot of pain—even in the hardest times, especially when she herself was diagnosed with cancer. She didn't quit or even complain. She kept doing what she loved, until the day she died. If she is not a hero, then I don't know what a hero is.