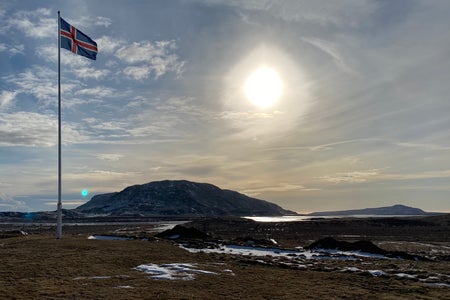 This past week, my family and I had the opportunity to travel to one of the most amazing countries in the world: Iceland, the land of fire and ice. The beauty we witnessed there was indescribable, and pictures will never be able to do it justice. Even though you will never know how truly amazing the country is until you actually visit the place yourself, I will do my best in this narrative of my travels.
DAY ONE
The first day in Iceland was not as intense as the other days on the trip. This is mostly because by the time my parents, grandparents, boyfriend (Max), and I stepped off of our respective planes, went through customs, and met with our tour group, we had already been awake for 18+ hours. Needless to say, we were all too exhausted for great physical activity.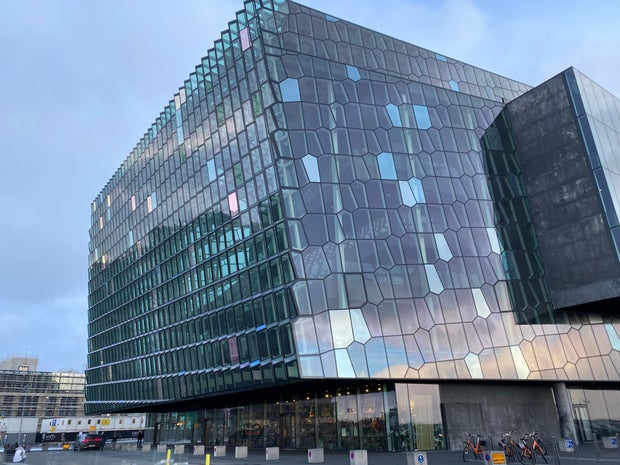 Annie Pendola
Our first excursion led us to the city of Reykjavík, the capital of Iceland, where we first stopped at Harpa Concert Hall for a large breakfast. The building sits at the edge of the coast facing the snowy mountains that sit across the water. The hall is ginormous and made of geometric glass that would light up in a wave. We did not really explore the inside of the building, just part of the first floor where we ate our breakfast of croissants, baked beans, eggs, sausages, mini pancakes, chocolate mousse, and my newfound favorite: skyr (Icelandic yogurt that tastes sooooo much better than any other kind).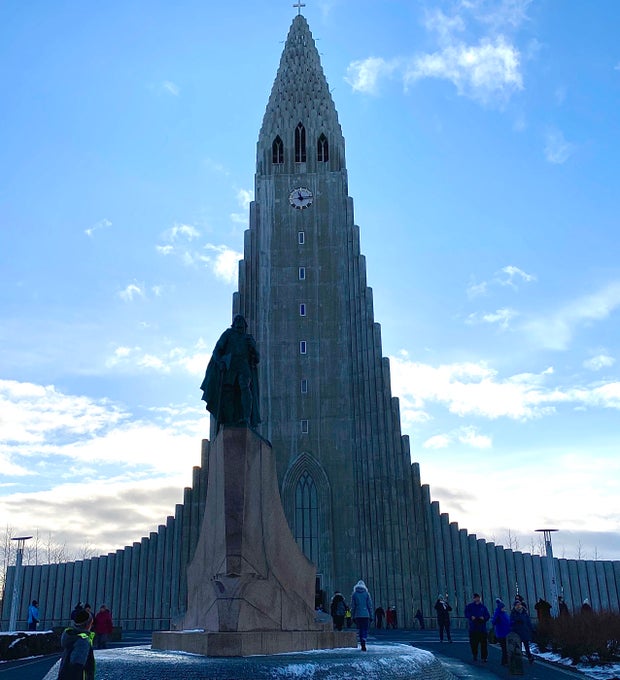 Annie Pendola Our next visit was to Hallgrimskirkja, the largest church in Iceland, and for good reason. The tower is strikingly tall, making it visible from any point in the city, and inside it contains a massive pipe organ that, when played, can be heard perfectly throughout the entire complex.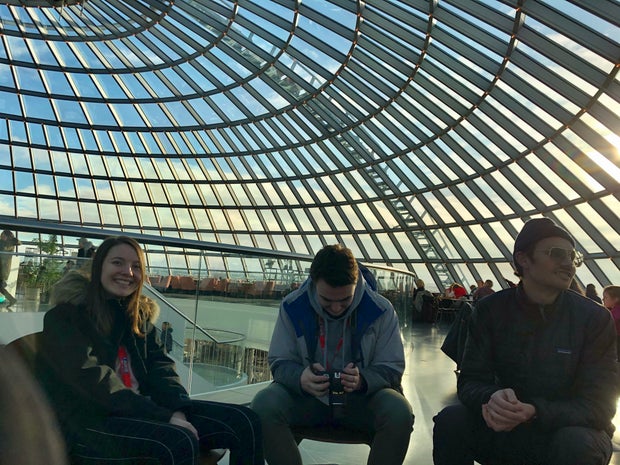 Annie Pendola We then went to Perlan, a museum with a large glass dome at the top and an observation deck. From inside the dome, I could see the entire city landscape, the mountains, and the ocean. The view was even better from the observation deck that went outside the dome, but it was incredibly windy. So windy, in fact, that I thought the wind was going to pick me up like Dorothy and I'd end up in my own version of Oz.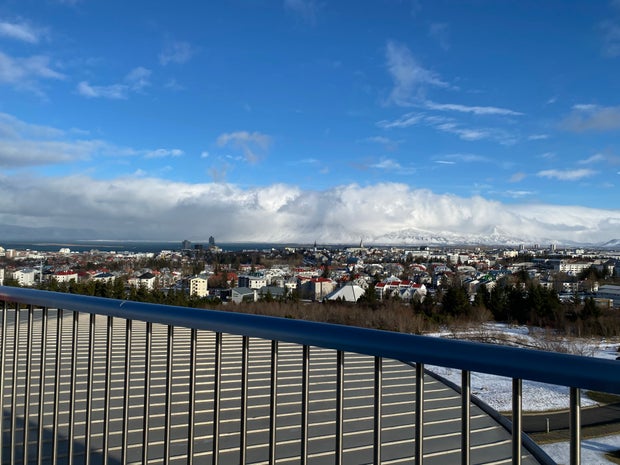 Annie Pendola Our last stop before heading to the hotel was to the Geothermal Energy Exhibition, a geothermal power plant. Here, we learned about Iceland's water and energy supply, where it all comes from, and how it works. I found this spot very interesting, as I got to learn about how Iceland is very into sustainability, using renewable energy and resources, and offsetting their carbon emissions.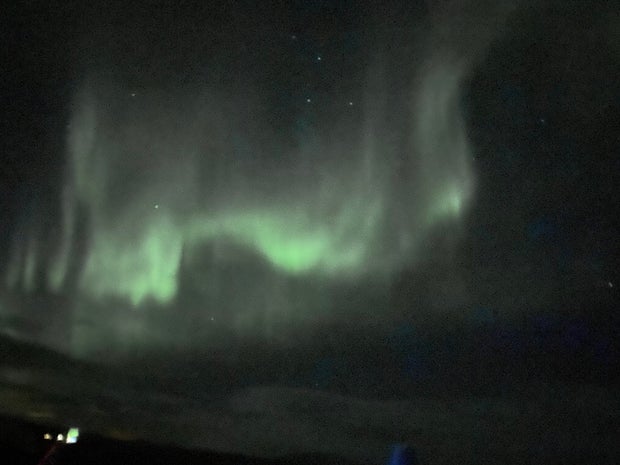 Annie Pendola
Skipping to after checking into our hotel in Hella, eating dinner, and getting bundled up, our group was back on the bus and we were taken to the middle of nowhere, where it was pitch black outside and freezing cold (the most intense cold I have ever felt in my entire life). Perfect conditions for searching for the Aurora Borealis (also known as the Northern Lights, but Aurora Borealis sounds so much cooler). They started off as very subtle light blobs in the sky, but after waiting for what seemed like hours (probably only one hour, but I was too cold to tell time), the light turned a darker green, and it spread across the entire sky above us. The light seemed to dance, as it swirled around and added tints of reds and pinks. Even the stars were incredibly bright out, which made the whole experience even better. There is no possible way to explain how awesome it was, and pictures are not an accurate presentation, so just take my word for it.
DAY TWO
We started our exciting day off by visiting the Lava Centre, where we learned about the many volcanoes that Iceland has, and about their eruptions. It had a very cool interactive exhibit, and an observation deck so we could look out at all the volcanoes that were nearby.
Then we began our nature exploration, with our first stop being Seljalandsfoss: a beautiful waterfall where we could walk along the streams that were created from it, and it also had some smaller waterfalls along the same cliffside.​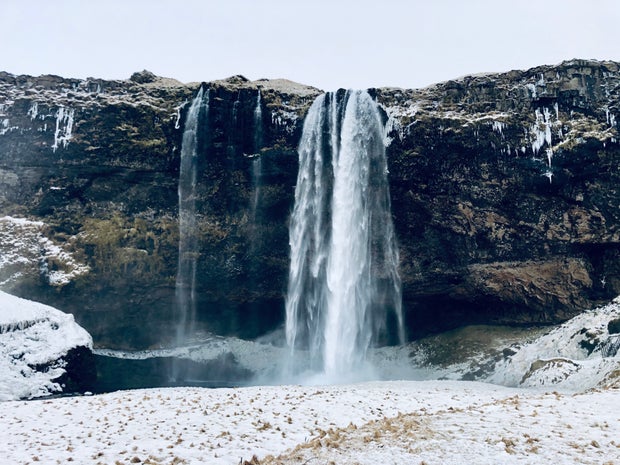 Annie Pendola
Then we went to another waterfall which was much larger: Skógafoss. This waterfall was much taller, and it had a tall uneven staircase to climb to the top to get an even better view. I'm not gonna lie, I'm pretty out of shape, so climbing those stairs was exhausting, but the view was so pretty that it was worth it! However, I had forgotten that I had to go back down the steps, which was quite scary for someone with an extreme fear of heights. Let's just say, I proceeded with extreme caution, making the trip down longer than it took to climb up.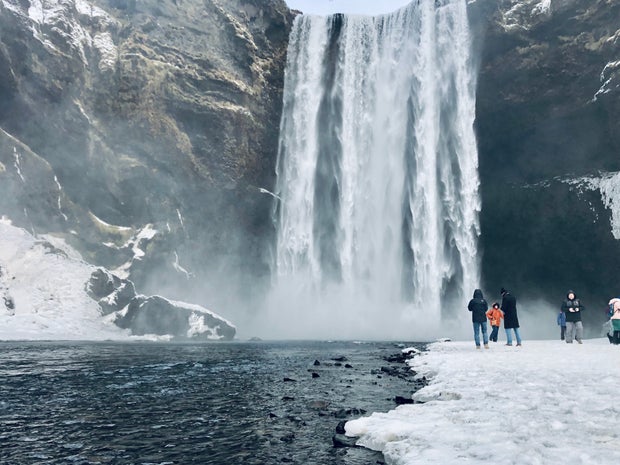 Annie Pendola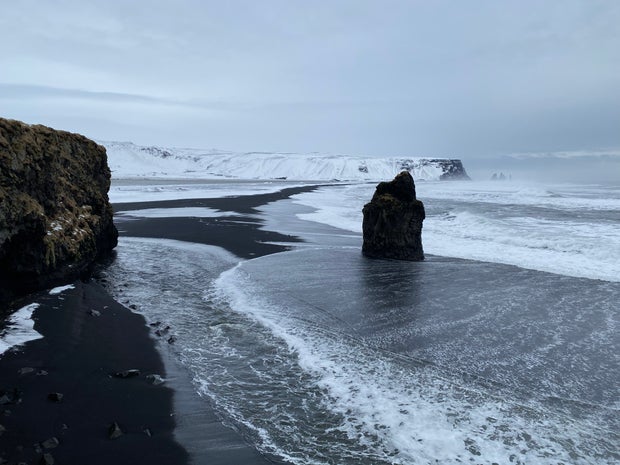 Annie Pendola The next place we visited, Puffin Island, was my absolute favorite sight of the trip. Sadly, there were no puffins because it is winter, but everything about the location was amazing! There were black sand beaches, crazy steep cliffs, and the ocean waves were huge and violent, crashing over crazy rock formations. It was the coolest and prettiest sight I had ever seen. Not to mention, Game of Thrones was filmed near there, so that was a pretty cool plus. 
That night, a few of us were using the hotel's outdoor hot tub, and when we looked up into the very starry night sky, we caught a glimpse of the northern lights again. Talk about a perfect Icelandic night!
DAY THREE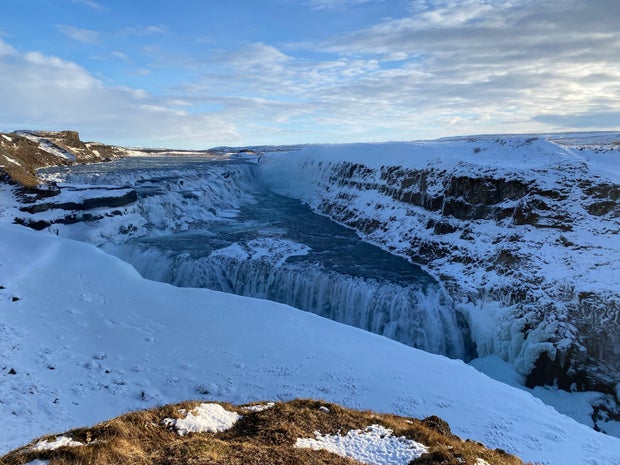 Annie Pendola The adventures continued! Our first stop was the Gullfoss, also known as the Golden Falls (hehe). This waterfall was the best by far! It is absolutely huge! The waterfall comes from two large glaciers, so the water is perfectly blue with a wide stream and the walls around it were made of thick ice. I don't think I can explain any more about how beautiful it was to see.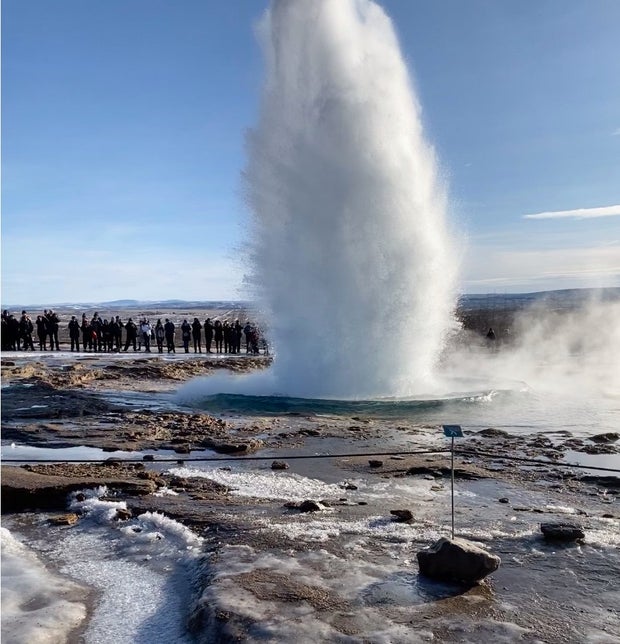 Annie Pendola Our next stop was to Strokkur: Iceland's most active geyser. We watched the geyser erupt over five times since it was truly a sight to behold. The water starts to boil,  then it forms a giant water bubble, and finally, it explodes high into the air, turning into a sulfur-smelling mist. Of course, being surrounded by naturally hot water, Max, our newfound tour group friends, and I wanted to feel the water. So we touched some of the water in the stream that flowed after the geyser erupted. Sadly, it didn't burn us. It was only lukewarm since it cooled so fast in the freezing air.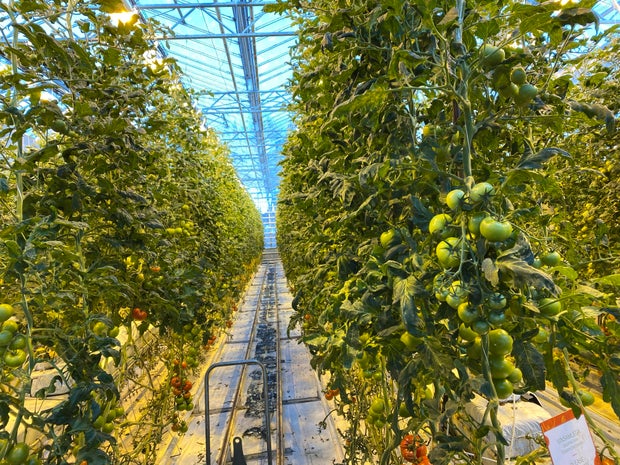 Annie Pendola Afterwards, we stopped for lunch at a tomato farm in Reykholt. All the tomatoes are grown in giant greenhouses powered by geothermal energy. The restaurant is actually inside one of the greenhouses, where we sat near the tomato plants as we ate our fresh, homemade tomato soup and breads with cucumber salsa. Not gonna lie, I normally dislike tomato soup, but this place made me change my mind. But what I loved even more than the food (the greatest and freshest meal I've had to date), were the Icelandic horses! These horses lived at the tomato farm, and they are incredibly sweet (at least the one I kept petting for a solid 30 minutes). They are larger than ponies, but smaller than regular horses, and they are fluffy! Max had to pry me away from the horse before the bus left without me.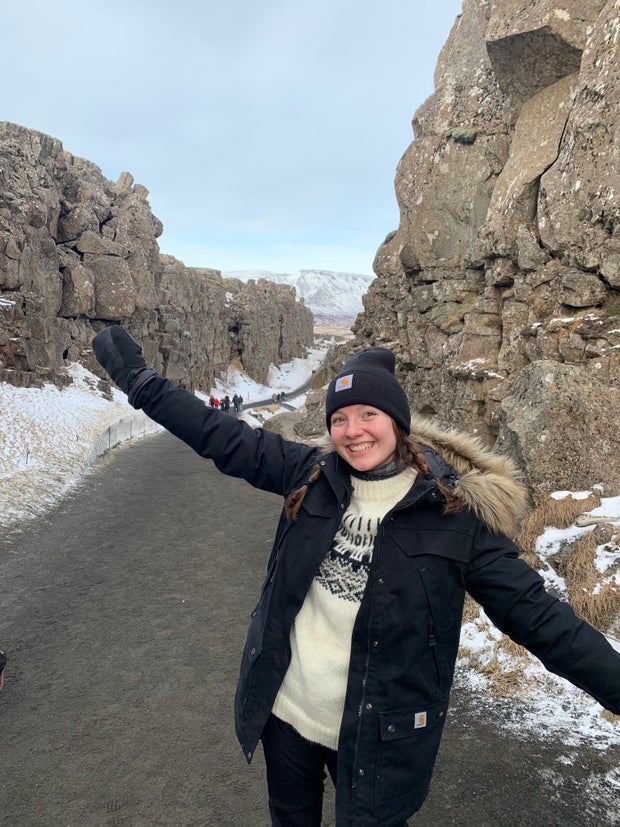 Annie Pendola Our last stop of the day was the Thingvellir National Park (catch me in my awesome Lopapeysa sweater). Here, I saw glaciers, mountains, rivers, the largest lake in Iceland, and of course, the separation of two tectonic plates. Technically I got to walk in between two continents, Eurasia and North America. I also learned there were a lot of beheadings and drownings there in past centuries. Neat.
DAY FOUR
Annie Pendola Our last full day in Iceland was arguably the best day there. For starters, we spent the entire morning living luxuriously in the Blue Lagoon. We drank skyr smoothies, wore natural silica face masks, and overall just had a marvelous time basking in the warm, teal, geothermal waters.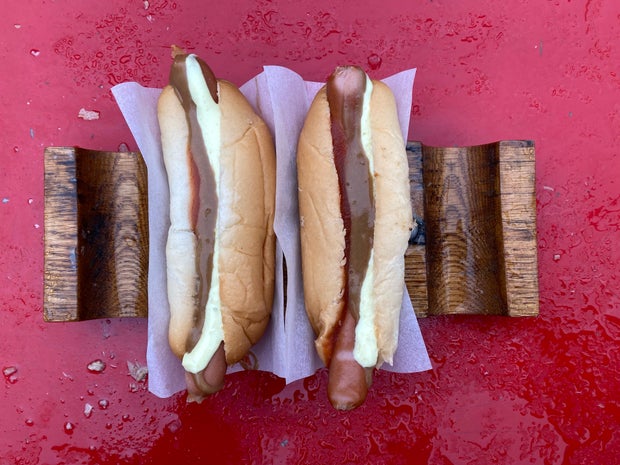 Annie Pendola After our time of relaxation, we stopped at the Prime Minister's house, and then continued along our merry way to Reykjavik. When we were back in the city, we started off by getting some of the famous Icelandic hot dogs (which are now my favorite hot dog, they are awesome!), which have ketchup, sweet brown mustard, remoulade, raw onions, and the ingredient that makes it extra magical: crispy fried onions (gives it that awesome crunch!). The hot dog itself is made with beef, pork, and lamb, and I highly suggest trying it (I ate three).
We also went to the Flea Market where I tried dried, fermented shark. I had been very excited to try it, since it is an Icelandic delicacy. However, I regret to inform you that I did not enjoy the taste or texture at all. It doesn't really help that I am not a fan of seafood, so the texture really got to me. It is very rubbery, and it tastes like a strong cheese, so I never even got to swallowing it, but I am very proud of myself for trying!
Annie Pendola Okay, now we get to the greatest place of all time. A place that has been on my bucket list, and what I have been waiting to see since I found out we were going to travel to Iceland: The Icelandic Phallological Museum (aka, Penis Museum). It was a very interesting place. We made a lot of jokes, we took a lot of pictures, and we learned a lot about different animal penises. I'd say it was a pretty good time.
The last part of the day, my grandparents went back to the hotel, so it was just Max, my parents, and I. It was nighttime, so we decided to continue exploring the city and the cool restaurants and bars that they had. We first stopped by the Lebowski Bar, where there were over 24 types of White Russians (I had a milkshake, my stepmom had a White Russian with Cocoa Puffs on it). As we sipped on our drinks, we got to watch The Princess Bride, so I'd give the place a 10/10 review.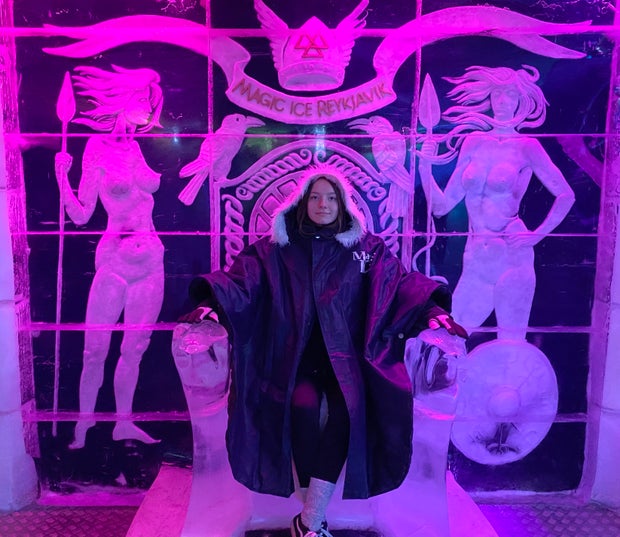 Annie Pendola As we continued walking down the street, Max was looking through the display case of a clothing store that we thought was closed, and the sliding doors opened up to let us in. We noticed an escalator going down, so we went down thinking there would be more clothes, but no! We just magically stumbled upon the entrance to a bar. A full-on ice bar. Like, the entire bar was completely made of ice. The walls, the sculptures, the tables, the bar table, the seats, even the cups, all made of ice! I got to sit on an ice throne while drinking a sour blue soda out of an ice cup! TAKE THAT, ELSA!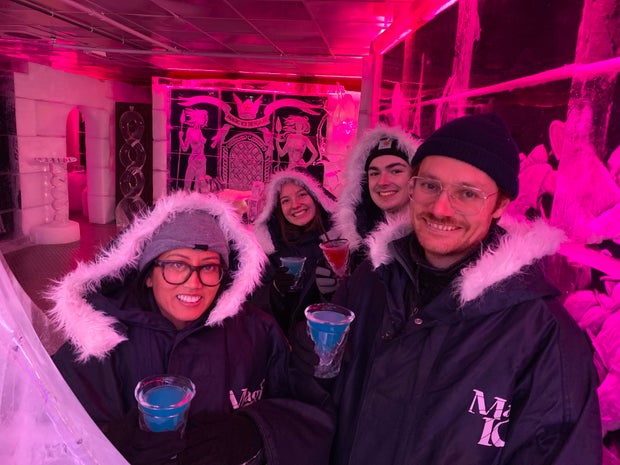 Annie Pendola Our very last stop for the night was Pablo's Discobar, which was very on theme just like the other bars. There was a big disco ball, they played disco music, the wallpaper on the walls and bars were Latin America themed, and the drinks were crazy. My dad had a drink with barbeque sauce in it, and my stepmom had a drink called the Pablo Escobar, which had powdered sugar drizzled over it and a dollar bill clipped to the side. That is when I discovered that it was actually a Pablo Escobar mixed with disco-themed bar, which was pretty awesome.
DAY FIVE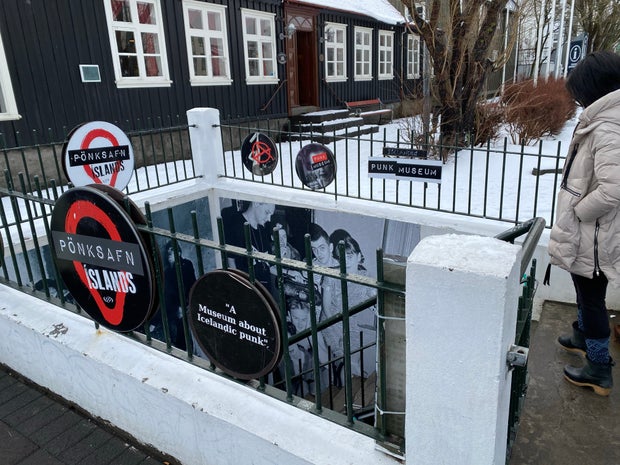 Annie Pendola Before heading for the airport, we had to make one final stop: The Icelandic Punk Museum. The place is in an underground, abandoned bathroom, so how could we not go?! They had headphones hanging from the ceiling to listen to different songs, pages with Icelandic punk history on the walls, and we got to put on some rockin' leather jackets and play around with the instruments. I chose the electric guitar, so I felt pretty punk, even if I could only play Twinkle Twinkle Little Star.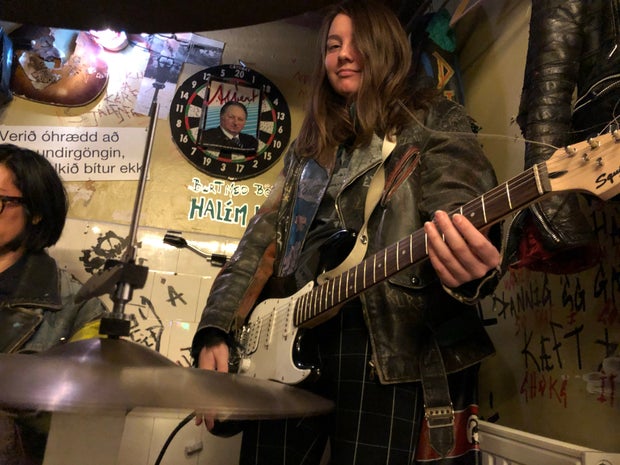 Annie Pendola All-in-all, Iceland was by far the most amazing place I have ever been to. It is a country filled with so many beautiful natural landforms, creative people, and a pretty cool culture. I know that I will be returning someday in the future, if only for another hot dog.