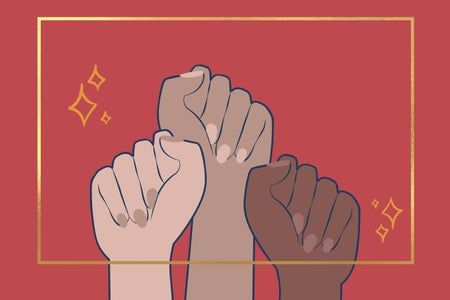 Five Influential Black Women in History
Ella Fitzgerald (April 25, 1917 - June 15, 1996)
Nicknamed "The First Lady of Song", Ella Fitzgerald was a successful jazz singer known for her unique singing voice, improvisation abilities, and intonation. Her career spanned almost 60 years. Ella was born in Virginia and grew up in New York with her mother, stepfather, and half sister. Her mother died in a car accident when Ella was just 15. Ella lived with her stepfather for less than a year before suddenly moving in with her aunt in Harlem, leading many to believe that her stepfather abused her. When Ella was 17, she performed at one of the first Amatuer Nights at the Apollo Theater and won first prize. She was initially prepared to dance for the audience, but she became intimidated by a local dance duo and decided to sing instead. While her vocals were and still are unmatched, the theater refused to let her perform for a week (which was one of the prizes of winning) due to her "disheveled appearance". In 1935, she was signed to Chick Webb's orchestra. She recorded many songs with the band, but her talent was not discovered until 1938 when she co-wrote and released "A- Tisket, A- Tasket". It became one of the best-selling records of the decade. Ella is also known for collaborating with famous trumpetist Louis Armstrong. She released three albums with Armstrong, titled "Louis and Ella", "Louis and Ella Again", and "Porgy and Bess". My favorite songs from these albums are Summertime and Dream a Little Dream of Me. Ella Fitzgerald left behind a lasting legacy and has inspired many musicians after her. She has had many albums and performances dedicated to her memory, and even has a postage stamp in her honor.
Ida B. Wells (July 16, 1862 - March 25, 1931)
Ida Bell Wells was born into slavery in Holly Springs, Mississippi. She was then freed by the Emancipation Proclamation in 1863. When she was 16, she lost her parents and brother to yellow fever. She then had to go to work and, with the help of her grandmother, kept the rest of her family together. She then moved to Memphis, Tennessee and worked as a teacher. She then became a co-owner and writer for the Memphis Free Speech and Headlight newspaper, where she wrote about incidents of racial segregation and inequality. She exposed lynching in America in a piece called "Southern Horrors: Lynch Law in All its Phases". She called lynching "a barbaric practice of whites in the South used to intimidate and oppress African Americans who created economic and political competition - and a subsequent threat of loss of power - for whites." Outraged by her incredibly true statement, a white mob burned down her newspaper office. Wells then moved to Chicago to escape further mistreatment and started a family.
Although Ida B. Wells is now recognized as a founder of the NAACP, that was not always the case. Frederick Douglass supported Wells's work, but after his death in 1895, the other male leaders of the Civil Rights movement were against her taking the lead, since women were seen as weak and hysterical and unfit to be leaders, especially Black women. Wells was seen as too radical, since she was fighting not just for African American's rights but also African American women's rights. The women's suffrage movement was focused on just white women's right to vote, so Wells fought incredibly hard for Black women's right to vote. She organized the Alpha Suffrage Club in Chicago with her colleague Belle Squire, and it became one of the most important suffrage organizations in Chicago. The Alpha Suffrage Club furthered voting rights for all women, taught Black women how to engage in politics, and fought to elect African Americans to public offices. Wells is remembered as a champion for African American rights and feminism.
Shirley Chisholm (November 30, 1924 - January 1, 2005)
Shirley Chisholm was the first Black woman to ever be elected to the United States Congress in 1968. She was also the first woman ever to run for the Democratic Party's presidential candidate and the first woman to participate in a presidential debate. Shirley Hill was born in Brooklyn to immigrant parents from the Caribbean. Before becoming involved in politics, she worked as an educational consultant for the Division of Day Care and ran her own daycare center. This led her to become interested in local politics, and she eventually became a representative of the Brooklyn branch of the National Association of College Women. From 1965 to 1968 she was a member of the New York State Assembly and was honored in a "Salute to Women Doers". She fought against the state literacy test being offered only in English, stating that just because a person "functions better in his native language is no sign a person is illiterate." She also introduced the SEEK Program, which stands for Search for Education, Elevation, and Knowledge. The SEEK Program taught intensive remedial education to disadvantaged students and helped them have a chance at getting into college. Chisholm announced her Congress candidacy in January of 1968 with the slogan "Unbought and unbossed." After she was elected, she was assigned to the House Agricultural Committee, a role she felt was insulting, considering her district was an urban area. After speaking with a man working on expanding the food stamp program, she helped create the Special Supplemental Nutrition Program for Women, Infants, and Children (WIC) program. Shirley Chisholm was posthumously awarded the Presidential Medal of Freedom in 2015, which was certainly deserved.
Wilma Rudolph (June 23, 1940 - November 12, 1994)
Wilma Rudolph was a track and field star who went on to become the first American woman to win three gold medals in any Olympic event. Rudolph only weighed 4.5 pounds when she was born prematurely in Saint Bethlehem, Tennessee. She contracted several childhood illnesses, including polio, pneumonia, and scarlet fever. She lost strength in her left leg due to polio and had to wear a leg brace until she was twelve. Twice a week, Rudolph and her mother would drive fifty miles to a historically black medical school, since closer hospitals would not treat her due to her race. After years of continuous treatment, Rudolph overcame the paralysis caused by polio. She then went on to excel in basketball and track in high school. When she was just a sophomore, Rudolph was scouted by Tennessee State's track and field coach. She began training at TSU while still attending high school. When she was only sixteen years old, she competed in her first Olympic Games in Melbourne. She won the bronze medal with her relay team in the 4 x 100 meter dash. After winning bronze, she promised to bring home a gold medal from the 1960 Olympics in Rome. She ended up winning three gold medals in the 100 and 200-meter sprints and the 4 x 100 meter relay, becoming the first American woman ever to do so. She quickly became a worldwide star since this was the first Olympics to ever be televised internationally. Wilma Rudolph has since been inducted into five halls of fame, including the Black Sports Hall of Fame and the U.S. Olympic Hall of Fame. She is remembered as one of the very first role models for Black and female athletes everywhere.
Nina Simone (February 21, 1933 - April 21, 2003)
Born Eunice Kathleen Waymon, Nina Simone was a singer, songwriter, musician, and civil rights activist. She is known for her incredible contralto voice, which gives her the ability to sing extremely low notes. She began playing the piano when she was about three years old. She performed her first classical recital when she was twelve, only her parents were forced to move from the front row to the back to make way for white people. She refused to play her recital until her parents were moved back to the front row. Simone went on to study piano at the Julliard School of Music in New York for a summer, where she prepared an audition for the Curtis Institute of Music in Philadelphia. Despite an excellent audition, she was denied admission because of racial prejudice. She then moved to Atlantic City, New Jersey, where she performed at a local bar for $90 a week. This is where she first adopted the stage name of Nina Simone, since she did not want her family finding out she was playing "the Devil's music". Nina was derived from the Spanish word "niña", meaning 'little girl'. Simone came from the famous French actress Simone Signoret. Between 1958 and 1974, Simone released over forty albums. In the 1960s, she released several songs about racial inequality and civil rights, including Mississippi Goddam. This song was her response to the bombing of the 16th street Baptist Church in Birmingham, Alabama that killed four young Black women. The song was boycotted by many Southern states because it challenged the idea that racism in America would lessen slowly — Simone demanded immediate change. Simone wrote and released a song called "Four Women", which exposed harmful beauty standards around the world for Black women. She hoped the song would inspire Black women to define beauty for themselves without societal expectations. She openly supported Malcolm X and began releasing music less frequently as she was fighting for civil rights. In 1970, Simone left the United States, feeling that her career suffered from people boycotting her song Mississippi Goddam. She continued working on her music while abroad. Simone spent the last decade of her life in Southern France where she released her final album, "A Single Woman". Nina Simone is remembered for using her powerful music, artistry, and lyrics to address the hardships, discrimination, and violence faced by Black people everywhere.