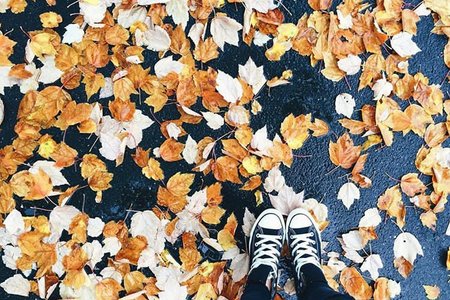 Fall Activities to do Before it Gets Colder
Going to Michigan State university has many beauties and perks that have been a bit overlooked considering the current events and situation happening around the world. One thing I've grown to fall in love with is the changing look that the campus takes on as the seasons change overtime. My favorite would have to be fall as the leaves change into warmer tones that transform the campus into a fully perfect autumn look. I have made a list of fall activities to do before the weather gets cold and the leaves fully fall off. Here are a list of fall activities to do: 
1.

Decorate your space with a fall theme

Fall offers many opportunities to completely change the look and feel of your bedroom and personal space. Add some fall scented candles like pumpkin spice and sweet cinnamon and some fairy lights to fully create the fall vibe.

Visiting a haunted house could make you appreciate the spooky season as it really emphasizes the experience and brings something fun out of your typical fall activities.

3.

Dress up for Halloween

Dressing up for Halloween is always a fun activity to consider for fall. As the years go by, we are given many new and old inspirations for costumes. Take advantage of them all and have fun with it.

4.

Carve and decorate a pumpkin

Pumpkins are the most popular fruits during the fall season. It is only appropriate to have one that is personally decorated and stationed as a fall decor. 

5.

Have a campfire and roast marshmallows and make s'mores

This activity will be a great way to relax and really enjoy the weather before midterms starts and moments such as those become rare.

Go to a cider mill and take cute pictures with friends. Enjoy the weather and festivities. 

7.

Go for a walk on campus

Explore the different areas of campus and see how beautiful it is before it gets covered in snow and cold.

Wear a cute fall outfit and take pictures of yourself and the fall atmosphere. 

Make a playlist filled with songs that make you feel alive at the moment. You can listen to it while going on a walk and hike.

10.

Rent a bike on campus and go biking on River Trail

My favorite activity has been riding around the River Trail after renting a bike. The location is perfect for a bike ride while enjoying the scenery.