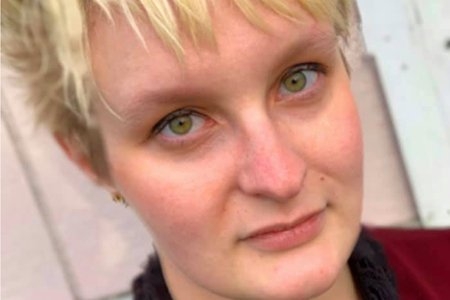 Photo courtesy of Nicole Beto
Name: Courtney Way
Majors: Human Development & Family Studies, Theater
Hometown: Galesburg, MI
Courtney graduated as part of the MSU class of 2020. Her passion is helping those with disabilities in the arts. Her research and work are inspired by her journey growing up with a hearing disability. She plans to contribute to accessibility in the arts through the relatively new discipline of drama therapy. 
What brought you on your college journey? Was it a person, a dream, a goal, an expectation?
I always knew I wanted to go to college but because I loved to do a lot of things, I had no idea where. Then I heard about MSU, where they had almost every major I could think of, and I knew it would be the best place for me.  It was here that I found faculty who really fostered my dreams and helped me explore areas of interest that became passions. It is how I discovered a love for Drama Therapy and how it can help others and be creative all at the same time.
What was the most important thing you learned over your college journey?
I learned to take every opportunity you are given if you are able to take them. I also learned to never be afraid to reach out to people and make connections because you can always learn something in the most unexpected places or from the most unexpected people.
Now that you've graduated, where are you headed in life?
On to graduate school!  Right now I have it narrowed down to NYU for Drama Therapy or Royal Central School for Speech and Drama (in London) for Drama Therapy.
Any words of inspiration for future artists? 
Never be afraid to explore and try new things, it may be life-changing.  If you are passionate about something, tell someone!  You never know what experiences or connections people have or are willing to help you find. Lastly, don't be afraid to make mistakes— if you don't get something right the first time, it doesn't hurt to keep trying.