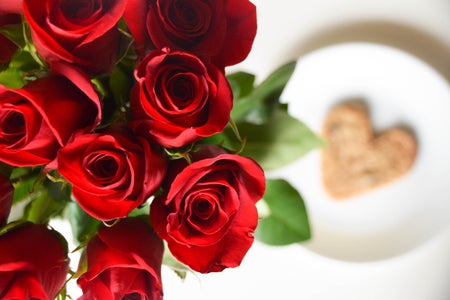 Celebrating Valentine's Day Without a Romantic Partner
I don't know about you — but I'm sick of dreading February 14. The day that's supposed to celebrate love often turns into an evening of self-deprecation and sadness over being single. In reality, there's nothing negative about ridin' solo and romantic love is not the only type worth celebrating. If you find yourself without a partner this Valentine's Day, embrace it. Don't hibernate to avoid the in-love couples, and instead focus on everything in your life that's worth loving.  There are many ways to celebrate Valentine's Day that don't include the cliché candle-lit dinner. Here's just a few that will get you thinking about self-love and friendship.
Cook a Delicious and Healthy Meal for Yourself (and Friends)
There's no better way to express love for your own body than by nourishing it with wholesome, yummy foods. When you cook a meal at home instead of going out for a pricey dinner, you have total control over the ingredients and portion sizes —which is the perfect way to guarantee your body is getting what it needs! Playing chef is also an excellent way to let your friends know you care about them. With today's easy access to take-out, spending time prepping a meal is just one simple way to say "I love you" without actually saying it.  
Host a Boozy Game Night
Playing games with your friends is fun enough as it is, but adding alcohol into the mix is certain to make it an unforgettable (or forgettable?) night. Leave your phones in the other room and don't worry about where you're headed to next or if you might say something stupid. Relish the company of your friends and pay attention to how good it feels to laugh with them. Sometimes these relationships are more fulfilling than romantic relationships, anyways. 
Treat Yourself to a Massage
Y'all, I don't think we give ourselves enough credit for how hard we work. Especially as college students, we rarely take the time to truly relax. Our bodies are constantly under immense stress. If you can afford it, take yourself to get a massage and clear the rest of your day for you-time. This is a way of saying "thank you" to your body for everything that it accomplishes.
Spend Some Time Journaling
Journaling is a self-reflective practice that has many positive effects on the psyche. We spend our whole lives in our heads, but often ignore what our bodies and minds are really saying to us. Taking the time to let your thoughts flow freely on paper is like telling yourself you care enough to listen. Write about all the reasons you're an awesome person. Don't think too hard about it — just keep your pen moving. You can write about anything. The goal is not to produce a profound piece of writing, but rather to get you to think positively about yourself and focus on your emotions. 
Tell Your Crush How You Feel About Them
Okay, so this one falls in the territory of romance but the goal here isn't to score a last-minute date. The idea is to practice being in touch with your emotions and having the confidence to say exactly how you feel. It can be really empowering to face someone and tell them what you're thinking. Even if the feeling isn't mutual, a weight will be lifted off your shoulders, and you won't have to go on wondering. Opening up to your crush can be intimidating, but it will only help you the next time you need to do something courageous. 
I think it's time we change our perceptions of Valentine's Day and realize that love encompasses more than romance. Let's make this a day for loving ourselves and those around us- regardless of our relationship statuses.