Gift to Uplift, a student club at the University of Maryland, has created nearly 40 books for children at the National Institutes of Health (NIH), where they are the heroes of their own story. 
Adrienne Baer began the club in spring 2014 as a freshman in honor of her two-year-old cousin, Charlie, who was born with a heart defect. Heartbroken by what the child had to endure and having a close relationship with his mother, Baer wanted to help in any way that she could. She soon became inspired to write a short story for Charlie where he was his own hero.
The club typically begins the book process at the start of each semester, according to current president and senior psychology and dance major Lauren Waugh. Members of Gift to Uplift will visit with the NIH children a few weeks into the semester to get to know them better.
"You get to talk with these really sweet kids, and find out what their dreams are and what they love to do. And you get to create a whole story where they're doing exactly what they love," Waugh said. "So it's just basically an opportunity for us as members to take what we love, whether it's writing or illustrating or helping others, and we're able to turn it into something tangible that we can actually do for people."
After the visit, Gift to Uplift members divide into different teams, consisting of writers, editors, illustrators and project managers, Waugh noted. Teams will then set deadlines and work on the books throughout the remainder of the semester. By the end of the process, books are delivered to NIH staff to distribute to the children.
 Junior international business and operations management business analytics major Anna Colabewala said she still vividly remembers her first visit with the NIH children.
"The way her face lit up when I said that I'd be the author of her story. That personal connection is what the uplift really means, that face of hope and that face of, wow, this person really wants to make a difference in my life and also help me make a difference in other people's lives," Colabewala said.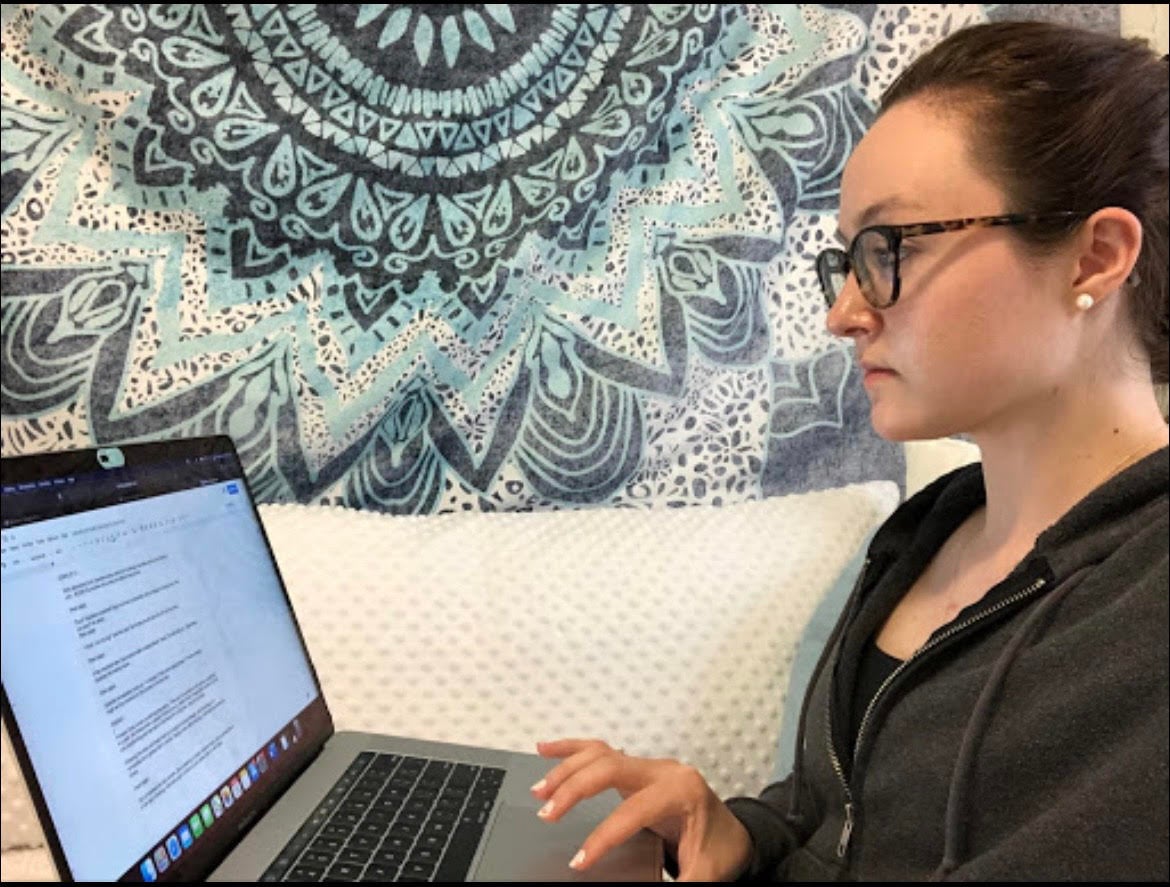 Although Gift to Uplift has not been able to deliver any books in person recently, the feedback has been incredible, according to Waugh. Despite not being able to see the child's initial reactions in person, there are videos and images of past kids who happily received their books.
Amazed at the impact that this club has had on the children, executive board members wanted to take the club further and wondered if one of their books could be published, Waugh noted. The club turned their dream into a reality and has spent the past few months working alongside NIH to publish a book through Amazon.
"It's really exciting that now we get to share what we've created with people outside and just kind of allow people to see what it is that we do, which I think is really exciting because a lot of times we aren't able to share that," Waugh said.
Baer feels incredibly grateful for the amount of work Waugh and other executive members have put into the organization to make this partnership happen.
"That's incredible just having all these different perspectives build the idea into even more, like it's just such a collaborative effort. And it's amazing that they've created this book and they're going to sell it and bring awareness. So I'm just incredibly proud in a million different ways," Baer said.
This particular book will focus on a girl who goes to visit a magical, enchanted forest and discovers that all the colors have been stolen, Colabewala said. The girl goes on a quest with her friends to restore the color to the forest.
During one of their meetings with NIH, it was decided that one of the NIH children would contribute to the book as well, Waugh said.
Both Gift to Uplift executive members and NIH staff strongly hope that this book will help raise awareness for children battling a rare disease, according to Waugh.
"I think it could be really helpful in that way for people to read a book that was written by one of the residents who is struggling with something like this, and can see a hopeful story out of it," Waugh said.
Baer also thinks the collaboration will benefit the rare disease community.
"The celebration that comes when communities connect, and all the different ways that we can uplift each other, and also to think about the kids and the chronically ill community as kids with hopes and dreams or aspirations," Baer said.
While it has not been decided if Amazon will offer e-books or physical copies, the book will be available for anyone to purchase within the next few months, Waugh said. All of the money earned will go right back to Gift to Uplift, allowing them to make more personalized stories for the children.
But to executive members, dreams go beyond publishing with Amazon, believing that these collaborations can lead to other partnerships in the future. Waugh noted that it would be great if the organization could publish more books similar to the current one.
"I think it creates a lot more avenues and directions that we could take the club, which is really exciting," Waugh said.
Colabewala, who will serve as president of the club next year, has already begun brainstorming ideas that will allow the organization to continue both writing and publishing these stories, she noted.
"It just gives everyone a little more confidence in the fact that we have continued this club to make an impact even with COVID. So, next fall, we can kind of make more changes and really expand who we're giving these books to," Colabewala said.
Reflecting on their time in the club, members feel like the organization left a major impact on their lives, allowing them to carry the mindset of helping others into their futures.
Baer said the club allowed her to understand what it truly means to help others and understand what they may want and need. 
"That was really the first spark of it. It's like wow, like, there's so much you can accomplish and do for other people, just by trying to understand them and figure out what they want and what might make their life better," Baer said.
Additionally, the club taught the founder the importance of authentic relationships and what it's truly like to work alongside others.
"I think creating relationships like that is like the core to most things that I do. I'm so honored that I had the chance to feel that and meet those people," Baer said.