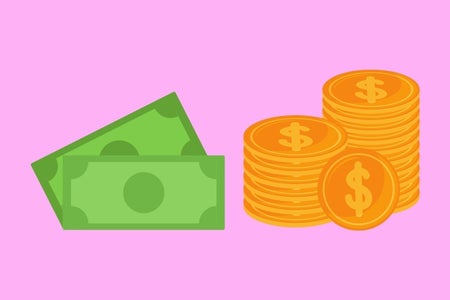 Original Illustration in Canva for Her Campus Media
Fundraising During a Global Pandemic
Due to the pandemic, organizations have had to figure out new ways to host their events. Under normal circumstances, Marshall's Memorial Student Center Plaza would be lined with organization tables fundraising and raising awareness for their events.
These past few weeks, the Kappa Sigma Fraternity hosted a virtual raffle to win Yeti items, with first place being a large Yeti cooler, second place a big Yeti Rambler cup, and third place a small Yeti Rambler cup. They raised $1600 for their fraternity.
Now, Delta Zeta is hosting a Gift Card raffle from Sept. 21-30. The drawing will take place on October 1.
The money raised will go towards Delta Zeta's philanthropy, the Starkey Hearing Foundation. Starkey's mission is to "give the gift of hearing." They work with various organizations and health leaders to allow people easier access to hearing healthcare.
Last semester, Delta Zeta was able to raise $1,310 for Starkey through their Hoops for Hearing fundraiser at Marshall's Recreation Center. Since they could not host any in-person fundraising events, a raffle was a way for them to reach the public and keep raising money for this cause.
"There is $100 worth of gift cards from Starbucks, Dunkin', Sheetz, Chipotle, and Fat Patty's," said Sydnie Bumpus, Delta Zeta's Vice President of Philanthropy. Tickets are $5 each. The tickets will be sold through word of mouth and member's social media accounts. Usually, they would set up a table in the Student Center as well to sell more tickets and get the word out about this fundraiser, but due to the pandemic and safety reasons, they moved to an online-only approach. This was also how Kappa Sigma got the word out about their raffle.
"I decided to raffle off gift cards to various locations that Marshall students as well as the general public tend to frequent and would enjoy a free trip to," said Bumpus.
All of these places are within walking distance from the university, to make it more enticing for students and staff to want to purchase tickets. Using this online-only approach also allows them to reach more than just students and staff, it can be marketed outside to the Huntington community as well.
Though, with all that the pandemic has brought, many are not able to give money like usual due to financial hardships as well. This is also posing a problem for organizations at Marshall as well as across the community. It will be interesting to see what other ideas and events organizations come up with to raise money.