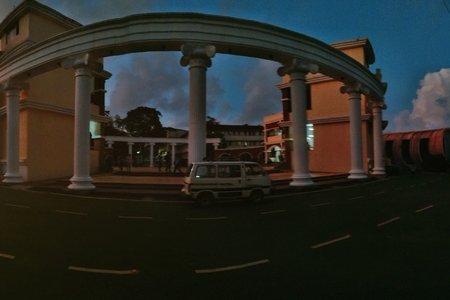 Original photo by Khushi Sinha
Manipal: An Unforgettable Journey
Edited by: Anushka Shrivastava
"Manipal isn't a place; it's an emotion" was a phrase I heard from the students upon my arrival to the campus. Arriving from a faraway city to this university town was a significant change, and I, for one, was not too fond of it. I left home with some expectations for myself and Manipal; being welcomed by its fabled rains was not one of them. I stood (nearly drenched) in front of the college gate with suitcases on either side. This was when a question dawned on me – This place is going to be a panorama of challenges, learning, and possibilities, am I ready for it? Afraid, I took a step right in.
There stood a fountain with music in the background in the middle of all the shops— known as Student Plaza (or KC)— which would, in subsequent months, become my hanging spot. At the time, KC was filled with newbies purchasing prerequisites for their rooms while feelings of confusion hung in the air. While I tried to make sense of the unknown environment, my parents sighed of relief at the sight of markets, medical stores, and eateries. Once they left for me to figure out 'College Life' on my own, the journey began.
The first few weeks were spent puddling to the classes, registering for clubs beyond my capability, and memorising new names. Some of us were quick to learn Manipal's monsoon culture — take care of your umbrella or have it stolen. College evenings consisted of students, especially newcomers, sitting at KC and singing in groups or engaging in conversations. There was a strange sense of familiarity amongst the uncertainty— a solace that I would eventually find comforting. Though the curfew hours had us back in our hostels by 10 pm, I made most of my initial time exploring in and out of the campus and realised that this university town is a perfect mould of nature and entertainment. The taste of newfound freedom was thrilling, and the hostel life only added to it.
Soon enough began the wrath of back-to-back exams. Late nights and early mornings became the new schedule as we marched through the heavy downpour. However, despite all the stress, the academic life had to offer, the campus life provided much more. Our technical fest Tech Tatva saw the enthusiasm for innovation amongst the students. Diwali was approaching soon, and so was the feeling of homesickness. However, Manipal's celebrations uplifted the mood and stirred the festive spirit. The hype further extended to Halloween. There would also be open mic sessions, drama plays, sports face-offs, and workshops amidst other happenings, making us feel as if we were careening through the semester at breakneck speed. We thrived on month-end dinner specials in the Food Court but later resorted to Manna Rolls, Pai Tiffins, pizza deliveries, and the beloved night canteen for the rest of the days. 
The beginning of a new semester in January had us back on track, promising yet another round of enthralling experiences. I remember singing along to When Chai Met Toast as they performed live and having uncontrollable bursts of laughter with my friends watching Biswa Kalyan Rath's live stand-up. Oh, how we ran back to our hostels to reach within the curfew hours!
Revels, the much anticipated cultural fest of MIT Manipal, brought about heightened levels of excitement over the thought of attending Prateek Kuhad's live show. The four-day-long fest was perhaps the most active time for the college, with the participation from other universities, dance-offs, food stalls, and, most importantly, the long-awaited late-night live performances by famous artists. Surely, Manipal knows how to entertain its students. Shortly after, we celebrated Holi — a colourful sight assisted with sweet stalls and, of course, water tubs that rendered people unrecognisable by the end of the celebration. Post the merrymaking, assignments, sessionals and lab exams followed by finals awaited us as we reluctantly geared up for its preparations.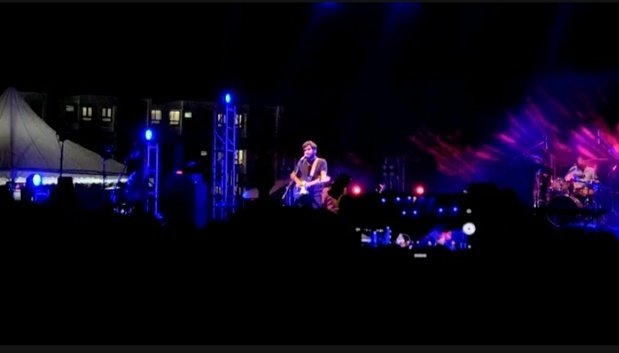 Original photo by Khushi Sinha
Hence, if anyone were to tell me that within a week, there would be a turning point, that we would be fighting a pandemic with unsaid goodbyes to a semester that was left incomplete, I would not have believed you.
Consequently, uncertainties and unforeseen circumstances took over due to the wake of the Novel Coronavirus. Today, as I switch on my laptop to resume the second year in the online mode, I cannot help but reminisce about the better days: a change I was initially unwilling to embrace. Wise ones say, "Change is the only constant," and I could not have been more thankful for it. As an individual with different goals and broadened perspectives today, my expectations have changed too. 
It is believed that old habits seldom die, such as being a backbencher in school to being a backbencher in college. And contrary to the stereotype of a backbencher, I do make my notes— with multicoloured pens.