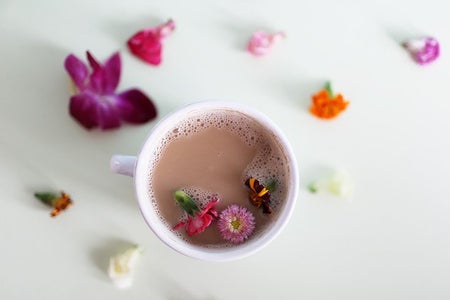 Different Kinds of Teas and Why You Should Drink Them
It may come as a surprise that tea is more than flavored hot water, but it actually provides numerous health benefits for its consumers. Tea is packed with antioxidants and has proven to help with regulating heart disease, diabetes, metabolism, and encouraging weight loss. Even if you are a coffee-fiend, I still encourage you to swap out your midday pick-me-up with a nice hot cup of tea instead. Below I have listed a few of my favorite kinds of teas, tea brands, and the individual benefits that each tea can provide. 
Favorite brands: Yogi, Bigelow, Tazo, Celestial Beginnings, and Twinings
1. Green Tea
A cup of green tea with honey is one of my favorite ways to start off my morning. Not only does it provide a boost of energy, but gets my metabolism going as well. 
How to brew: 1 - 3 minutes (longer brew time = more bitter)
Benefits: Prevents clogged arteries, reduces production of stress hormones, and improves cholesterol levels.
2. Chamomile 
I love to unwind at the end of every day with a soothing cup of Chamomile tea. While I am getting ready for bed, I will boil some water in a kettle and then my tea will be ready for me by the time I'm finished.  
How to brew: 3-5 minutes (like green tea, longer brew time = more bitter)
Benefits: Sleep aid, soothes irritated stomach/minimizes bloating, and reduces inflammation.
3. Peppermint
When it comes to peppermint tea, I've found that most people either love it or hate it. I am quite indifferent about it, so I'll usually only have it every once in a while, but if you want both a soothing and refreshing tea, then peppermint is your go-to. 
How to brew: 1-3 minutes 
Benefits: Boosts immune system, relieves headaches, reduces inflammation, and improves digestion.
4. Black Tea&English Breakfast
If you are looking for another great alternative to coffee, but still want that caffeine kick, then I would recommend Black Tea. If I'm not drinking green tea in the morning, then I will most likely be drinking black tea with a splash of vanilla soy milk. The milk helps reduce the bitter flavor, therefore, I can let the tea bag sit for longer.
How to brew: 2-5 minutes (longer for a stronger flavor)
Benefits: Lowers risk of ovarian cancer, prevents clogged arteries, and reduces risk of heart attack and cardiovascular disease.
5. Lemon, Ginger & Honey
If you are ever feeling a little under the weather or think you caught the flu, many of your symptoms can be reduced with this simple, yet effective combination. Fresh lemon juice is an excellent source of vitamin C, ginger can help relieve feelings of nausea, and combined with honey, these ingredients provide a great boost for your immune system. 
How to brew: 3+ minutes to let the flavors infuse (tea can be enjoyed with the ingredients remaining in the mug)
Benefits: Prevents blood clotting and reduces cholesterol.
Special mentions: Matcha & Chai
If you are not much of a coffee or tea drinker, I would highly recommend you try either a Matcha or Chai latte with soy milk (or any milk of your choice). Many say Matcha tastes like you're drinking grass, but don't knock it before you try it. Call me basic, but one of my favorite locations to get either of these lattes is Starbucks because you can customize it as much or as little as you want to suit your tastes. For those of you in the Manhattan College area,  I suggest trying the Chai latte from Mon Amour café; you won't be disappointed.