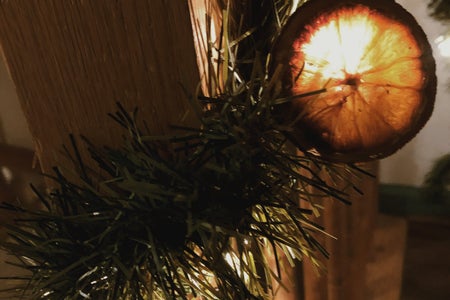 Original photo by Elena Johnston
Holiday DIY: Dried Orange Christmas Garland
Christmas is a crafter's dream…glitter, baked goods, and decor everywhere. As a self-proclaimed human elf, I adore getting to create and make some Christmas magic myself. So, I teamed up with my sister (aka my crafter in crime) and we tested out five holiday crafts that will fill up your holiday break and make you a bit more jolly.
Today, we're going to make a dried orange Christmas garland!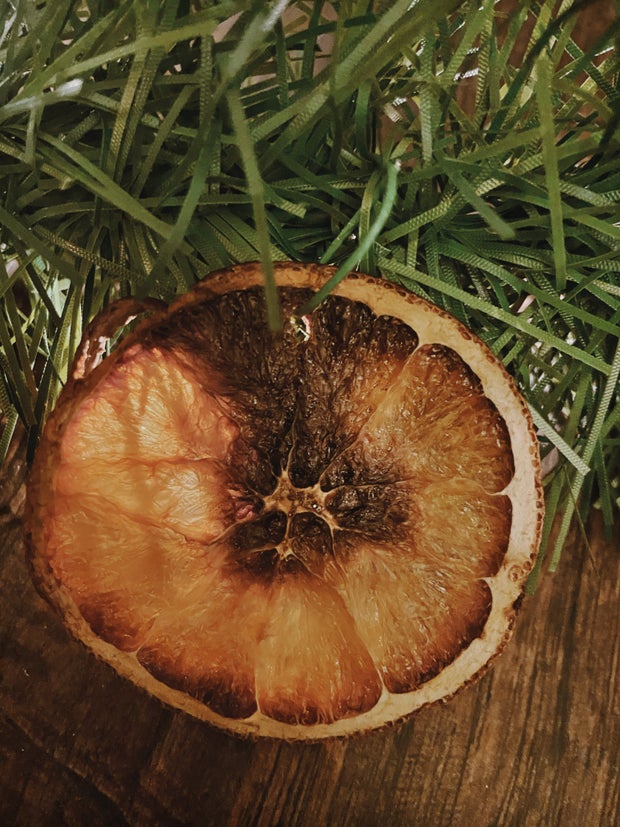 Original photo by Elena Johnston Oranges are personally one of my favorite Christmas scents, the sweet citrus automatically reminds me of the holidays. Inspired by traditional colonial-era Christmas decor, this garland will not only look like Christmas but smell like it too! 
What You'll Need:  
Green garland (we went with artificial greenery from Michaels craft store, any length will do but ours was 12 feet long) 

2-3 oranges (may need more or less depending on garland length) 
Christmas lights (or garland with lights already strung in) 

A knife  

Cooking sheet lined with foil  

An oven 

Christmas tree hooks  
Directions:  
Start by cutting up the oranges into circular slices. Make the slices about a quarter of an inch thick.

Create a small puncture in each orange close to the edge, this is how we will string them on to the garland.  

Place the orange slices on the foil baking sheet. Place them about an inch or so apart. You may need two baking sheets depending on the number of slices.  

Bake the oranges at 250 degrees Fahrenheit for an hour and a half to dry the oranges out.

After an hour and a half, check the oranges and flip them over. Don't worry if they brown a bit or aren't fully dry yet.  

Continue baking at 250 until fully dry. Ours took about 2 hours and 15 minutes but it can vary oven to oven.  

While waiting for the oranges, prep the garland. If your garland came with lights already wrapped in the garland, skip this step. Otherwise, take your Christmas lights and string them through the garland, securing them with Christmas tree hooks.

After the oranges are fully dry, allow for cooling before using the Christmas tree hooks to attach. Use the small hole created prior baking, or use the hook to create a hole, then use the hook to secure the garland.  

Finally, wrap the garland up on stairs, a mantle, or really anywhere! Adjust the slices if needed.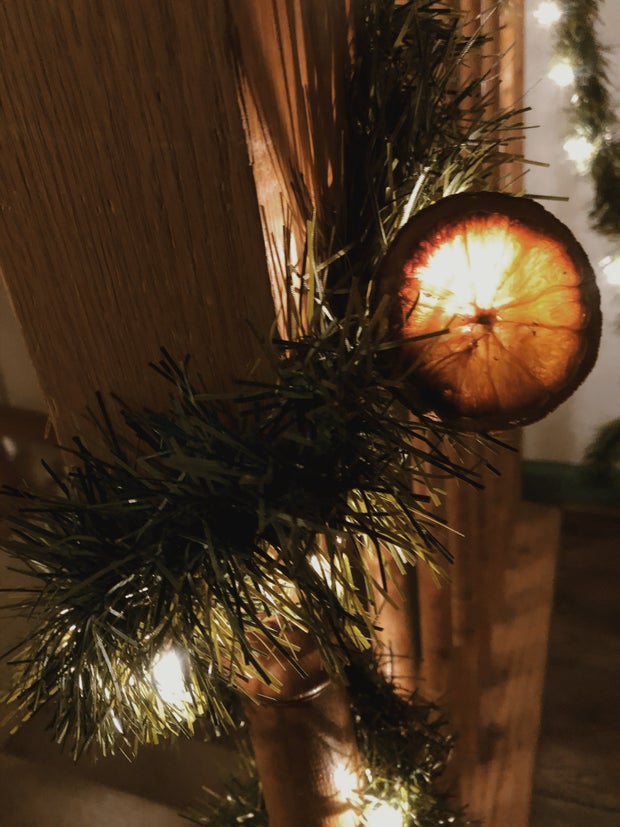 Original photo by Elena Johnston
This was personally my favorite DIY we tried. The lights illuminate the oranges creating a magical glow! The citrus smell doesn't last too long but the garland is a decoration that will last the season! 
Click here to check out the first craft we made, easy no-sew embroidery hoop ornaments! One of my fellow HC at LUM writers also shared her favorite super simple DIY for winter, so click here to read about how to make homemade snowglobes! Be sure to stay tuned for our other DIYs, they'll be published later in the week!