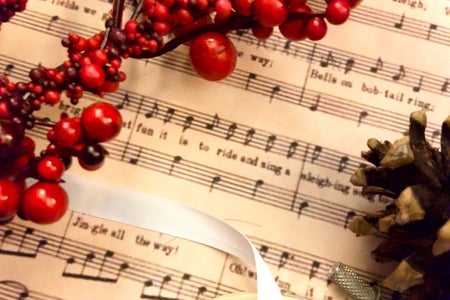 Original photo by Elena Johnston
Holiday DIY: Easy No-Sew Embroidery Hoop Ornaments
Christmas is a crafter's dream…glitter, baked goods, and decor everywhere. As a self-proclaimed human elf, I adore getting to create and make some Christmas magic myself. So, I teamed up with my sister (aka my crafter in crime) and we tested out five-holiday crafts that will fill up your holiday break and make you a bit more jolly. Today we're starting off with these easy, no-sew embroidery hoop ornaments!
Embroidery is such a beautiful and delicate craft but if you are like me and not so inclined to sewing, then be sure to try out these no-sew ornaments! The beauty of these is you still get that embroidery look without the time or skill of traditional embroidery.
Original photo by Elena Johnston
What you need:
Scrapbook paper (or print out a pretty design. Being absolutely Christmas carol obsessed, we went with sheet music of our favorite carols) 

3-inch embroidery hoops  

Some holiday greenery  

Tape or glue 

Scissors  

Ribbon  

Wood stain (optional)  
Directions:
We started by staining our embroidery hoops since we wanted a darker wood. This step is completely optional and you can also use paint if you don't have a wood stain. Just make to get an even coat and wait for it to dry fully

Taking your paper, trace out a circle that is slightly bigger than your embroidery hoop and cut it out.  

After the hoop was dried from the stain, open up the hoop to you have two circles. Place the paper against the bigger circle and screw the smaller circle in. The result should be paper that is pinched between the two circles 

Smooth out the paper and make sure any ends are taped up. You want the paper to be strong and unwrinkled.

Cut up some Christmas greenery and position it on the embroidery hoop. It can be against the paper or on the actual hoop. 

Tape or glue the greenery in place. It should look like the greenery is popping out from the embroidery hoop and paper.  

Cut and tie a ribbon through the opening in the embroidery hoop.

Voila! Your hoop has transformed into an ornament and is ready to be hanged on the tree! Original photo by Elena Johnston
This is how ours turned out! Elegant, unique, slightly rustic…all the fine trimmings of a beautiful ornament!