Friday, October 1st:
Venteux Brasserie, Cafe & Oyster Bar
224 N Michigan Ave Chicago, IL 60601
To start off October the ladies and I were set on checking out Venteux, the trendy Parisian cafe turned oyster bar at night. I found this location in one of my many TikTok binges, and Caro had walked by the cafe on her commute to her internship all summer. After minimal discussion, this was an easy decision for a Coffee Friday stop.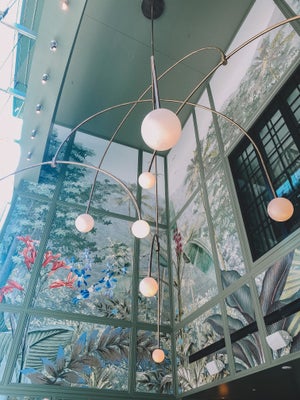 Walking into Venteux I truly felt I had stepped out of Chicago and into a fancy European cafe. I definitely felt slightly out of place surrounded by those dressed to the nines for an upscale Friday morning brunch, while I was in my comfy Friday class attire. But after further observation, the cafe was filled with people grabbing a coffee-to-go in more casual attire. The multi-story high ceiling, floor-to-ceiling window and floral mural combination provided an elegant, fairy-like feeling in the cafe. There is limited indoor seating in the cafe portion of the restaurant, so we sat outside and enjoyed the surprising October heat.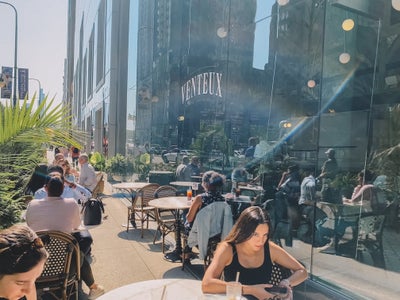 The coffees here were decent, but the stars of the show at Venteux are definitely the pastries. We all ordered iced vanilla lattes, with a varying array of baked goods. Julia and I ordered croissants, Claudia ordered a chocolate croissant and Caro ordered the gluten-free chocolate cake — all of which hit the spot to top off at the end of a crazy busy school week. I would love to come back to Venteux for a full brunch experience and will stop by for a coffee and pastry again.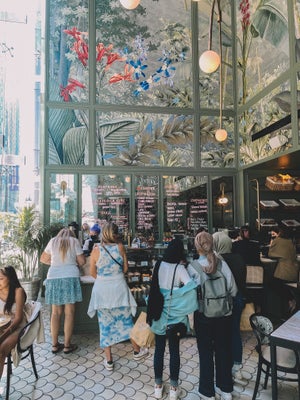 Friday, October 8th:
Starbucks Reserve Roastery
646 N Michigan Ave Chicago, IL 60611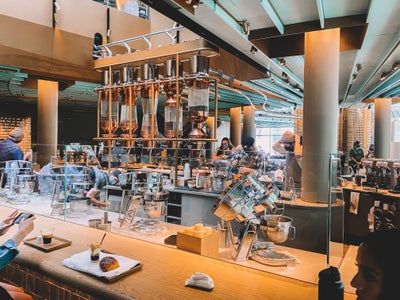 For the second Friday of the month Julia, Caro, Claudia and I decided it was time to make a return to the newest Chicago must-see attraction, The Starbucks Reserve Roastery. On November 15, 2019, the largest Starbucks in the world opened on Michigan Avenue in Chicago. Since then, we have all made a few visits to the Reserve and have been impressed each time. With the Reserve only a few blocks from campus it seemed like the easiest satisfactory stop after the crazy busy school weeks we all had.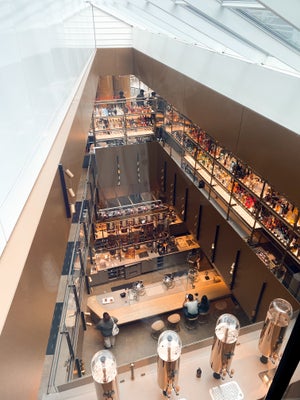 Even after visiting several times, I continue to be impressed with the unique and captivating design elements in the Starbucks Reserve. The roastery consists of four floors, each with a different focus, as well as a rooftop that I was unaware existed until this visit. The first floor is mainly a gift shop with visual attractions. On the second floor is the bakery selling the Reserve's unique food menu, the third floor is the main coffee bar and the fourth floor is a cocktail bar. Each floor contains its own unique design elements, but a few of the most notable to me would have to be the spiral escalator, the tube coffee bean dispensers and the large bean roaster. Truly there are so many different attractions in the roastery that my quick summary could not do justice — it is a must-see for yourself!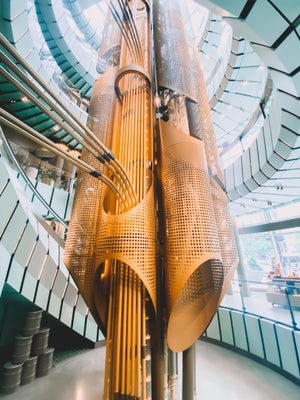 To some of your surprise, the roastery does not only sell the typical Starbucks drinks that the world knows and loves but has created a 16-page menu with unique craft creations you can only find at a roastery location. My go-to is always the cold brew and gelato float and the girls all ordered the affogato, which is two shots of espresso over gelato. The gelato here is a sweet cream-infused gelato, making it the perfect creamy flavor to pair with a coffee. Aside from a couple of croissants which were delicious as well, we didn't venture much into the food offerings at the roastery, but my past food experiences have always been great here. If you're looking for a full unique coffee experience, I would highly recommend checking out the Starbucks Reserve Roastery. Despite its Starbucks name tag, it's not just your basic coffee stop.
Friday, October 15th:
Dom's Kitchen and Market
2730 N Halsted St Chicago, IL 60614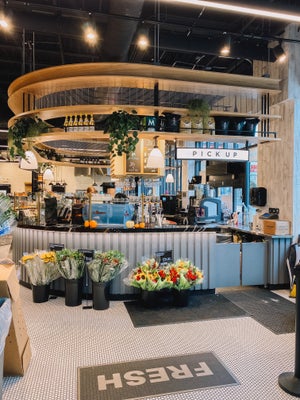 Dom's Kitchen and Market was added to the list of future Coffee Friday stops after our September visit to Café Deko. The combined grocery market and coffee shop is located right across the street from Café Deko, so after passing by the cute outdoor order window and peering in the windows we knew we would need to pop-by in the future. So on this dreary Friday morning, we headed to check out the coffee shop right off the Diversey stop of the Brown Line.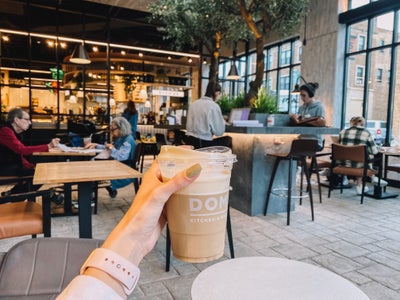 Upon entering the small grocery market and coffee shop I thought to myself, "If I lived in this neighborhood, I would love to shop in this grocery store." The quaint shop, filled with a plethora of fresh produce, unique products, and an adorable and large coffee bar area seemed like the perfect spot for me to waste time shopping. I became even more pleased with the location when I ran into an old friend that was now the lead barista there! The earthy tones, greenery, and large seating space made this a great place to get some work done or just sit and chat with friends.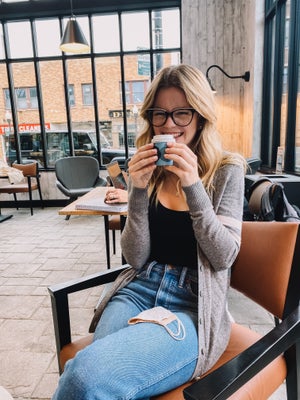 Dom's had quite the large menu of seasonal fall coffees, so we all decided to choose from this menu and embrace the fall season. Caro and I ordered Dom's Funky Pumpkin Draft Latte, which is described as a "foamy spiced pumpkin cold brew with oat milk" and Julia ordered the Candy Caramel Apple Cortado, an "espresso with oat milk and caramel apple syrup." Both of these drinks received 10/10 ratings from the Coffee Friday experts. I hope to come back to try out a possible Holiday seasonal menu and take advantage of the lovely study space.
Friday, October 22nd:
Hero Coffee Bar
2950 N Sheridan Rd
In the midst of the busy midterm season this coffee Friday ended up being just Julia and I. After evaluating a few options from our shared note of coffee shop options we decided it was time to check out Hero Coffee Bar. This shop had been on the list for a while, but because of its slightly odd locations in comparison to our homes and campus' we had not yet made the venture there. This shop is closest to the Belmont stop of the red line, but taking a bus rather than the train will bring you much closer to the shop.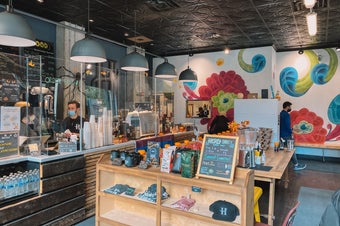 The shop itself gave me elementary school classroom vibes. Not in a cringey millennial Rae-Dunn-and-cheesy-quotes way, but because of the bright primary colors in the paintings on the wall, the chalkboards and classroom style chairs. The elementary school classroom elements in combination with the big windows and natural lighting made for another perfect study location. Most everyone sitting in the cafe was tuned into their laptops, busy working away.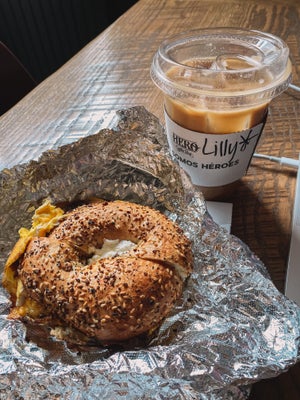 For today's coffee order I opted for another seasonal fall drink, the Iced Butterscotch Bliss Latte, while Julia enjoyed her typical iced vanilla latte. The inclusion of a butterscotch flavor on their seasonal menu was very unique to me and I enjoyed every bit of it! Occasionally I find that the sweet seasonal flavors tend to be barely recognizable from a vanilla or caramel flavor, but I could really taste the distinct brown sugar and butter flavor of the butterscotch. My favorite part of this Coffee Friday had to be the bagel breakfast sandwich. I love a good coffee shop breakfast sandwich and Hero Coffee Bar's fresh bagels and cooked-to-order toppings definitely outshined the pre-cooked frozen sandwiches that many other coffee shops serve. Despite the odd location, I would definitely return to Hero Coffee Bar for some study time and a bagel sandwich.