As a coffee addict moving to the big city of Chicago, where there is an infinite number of coffee shop options, it quickly became one of my goals to check out as many small coffee shops in the city as I could. And of course, one coffee lover attracts many more coffee-loving friends.
With our mutual coffee addiction and a burning desire for the perfect aesthetic Instagram pictures as fuel, Coffee Friday was born. My friend Julia brought the idea forward as the perfect way to end our school weeks. Coffee Friday has become a time to decompress with a delicious cup of joe and good company before we move into our busy weekends.
After 3 years of Coffee Fridays, I've decided our excursions needed to be shared with coffee fanatics everywhere. So here is the first official Coffee Friday monthly recap!
Friday, September 3rd:
313 W Wolf Point Plaza Ste 120, Chicago, IL 60654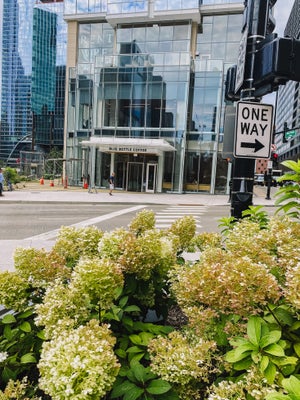 For the first coffee Friday of our senior year, Julia, Caro, Claudia, and I met at the recently opened Blue Bottle Coffee. This was an easy choice as Julia, the Californian of the group, has raved about Blue Bottle for years. Earlier in the summer, Caro and I were even able to try it in the coffee shop's home state on our trip to visit Julia in the Bay Area. Although we tried it once before, we have been saving our stop into the Chicago location for a Coffee Friday trip since its opening on July 12th this summer.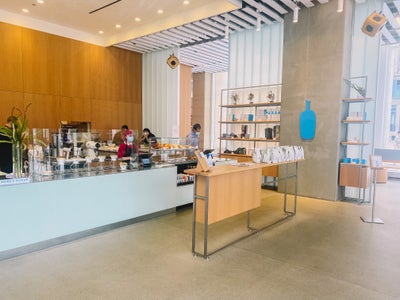 Upon first glance, the all window exterior and location right next to the River gives the shop an upscale and modern feel. The interior was full of warm wood tones and blue accents that give the inside a bright and productive atmosphere that I absolutely loved.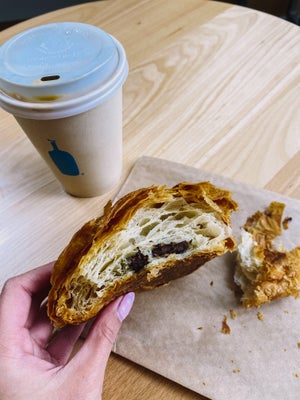 My order was a New Orleans Iced Coffee, which the menu described as a "Cold Brew made with Milk, Cane Sugar, and Roasted Chicory", and a chocolate croissant. Both of which were to die for, and the birds seemed to love the flakes of my croissant I left behind as well. If you appreciate a nutty, woody flavor in your coffee with just enough added sweetness, this New Orleans Iced Coffee is definitely the drink for you. The girls all ordered an Iced Sweet Latte with varying milk choices and this drink received stellar reviews all around.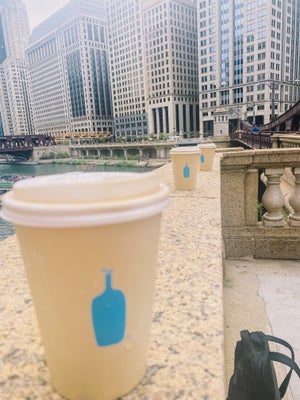 Overall, the atmosphere, food, and drinks at Blue Bottle were a major standout on the Coffee Friday list and I will be returning in the future.
Friday, September 10th:
800 W Diversey Pkwy, Chicago, IL 60614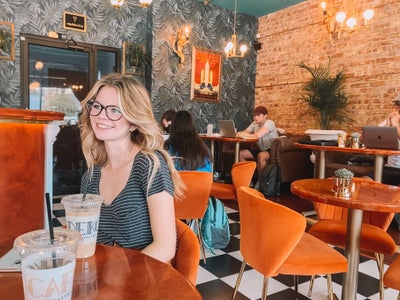 Cafe Deko… let me tell you, I may have found a coffee shop to bump every other coffee shop on my list. This Instagram find will definitely remain one of my go-to spots for all of my time in Chicago. The coffee shop is located in Lakeview near the Diversey stop of the Brown line, making it a convenient 20 min train ride from either of Loyola's campuses.
I am a sucker for warm and rich colors, so walking into the oasis of burnt orange and forest green made me feel immediately at home. The interior felt like a mixture between a scene from Alice In Wonderland and a jungle. To some the checkerboard floors, leafy wallpaper, extravagant light fixtures, and orange velvet upholstered furniture may cause sensory overload, but I personally felt inspired. I was especially  intrigued by the many monkey lights hanging on every wall spaced equally apart. If I had to describe the vibe in two words I would say it felt expensive yet whimsical.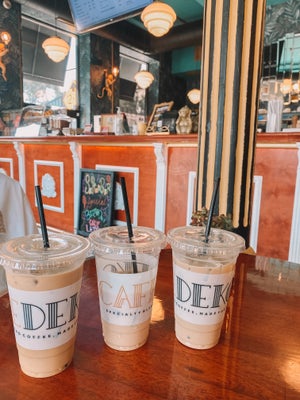 As for the coffee, they make a killer iced latte like the rest of 'em. With it being September, I decided to embrace my basicness and go for an iced pumpkin spice latte. Julia and Caro went classic with iced vanilla lattes and Claudia switched her typical order for a cold brew with oat milk and pumpkin.
Each of these coffees were delicious enough for Julia and I to go back the following week for a study date. Of all of the coffee shops in September and possibly Coffee Friday in general, Cafe Deko is definitely at the top of the list.
Friday, September 17th:
942 W Montrose Ave, Chicago, IL 60613
When there is a standout Coffee Friday, we know we are bound to find one equally disappointing in the near future. Drink Happy Thoughts was a recommendation from a friend and looked very promising, so we committed to the longer than typical trek from our downtown campus. This shop is located in the Uptown neighborhood right off of the Wilson stop of the red line. It was a very hole-in-the-wall location that could be easily passed by if not actively seeking it out, which typically I find makes for a great coffee.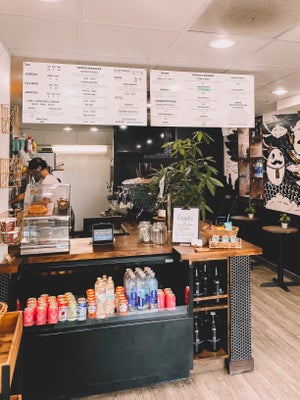 The decor was cute, but not as much my speed as other recent coffee stops. As I've said I love color, so the mostly neutral black, white, and wood tones design didn't do as much for me. I did enjoy the creative doodle mural on the wall and the plant accents, but the interior overall did not pique my interest. We were also sad to learn that the shop was currently not allowing dine-in, so we brought our coffees on our commute back downtown to school.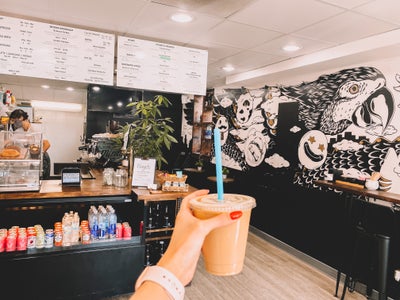 As for the coffees, I was the only one that somewhat enjoyed my drink. It is always a bit risky to stray from our typical orders, but with all the specialty drinks at this location, we thought that specialty was the way to go.
I ordered the Birds & The Bees Iced Latte, which is espresso with lavender and clover honey with milk. Julia ordered the Dreamsicle Cold Brew, a cold brew topped with orange cold foam. And Caro ordered the Horchata Latte, which is surprisingly half cold brew (rather than espresso), half horchata, and topped with whipped cream. These interesting combinations were definitely not our favorites. My drink was the best of the three, but was way too sweet for my liking and the other two were barely choked down.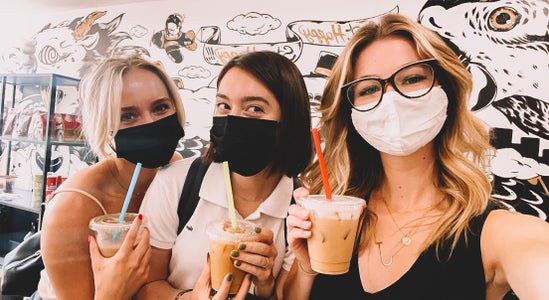 I would consider giving Drink Happy Thoughts a second chance and take a recommendation from the barista or just order one of my typical coffees, but I would not recommend any of the drinks we tried.
Friday, September 24th:
330 N Wabash Ave, Chicago, IL 60611
The final Coffee Friday of the month was a special edition with my parents in town to participate! After some late-night internet scouring the night before, Julia and I decided on Mojo Coffee Bar in the heart of downtown near the Grand stop of the Red Line. The location was very convenient as it is also a walkable distance from Loyola's downtown campus.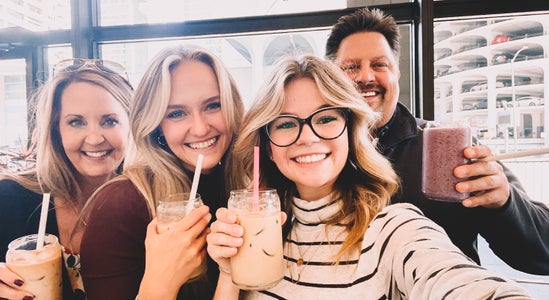 Mojo Coffee Bar is located in the lobby of an office building, which gives the space a slightly different feel than your typical cozy coffee shop. The space felt modern, minimalistic, and slightly industrial, which works well for a lobby coffee shop. I did enjoy the space, but would not recommend it for an intense study session or cozy coffee date, but rather it would be more appropriate for a quick on-the-go coffee run.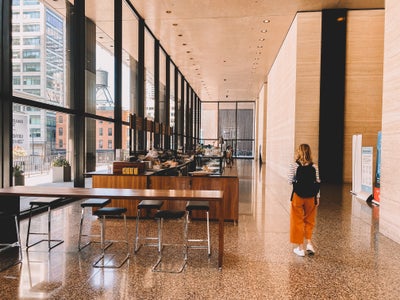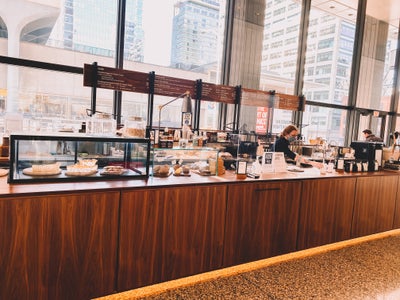 Now let's get into the final orders of the month. After the fiasco that was last week's drinks, Julia and I played it safe with iced vanilla lattes and my mom followed suit. My dad on the other hand ordered a blueberry peanut butter smoothie out of left field. Both of these drinks were acceptable, but nothing majorly differentiated them either. If it happened to be a convenient stop on a day downtown, Mojo Coffee Bar would be an option, but I would not go out of my way to return.