Even as a kid, I've always had a weird love for grocery shopping. I used to tag along with my mom and be her "list crosser-offer" while we perused the aisles looking for the foods we needed for that week's meals. Even though my mom always planned out meals ahead of time and stuck to her list, something about the endless possibilities in a grocery store always excited me.
One of the most difficult transitions from dependent living with parents to independent apartment living (with a quick pit-stop at dorm and dining hall living, of course) I found most difficult was figuring out the ins and outs of grocery shopping, especially now that I actually pay attention to how much food costs. (I was incredibly privileged to grow up in a family that would save when we could, but also never really had to worry about getting food on the table.)
In and of itself, grocery shopping is pretty simple — you buy the foods, so you can cook the foods, so you can eat the foods! When you have to factor in a probably-pretty-tight-because-you're-a-young-person-earning-meager-wages budget, it can get a lot trickier. 
As a self-proclaimed food connoisseur and wannabe food blogger/home cook, I've gained quite a bit of experience in the world of budget grocery shopping. Here are some tips I swear by that have helped save me money at the grocery store!
Plan meals ahead.
This one is an absolute game changer. It's so much easier (and cheaper in the long run) to plan out your meals first, then buy the ingredients you need rather than buying a whole bunch of foods and having to figure out what you can do with them. That can lead to a lot of food waste if things go bad before you can use them, plus it takes a lot more creative energy. 
Now, I do like being creative in the kitchen, so I'll usually only plan out four or five meals for a two-week period. This leaves me with a few days to experiment, a few days for leftovers (cooking for one is hard, yo), and a bit of flexibility for ordering takeout. It's important to figure out your culinary priorities — whether it's creativity, time, nutrition, or whatever it is you value most in the kitchen — then plan and shop accordingly.
Don't be afraid to go to more than one store.
This tip may not be for you if time saving is one of your priorities, but I promise it'll save you money! Though some more name-brand products have a pretty standard price across the board, a lot of items like produce really depend on where the store itself orders from, meaning there can be a lot of price variability between stores.
For example, I love getting fresh produce like bell peppers, cucumbers and tomatoes from a local market near me because they're all super affordable. The dairy items there can be pretty pricey, though, so I also take a trip to my local Aldi for things like soy milk, Greek yogurt and frozen items that are cheaper there. It can take a few trips to really get acquainted with your grocery store(s) and figure out which items are best to get where, so it's definitely a commitment. However, I feel much more confident shopping on a budget when I know I'm getting the best deals!
Scout the weekly ads.
And speaking of deals, browsing weekly ads can be really helpful when planning out your meals so you can see which items are on sale when you plan to go shopping. Most grocery stores mix up which items are on sale each week to keep customers coming back, so just because something was a certain price the last time you went shopping, doesn't mean it'll be the same price the next time you go. Scoping out the deals ahead of time for the day you plan to go shopping can save you big time!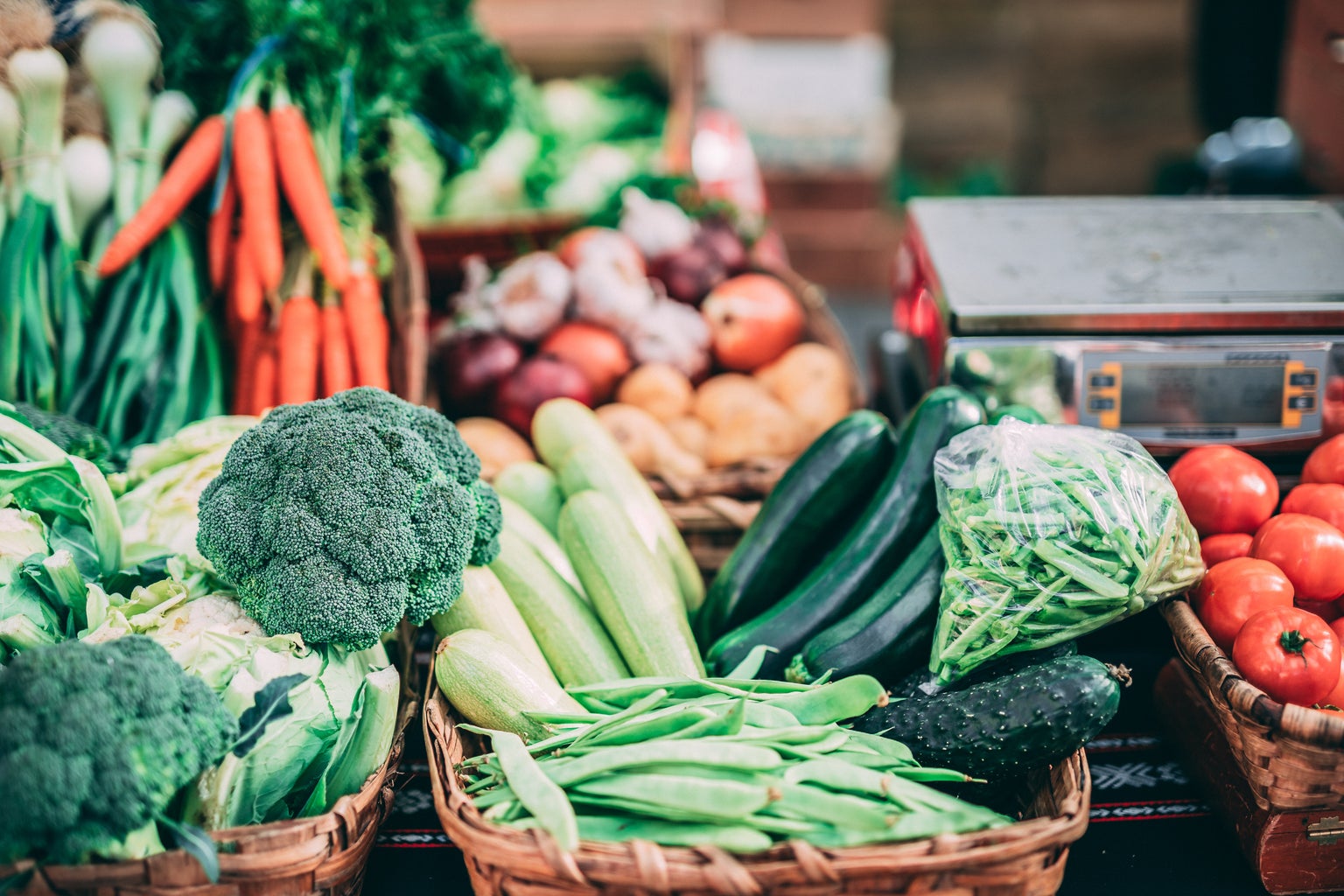 Cook in season.
This tip is super important not only for saving money but also for giving your dishes loads more flavor and limiting the environmental impact of your grocery haul! Buying seasonally often goes hand-in-hand with buying locally, and this is why those foods tend to be cheaper. 
If a certain food is in season — such as peaches in the summer or asparagus in the spring, for example — grocery stores don't have to source foods from as far away as they would in the dead of winter. This limits that food's "food miles," which benefits you as a shopper in a number of ways. First, the food will be cheaper since the store pays less in shipping costs the closer an item is shipped from. Second, it greatly reduces the carbon footprint by decreasing shipping mileage. Lastly, since that food will not be in transit as long, it has more time to mature in the ground, meaning it will be fresher and taste way better! (Ever wonder why strawberries in the winter just don't taste as good as they do in the summer? That's why. Don't worry you're not crazy!) Check out this report by the Student Environmental Resource Center at UC Berkeley to see just how much impact your shopping choices can make!
To be sure, shopping seasonally is not always an easy task. I'm definitely still learning myself. Luckily, Bon Appetit has some awesome tips to help you get in the mindset of seasonal cooking!
These are some of the best grocery shopping tips that have been passed down to me by my mom, who I have long considered an expert in the field. I've saved so much money by implementing these into my grocery shopping strategy (if you could call it that), so try them out for yourself and see how much your wallet thanks you!