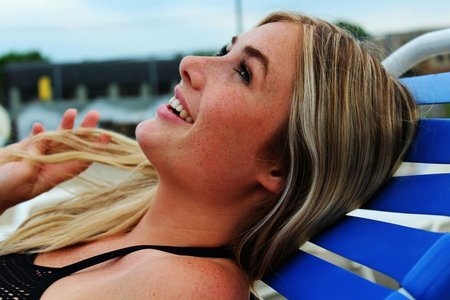 Celina Timmerman / Her Campus
Winter season is here, summer is long behind us, and we need to be not just sun-kissed but sun-makeout in fear of looking slightly washed out. And orange is not just a color to rep for one of the worst NFL in Cincinnati, my birthplace. It seems to have become a year-round color to rep on your skin. 
I grew up in a family where tanning required minimal effort. My father grew up on the beach in southern Connecticut and has stayed as dark as my mother's Italian leather bag since the mid-1960s. My mother was born and raised in the Bluegrass country where summers were spent on the farm and dusty baseball fields. Along with that, my mother is of southern France descent, gaining olive skin from her father. And neither of my parents started applying sunscreen until after having my siblings and me.
With the combination of genetics and native grounds, tan has become a popular color in my family, next to blonde. All of my family spent their summers either at the beach or at our local pool that eventually became a second home. Almost all of my siblings and I were lifeguards for multiple years, and it took only about one shift on Memorial Day Weekend to show darkening. We only were reminded to apply sunscreen throughout our shift by our parents but that still didn't stop us from gaining freckles and guard tan lines.
The world of tanning seems to have gained a lot of controversy over the years due to the short and long-term effects it has on you. But it isn't open to debate if one side is supported by facts and the other is supported by the desire of beauty. 
Today, the world offers us three ways to gain some color. But all of the seem to come with a price to pay with that sun-kissed reward.
Self-tanner/Spray tan
Pros: 
NO UV RAY SKIN DAMAGE!!!

According to Livestrong, spray tans has DHA (dihydroxyacetone) that is FDA approved. 

Color.

 With self-tanner/spray tan, there is no dreaded red sunburn. Only color. Oh, what a beautiful tan world. 
​Cons:
Stains/streaks, as seen before on the week of prom and/or any high school dance. 

If not given enough time, these lotions and sprays can cause stains on your bank account draining dress or your favorite leggings. If you are to use a lotion or gel, you can risk spreading it uneven, and it can show.

Short-term and $$$. 

Sadly, but surely, self-tanners and spray tans are only limited unless you are to keep restocking or become a regular at the tanning salon. This also can add up to a dent on your budget. 
Tanning bed
Pros:
Vitamin D

Tanning beds mimic natural sun exposure, thus, increasing your Vitamin D intake. 

Tan skin!

Yay! It does what it's supposed to do!
Cons:
Risk of cancer

Tanning beds have been linked to many forms of skin cancer like cell carcinoma and melanoma. In addition to that, if you are to not wear protective eye wear, you also risk eye cancer, according to the FDA. 

Early aging 

According to Livestrong, tanning beds causes a loss of elasticity in your skin, which leads to wrinkling. 

Sunburn

Although it isn't the actual sun a few inches from your face, it is still the same exposure. Tanning beds can still cause sunburns, especially those who are fair skinned.

$$$

In addition to risk of cancer and a nasty burn, tanning beds can add up to a hefty price when it comes to regular use.
The last one is natural tanning, my preferred method. As I have mentioned before, it doesn't take long for me to tan, and I have worked at a pool since the age of 16. With that being said, I am constantly outside, overdosing on vitamin D, throughout the summer. Obviously, the biggest pro of this would be the price. It doesn't exist because the sun is free! But when doing this and any type of tanning, you must be aware of the kind of skin you have in regard to its reaction to the sun. 
As your taking in all of this information, and if you are one dedicated to a healthy glow, please consider what is the healthiest option rather than the cheapest or most effective. But I'm here to just give you the information, not make the decision.