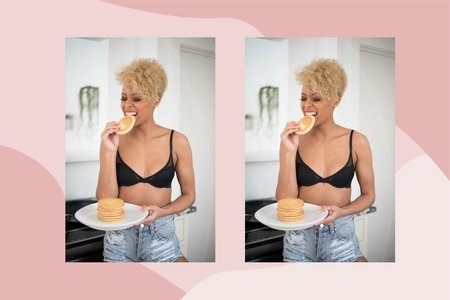 Recipes Your 3 A.M. Insomniac Self Just CAN'T Turn
As one does during social distancing, I was on my couch scrolling mindlessly through Pinterest when something caught my eye... and my mouth immediately started watering. 
"15 Indulgent Waffles You Can Literally Eat For Dessert." 
Talk dirty to me. 
The cover picture for the article was of a bite-sized Belgian waffle covered in chocolate chips and powdered sugar. I couldn't resist. My mouth was already watering. I tapped on the article and was immediately engrossed. 
THERE ARE SO MANY WAFFLE RECIPES. AND THEY'RE ALL INCREDIBLE LOOKING. 
I'll attach the link below so that you can admire all the glory that is this article of dessert waffles. But I want to focus on the one that truly captured my heart: the "S'mores Waffle," made with toasted coconut and Nutella. This recipe makes about 8-10 waffles and takes around 10 minutes! 
The ingredients for the waffle batter are as listed below! 
● 2 eggs 
● 1 1⁄2 cups milk 
● 1⁄4 cup (organic) honey 
● 2 cups flour 
● 1⁄2 teaspoon salt 
● 3 teaspoons baking powder 
● 2 graham crackers, crushed 
The ingredients for the "extra" components of the waffle, like the fillings and toppings, are as listed below! 
● Mini marshmallows 
● Toasted coconut 
● Nutella 
● Crushed graham crackers 
● (Organic) pancake syrup 
If you want the classic "s'mores" look, here's how to get it! Combine all of the ingredients for waffle batter in a mixing bowl, and pour into waffle iron. When it turns a sweet, delicious golden brown color, that's when you know it's ready to be devoured. Place marshmallows and nutella 
on the waffle and fold in half, letting both of the fillings melt. Top with toasted coconut, crushed graham crackers, and (as needed) some syrup! 
I tried this at home, and I would 100% recommend all of you to try. Even if it's 3 a.m. and you're in bed. Get up and go make some freaking s'mores waffles. 
Links: ● https://pinchofyum.com/smores-waffles 
● https://www.buzzfeed.com/dessertallday/15-delicious-waffles-you-can-eat-... z1s?utm_term=.wdK4eGAG2