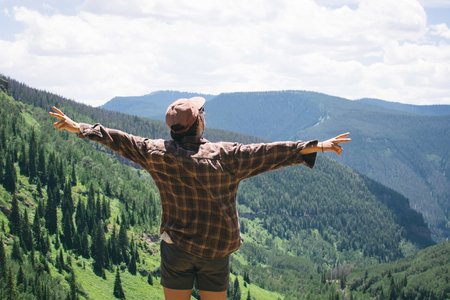 Cameron Smith / Her Campus
Five Kentucky Hikes You Can't Miss this Fall
Fall in Kentucky is absolutely beautiful! We have massive forested areas perfect for checking out the foliage as well as ideal cool and comfortable temperatures. Hiking is great for your physical and mental health too, and pretty accessible no matter your fitness level. If you're ready to get fit and enjoy autumn in all its glory, be sure to check out a few of Kentucky's best hiking spots!
For panoramic views: Natural Bridge State Park
Perfect for a day trip away from the city, Natural Bridge is one of Kentucky's best hidden treasures. Tucked within the Red River Gorge, the Natural Bridge is a huge sandstone arch nestled within miles of beautiful trees and well-marked trails. The best views along the trail are from the top of the bridge itself, Lookout Point, and Lover's Leap. This hike is perfect for enjoying the fall colors. For a delicious, post-hike, carb-filled reward, head over to Miguel's Pizza.
For a secluded escape: Jefferson Memorial Forest
If you don't want to venture too far from Louisville, nearby Jefferson Memorial Forest offers peaceful, secluded trails packed within dense wooded areas. It tends to be pretty uncrowded and therefore super COVID-friendly! The paths can be pretty uneven, and the hills can be challenging for the novice hiker, but you can't beat being completely surrounded by the festive foliage!
For water-lovers: Cumberland Falls State Park
Cumberland Falls, often known as the Niagara of the South for its dramatic and magical waterfall, is a quintessential autumn hike. Gorgeous fall scenery and a possible sighting of the rare moonbow phenomenon are just part of what makes this vista special. Keep an eye out for sandstone cliffs, historical overlooks, and other precious riverside finds. Various trail options make this park well worth the trek and will keep you busy all weekend.
For the metropolitan: Cherokee Park
If you don't feel like getting dirty or breaking a sweat, there is still an option for you! Head over to Louisville's own Cherokee Park and take a leisurely jaunt on paved paths, including a 2.4-mile Scenic Loop. It's bordered by gorgeous trees and scenery you just can't miss. Head across the street to Fante's Coffee when you're done for an autumn pastry and European-style coffee!
Honorable Mention: Middle Creek Park
A shout out to my hometown in northern Kentucky, this quaint park offers an easy to moderate well-marked loop. There won't be lookouts, but there is a creek with a broad riverbank if you want to relax with a picnic or just take in the fall views. The creek is also great for all you dog moms out there!
Happy hiking!