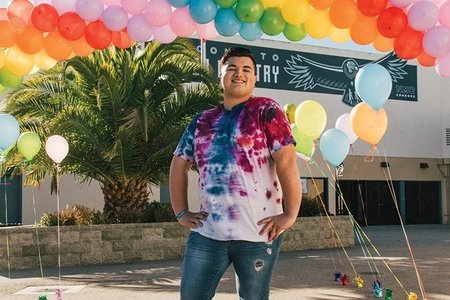 With a stadium full of change-makers, WE Day is back in Los Angeles to once again bring together thousands of youths to honor and celebrate their positive contributions that have stimulated change in their communities.
We Day is not an ordinary event where just anybody can attend. Rather, the 16,000 students from across California in attendance had to earn their way in by taking action on a local and global issue of their choice. For these students and educators, WE Day is free of charge and made possible by its National Co-Title Sponsors The Allstate Foundation and Unilever.
Since its start in 2007, WE Day has evolved from a single event into a series of 19 events held across North America, the U.K., and the Caribbean. Marc Kielburger, co-founder of the WE Charity, shared that he and his brother, Craig Kielburger, "started this a long time ago, I think twenty-four years ago, when we were kids back then in elementary school and dreaming of changing the world. We started as a small club in our school to get kids engaged to make the world a better place. Never in a million years did we think that WE Day would be here or that we'd grow so much that tens of thousands of schools would be involved."
Before the event, the blue carpet trimming the outskirts of the venu was star-packed with renowned speakers, celebrity performers, and innovative leaders.
Dr. Art McCoy, the 2017 PBS American Graduate Champion for Children, gives his advice to anybody that wants to give back to begin by, "First of all, fight the problem that you know you can be a solution to. Secondly, I believe in the three E's. Enlightenment: enlighten yourself to the issues of the day, find other partners to join hands with. Engage: reach out, send an email, [post] an Instagram or Snapchat, [...] engage people to get around your cause. The last one is to know that you are empowered by others who started to reach out and ask."
"The first step is really putting yourself out there," added Zeke Sumpter Ibarra, an advocate for equality and President of LULAC Youth. "I started speaking at whatever event I could, and reaching out to other nonprofits, and was just putting myself, my message, and my passions out there. If you want to make a change, put yourself out there to start making that change."
"Just by using your voice–even if it's with your friends or talking to your family about what you believe in–anything goes a long way," states Skylar Stecker, a 17-year-old singer and first year WE Day speaker. "With social media too, I feel like we've been given such a great platform to speak what we believe in…"
With over 200,000 students annually attending WE Day events, along with the millions watching through national TV broadcasts and online, the mission of WE to make doing good doable, is heard loud and clear by the youth. Even the tiny but mighty Brielle Milla, the seven-year-old science expert, wanted to remind all young people that, "they can make a lot of change even if they're small."
"My drive to give back came from my family and my parents. When I was growing up I was fortunate enough to witness love, support, and community values. As my daughter grows up, I want to carry those values forward for her and all younger people," says first year WE Day speaker, Chance the Rapper, as he takes the stage. By empowering youth through the arts, education, and civic engagement, he agrees that, "investing in young people is the most important thing to do."
He leaves the stadium of change-makers by sharing some sage advice: "Lead with positivity. Don't be afraid of your greatness, embrace it. Your vision is limitless."
Don't miss out on the nationally televised airing of the event on ABC on Friday, August 9, at 8PM ET/ 7PM CT.