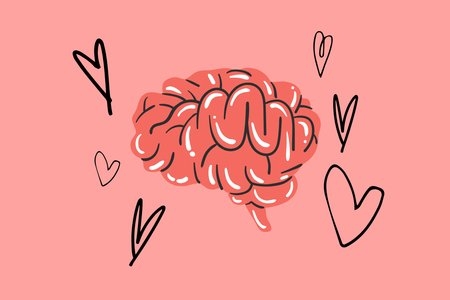 Original Illustration by Gina Escandon for Her Campus Media
How To Manage Mental Health During COVID-19 Quarantine
The last month has been one of the scariest times that our generation has experienced thus far. The outbreak of COVID-19 has consequently caused college campuses to shut down and turn to remote learning for the remainder of the semester. As a result, many students have been feeling anxious, stressed, and overwhelmed in terms of methods for dealing with something of this magnitude. 
The first thing that we must remember is that it is okay to have these feelings. This is something scary and you have every right to feel this way. That being said, it is so easy to feel helpless and out of control during these times. One thing you can do to gain back that control is instill practices into your daily routine that involve self-care and doing what is best for your mental health. 
Try to avoid excessive exposure to media coverage
While it is incredibly important to understand the impact of this virus on our communities, allowing the fear of this pandemic to dominate your daily life can be very harmful. Remember to limit your viewing of posts and news associated with COVID 19, because excessive exposure is not in the best interest for your mental health as it can cause anxiety to worsen.
Create a daily routine
One way to motivate yourself during quarantine and social distancing is by creating a daily routine. By doing so, you can implement activities into each day that help you feel both relaxed and productive, all while working from home. 
Allow time for daily stress relief
Due to the overwhelming nature of the current situation, daily feelings of stress can be expected. Allowing anywhere between 20 minutes and an hour a day for stress relief can help alleviate anxiety and allow you to feel calmer. Some of these stress relief activities include working out, journaling, or even talking to someone about how you are currently feeling.
Facetime & stay in contact with your loved ones
Though social distancing is necessary, it can cause you to feel disconnected from the people you are used to talking to every day. Make time in your day to text, call, or facetime your friends and family. A great time to do this is while you're eating lunch or dinner. Connection and conversations with your loved ones are something that can be controlled and that can also be incredibly crucial during times like these. Just because you cannot see them every day doesn't mean it is impossible for you to feel their presence. 
Practice Self-Care
Try to incorporate practices in your daily routine that allow you to check-in with yourself and provide some sense of tranquility. These can include face masks, movie nights with your family, meditation, prayer, or yoga. Do whatever makes you feel at ease, which in turn will boost your energy level and lessen the anxiety of the situation.
Remember that this is temporary and it will not last forever. During this time, there are so many things that we do not have control over, but we can manage the ways we properly deal with our mental health. It is important that we continually remind ourselves to live our lives while trying to avoid feeling powerless due to what is happening in the world around us.