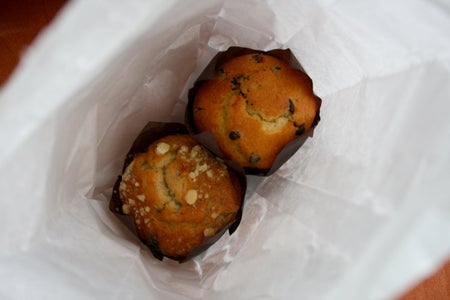 10 Fun and Healthy Dessert-For-Breakfast Ideas
If quarantine has brought me anything it's tons of time to bake and go down Instagram foodie rabbit holes. After months of doing so, I've found plenty of fun and healthy ways to spice up the most important meal of the day. Here are some of my favorites! 
These fruity muffins are all that you make them! Keep it classic with just apple and cinnamon or throw in any nuts or seeds of your choosing to spice things up. 
Oatmeal is one of my all-time favorites so I'm always looking for creative ways to incorporate it. Who doesn't love cookies for breakfast?!
3. Peanut Butter Banana Muffins
These muffins take less than 30 minutes to make and are gluten-free, dairy-free, artificial sugar-free, and vegetarian. A picture-perfect, super-easy breakfast! 
4. Apple Cinnamon Oatmeal Cups
This recipe is almost a cross between the apple cinnamon muffins and the oatmeal breakfast cookies: oatmeal cupcakes! If you're looking for another way to eat oatmeal that's not out of a bowl, look no further. 
Despite not being a little kid anymore, I always appreciate a creative way to incorporate greens into any sweet treat. These Zucchini bread muffins are a perfect and delicious example of that, plus they are a quick treat to make. 
These bars are great for breakfast or on the go (if you have anywhere to go), and also lend themselves to experimentation in the kitchen: fresh fruit, dried fruit, nuts, seeds, anything you want can get thrown in!
7. Double Chocolate Chip Banana Muffins
Double chocolate for breakfast? Yes please! Double chocolate that can be made in one bowl in under 30 minutes? YES! These easy and delicious muffins are a burst of energy and flavor that are guaranteed to get your day off to a great start.
This French Toast Casserole can be made with any bread from brioche to challah and is topped with a nutty sweet cinnamony crunch. Whether you're making it for several solo breakfasts or a group meal, this French Toast is sure to please. 
9. Cranberry Lemon Whole Wheat Muffins
I definitely don't consider myself a great cook, so the fact that this recipe says that it's easy to follow caught my eye as much as the picture of the muffins. After trying them (they're delicious), I'm confident that if I can make them, you can too!
This spicy muffin is great for vegans and non-vegans alike. They're also customizable, so you can add nuts, chocolate chips, or dried fruit to complement all of the chai spices to your liking.      
While all of these recipes are breakfast/dessert based, the Feel Good Foodie website has tons of awesome recipes, I recommend you check them out!