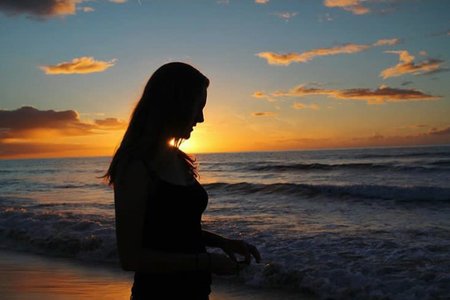 Charlotte Reader / Her Campus
Warning: Parental advisory is advised as lyrics are explicit that contain mature themes for a younger audience. 
Heart, mind, and soul.
Peace of mind is exactly what we all need during these dark times of stress and panic in the world. Music is a good form of therapy to tune all of that out for a while.
That's exactly what Jhené Aiko does with the release of her third studio album, CHILOMBO. Titled after her official last name, she brings an aura of zen and tranquility with her mellow melodies, with tracks such as "Surrender" and "Mourning Doves". But, she still brings the sensual vibes mixed in with her hip-hop beats in tracks like "B.S." and "Happiness. Over. Everything. (H.O.E.)".
Aiko's album also features songs done with other RnB and hip-hop artists such as Miguel, Future, H.E.R., John Legend, Ty Dolla $ign, Nas, Dr. Chill, Ab-Soul, and boyfriend of 2 years, Big Sean.
Through CHILOMBO, Aiko takes you on a spiritual journey through the past, present and future. Her psychedelic sounds and melodies walk you through the singer's bitter sentiments of a lacklustre romance, rediscovering her self-worth, passion and purpose, and also coming to peace with the loss of her late younger brother, Miyagi Aiko (1986-2012). 
While you listen to the album, it is best listened to from the first track to the last as the album transitions through each song beautifully, taking you on a 20-track spiritual journey of the singer's grief and healing. According to Aiko's Twitter, crystal alchemy singing bowls in certain keys that correlate to certain chakras can be heard throughout the album. 
The title of the album not only holds meaning for being named after her family name, Aiko also breaks it down into parts of spiritual mantras according to her Instagram. Respectively, here is a list I compiled with each song that I thought falls under each part:
"Lotus - Intro"

"Speak"

"Happiness Over Everything (H.O.E.)" (feat. Miguel and Future)

2.

L - Stands for L.O.V.E. Living On Valued Energy.

"B.S." (feat. H.E.R.)

"None Of Your Concern" (feat. Big Sean)

"PU$$Y Fairy" (OTW)

"Triggered" (freestyle)

"Pray For You"

"Lightning & Thunder" (feat. John Legend)

3.

OM - The Sound of the Universe. "The solution is sound" 

"Define Me - Interlude"

"Surrender"

"10k Hours" (feat. Nas)

"Mourning Doves"

4.

B - Represents the leg and foot…foundation. B is for base; basics; beginnings.

"One Way St." (feat. Ab-Soul)

"Born Tired"

"LOVE"

5.

O - Eternity, infinite wholeness, totality, perfection.

"Tryna Smoke"

"Magic Hour"

"Summer 2020 - Interlude"

"Party For Me" (Ft. Ty Dolla $ign)
Sitting through the whole 63 minutes of the album, it feels like I am entering Aiko's world, so tranquil and serene, yet fun. "Triggered (freestyle)" is a good song to let out the aggression built-up inside me and stress being in a relationship (we've all been there haven't we?). But when I'm in need of a confidence boost or empowerment, "B.S." (feat. H.E.R.) is a great go-to song while I'm putting on my make-up and I can jam out in my room.
If you're looking for a different sound and are a fan of the current RnB and hip-hop music that is out today, CHILOMBO is highly recommended for those who want to get down but lift their spirits up!