A Beginner's Guide to Bullet Journaling
I consider myself a fairly organized individual and my organization has contributed much to my academic success and productivity over the course of my academic career. One of the organizational tools I swear by is a planner. I feel like at this point in my life, I don't think I could live without a planner and/or calendar to manage my appointments, classes, assignments and everything in between. In my high school days, my academic planner served mainly as a homework tracker for each subject in school. But when I came to college, I found that my tasks revolve around things beyond my academics, from things like laundry and cleaning my room to things like meetings to attend, common hour talks, lab work, a job, plans with friends, and office hours. The things I needed to track just seemed to multiply and before I knew it, there was no way to track all that I had in a small homework agenda book. I had to change the way I organized my life.
I stumbled across the concept of bullet journaling around the end of my senior year of high school when I was scrolling through Youtube. I went down a rabbit hole and started watching videos about it. I made this plan in my mind that I should use this strategy in college. I pocketed the idea and almost forgot about it when I was reminded of the idea after I saw an email for a bullet journaling workshop being held by the student life office on campus in the early fall, and better yet, the journals also were provided to the first 30 students who registered. After learning the ropes, from then on, I was able to start my own bullet journal and am still using the method to this day.
So, you may be wondering, what exactly is a bullet journal (also known as BuJo)?
I've had a hard time consolidating what it is into a definition for others because a bullet journal can be whatever you want it to be. In its most essential form, it is a planner that you create by yourself from a blank diary, but it is a bit more personalized because spreads can cater to anything you may need, from habit trackers to calendars, to budgets and playlists. It's a place to both organize and reflect on your life so that you can achieve your goals and feel like you're accomplishing whatever you want to. It's also a great avenue for productive doodling which is a huge plus especially if you are a more artistic and creative person.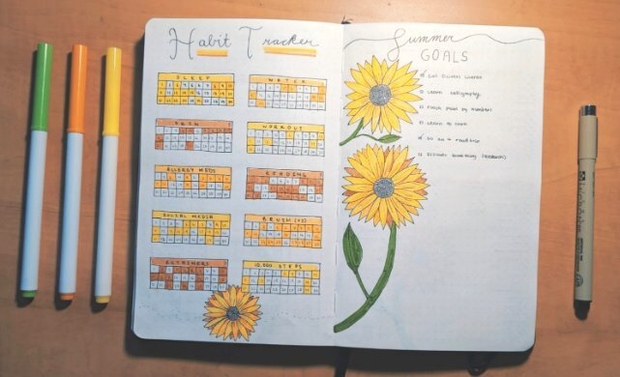 I have been bullet journaling for a little over a year now, and I am currently on my second bullet journal. It took me a while to get the hang of the bullet journaling, from things as concrete as actually creating spreads or just managing time enough to create spreads. I feel like it can be overwhelming to a beginner, so here are some tips and tricks that I found helpful and are suitable for beginners trying to bullet journal for the first time.
Tip #1: Get a dotted journal
I prefer an A5 dotted journal because it helps sketch out doodles, make straight lines, and divide your page pretty accurately. I feel that it's better than the regular lined journals because it's more flexible to create different formats which makes making spreads so much easier. I know some people who prefer grid journals as well.  
For your first bullet journal, you'll notice that a lot of the pros use some fancy blank journals. Don't get caught up in buying fancy materials whether it be journals, pens, or stickers unless you want to! My first journal was pretty high quality, and it was only around $10.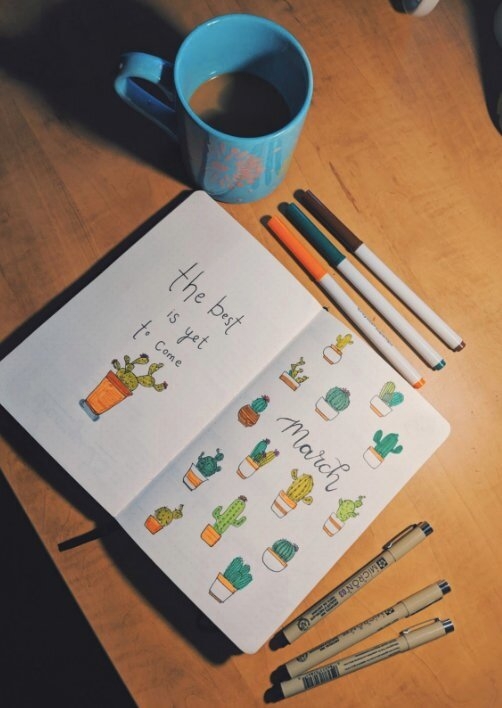 Tip #2: Use the internet for inspiration…but don't get too caught up in it
I find that while I love to doodle, it's hard to come up with a design for a certain kind of spread or a monthly theme. Especially when I was starting, I found I copied a lot of designs from Pinterest, Youtube, and Instagram as opposed to making my own. It was helpful, and even now I often look for inspiration but try to offer my own twist to stuff. But also, there are loads of people who make a living off of bullet journaling and create some excellent and cool looking designs that may look totally impossible to replicate. Just remember not to get too overwhelmed by these types of bullet journals, your bullet journal doesn't need to have Van Gogh's "Starry Night" running through its background.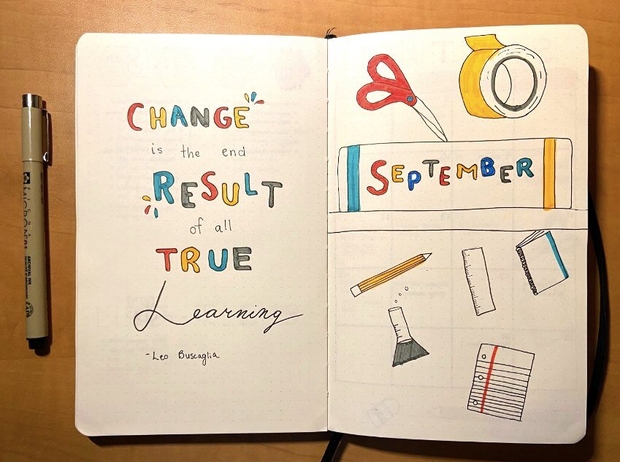 Tip #3: You don't have to be an artist to have a functional bullet journal
I am by no means an amazing artist or a master calligrapher, so I find that every once in a while I'll try to keep my spreads pretty minimal, especially the spreads I use for my weekly to-do lists and calendar. Minimalist styles of bullet journaling are becoming increasingly popular and make it so much more accessible for those who want something personalized yet simple and functional. 
Tip #4: Develop your own key
What makes the bullet journal so personalizable is that you come up with your own system which also can include how to signify tasks as complete or ongoing. This system can be anything you think will help you understand and track your progress with your tasks. Personally, I've found that developing this personalized system has kept my bullet journal organized and understandable to me without much clutter.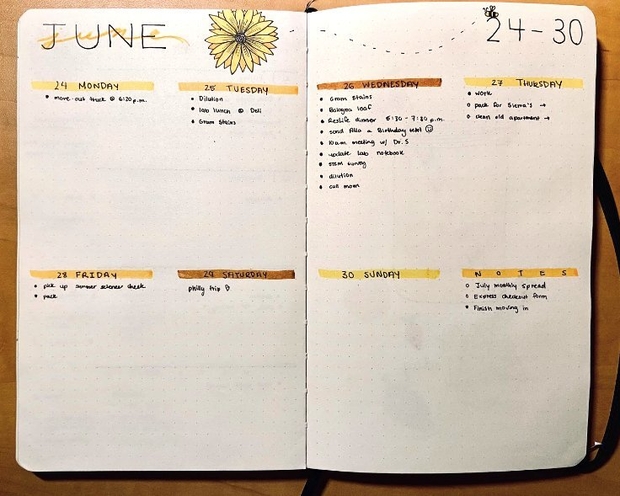 Tip #5: Make time 
I find the first complaint I get from my busy friends is how they don't have time to make such an elaborate planner. This was something I also struggled with at first because I was playing copycat on other people's elaborate bullet journal spreads. I found that keeping spreads simple and making them as I go saves a lot of time. Also, I have started a routine of setting about 1-2 hours on Sunday mornings to make my weekly spreads. This is something I find helps me plan my week and get ready to roll. This has also become something I like to enjoy with friends, so I love to get together with my bullet journaling friends at Wiggin Street Coffee and start our Sunday enjoying each other's company and being productive. Putting in this time early in the week can really set you up for success for the rest of your week!
I feel that college can be a great time to figure out how to organize your bustling life of juggling adult responsibilities. I recommend everyone try to incorporate some of these practices for a more creative and exciting way of organization and planning. I hope these tips are helpful for starting and creating your own bullet journal!