6 Reasons to Celebrate October
October: the month of Halloween parties, pumpkin desserts, leggings, and cool but not yet cold weather. Not to mention the time of year when our scenic campus comes to life, matching those photos on admissions pamphlets that drew us to Kenyon in the first place! But these aren't the only exciting things about October. To enjoy all this month has to offer, check out these monthly observances and the different ways you can celebrate them.
Breast Cancer Awareness Month
Sure, most people are aware that breast cancer exists, but far fewer people take the time to learn about the prevalence of this disease or how to detect it in the early stages. Help further awareness by:
●      Creating an early detection plan via http://www.earlydetectionplan.org/
●      Sharing informational materials such as Beyond the Shock on social media
●      Donating to the cause
●      Holding a fundraiser to help fund mammograms for women in need
Domestic Violence Awareness Month
Domestic Violence has received more attention since the beginning of the NO MORE campaign. However, we still have a long way to go before this violence comes to an end. Spread awareness by:
●      Visiting New Directions' website to learn how you can help a local shelter
●      Making a statement against domestic violence at nomore.org
●      Wearing purple to support #PurpleThursday on October 22
●      Educating yourself and others about domestic violence
Adopt a Shelter Dog Month
Now you finally have an excuse to browse websites full of puppy photos and share all the pictures you want of those adorable shelter dogs. Celebrate Adopt a Shelter Dog Month by:
●      Liking the Knox County Animal Shelter's Facebook page
●      Volunteering at the local animal shelter to walk dogs
●      Sharing photos of shelter dogs to help find them forever homes
●      Donating dog food, toys, treats, or other needed items to the shelter
P.S. The dogs pictured above are from the Knox County Animal Shelter and have been there for over 100 days. Share their photos to help find them an owner before the warden experiences "pressure about these dogs." I don't know exactly what this means, but it sounds ominous so share the cute puppy photos!
Vegetarian Awareness Month
Meat-eaters love to mock vegetarians, but during October, veggies reign! It's time to appreciate our vegetarian friends by:
●      Pledging to become a vegetarian for a month, a week, a day or a meal (hey, whatever you can manage).
●      Hosting a meat-free dinner for your vegetarian and/or non-vegetarian friends.
●      Trying some vegetarian recipes.
●      Talking with a vegetarian about why he or she became a vegetarian.
Sarcastic Awareness Month
That's right. Your friends will appreciate your witty comments even more than usual this month, so flex those sarcasm muscles and celebrate October by:
●      Taking advantage of every opportunity for a sarcastic remark.
●      Watching Friends on Netflix and enjoying Chandler's sarcasm.
●      Searching the Internet for wonderful comments such as 31 Sarcastic Comebacks.
●      Bragging to your non-Kenyon friends about all the things you can do in Gambier.
Pizza Month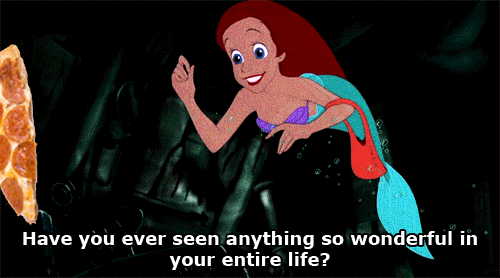 How could you ever pass up a the chance to eat pizza? Celebrate pizza month by:
●      Ordering pizza of course!
●      Making a homemade pizza.
●      Hosting a pizza party with friends, teammates, or club members.
●      Getting creative and baking your very own fruit pizza.
If you complete all of these activities and want to know more ways to celebrate October, don't worry! National Day Calendar has got you covered. The website lists all the daily, weekly, and monthly observances so you can find a reason to celebrate each and every day of October.
Sources: Giphy.com, Drpetersenobgynal.com, Metro.co.uk, Fix.com, Rccgc.com, Facebook.com