When it comes to the life of a busy college gal, cooking dinner tends to be something of a luxury. Planning, grocery shopping and prepping… yikes, who has the time? Enter: meal delivery services. But, it seems the options when it comes to meal delivery services are endless. After a few weeks of trying out Hello Fresh, I decided to give Home Chef a try, so I have the scoop for you.
While Home Chef may not be the most popular meal delivery service in America (Hello Fresh takes the cake there), it is actually the #1 rated in America, and since I already knew I enjoyed Hello Fresh, you can see why I was eager to try Home Chef.
The first thing to note is that the prices on Home Chef are considerably lower than other meal delivery services, with meals starting at just $7.99, it's about in line with what you might spend on a quick meal from Panera or Chipotle. Of course, it does cost more than if you were to go to the grocery store and buy the ingredients yourself, but as with all meal delivery services, you're paying for the convenience, i.e. no time spent grocery shopping or coming up with meal plans for the week.
Each week, there are 12 recipes to select from, and you can order whichever you choose and however many servings you'd like. This is different from most other meal delivery services in which you select a plan for the number of servings you'd like and pretty much stick to it each week. I do appreciate the flexibility here as being a college student, each week looks a little bit different for me, and I may be cooking more at home one week than the next.
As for the recipes themselves though, I'd say they leave something to be desired. Of the 12 offered each week, only three are vegetarian. I am pescatarian, so I didn't find it to be a huge issue for me, but I definitely would have appreciated more meat-free or seafood options. However, Home Chef does allow you to customize your meals, meaning you can swap the protein (often for a small upcharge). This is helpful for anyone following a meat-free diet as tofu and beyond meat patties are often available substitutions. My first week I selected two serving each of three recipes: Tuscan-Style Tomato Shrimp Penne, Crispy Korean BBQ Tofu Tacos and the Hot Honey Salmon which came to a total of $53.94.
Home Chef allows users to schedule delivery on the day of the week that works best for them. On delivery day the order arrives in a box with ice packs to ensure all the ingredients stay cool and fresh. I was a little concerned about this as my order contained both shrimp and salmon, but everything was perfect when it arrived as if I had just picked it up at my local grocery store!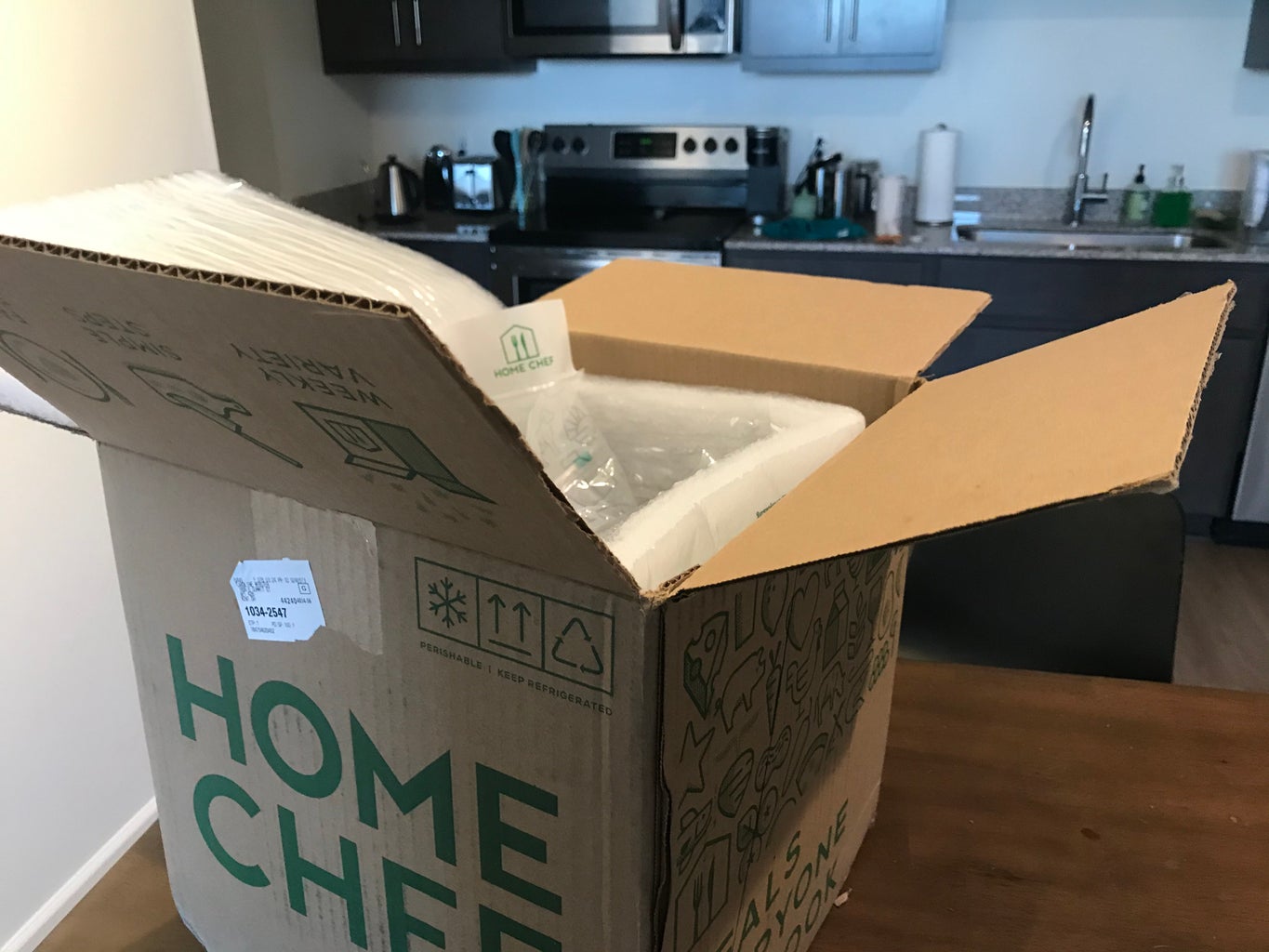 The protein (in my case shrimp, tofu and salmon) is packed separately, which is nice because meat and seafood are obviously more temperature sensitive than other ingredients. Aside from the proteins though, everything needed for each meal is divided out into separate bags, which makes it easy to pull out just what you need when you're ready to get cooking.

I first tried out the Shrimp Penne, which came with precooked penne, making it a super simple and quick recipe. My boyfriend and I made it together and decided to add some sliced grape tomatoes and a bit of red pepper chili flakes to give it a boost of flavor, and it came out delicious! We loved the meal, and even though we were starving (we made it at the end of a long day) it still was definitely was enough for the two of us.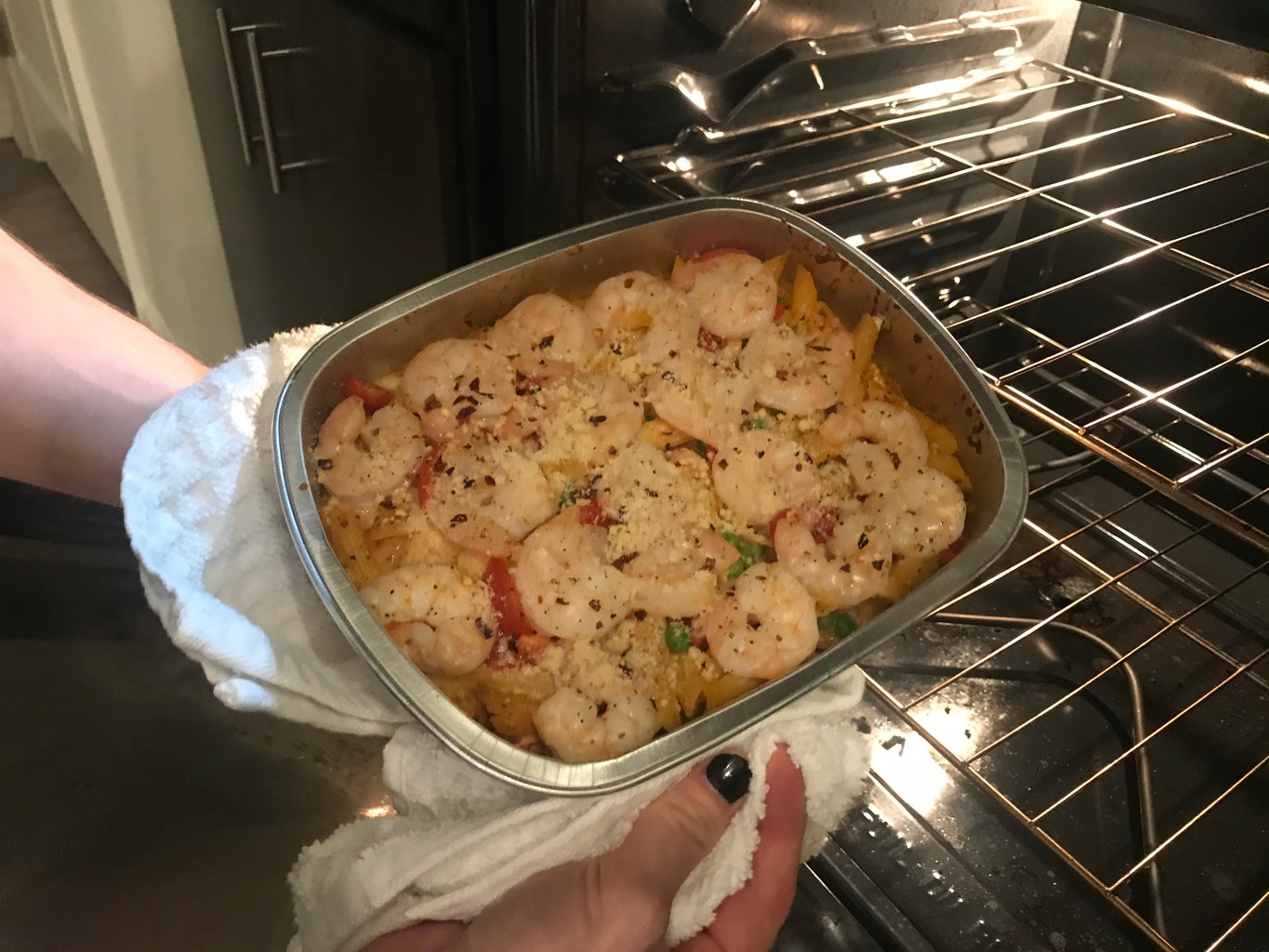 The next meal I tried out was the tofu tacos. I invited my vegetarian friend over to make them with me since she is a pro when it comes to cooking tofu just right. They turned out crispy and delicious, just as the recipe card said they would! And although I was afraid to cook tofu, the instructions were clear and the method was simple enough, I really think I could have done it without enlisting the help of my friend – but where's the fun in that? We even got a little creative by adding lime juice and some homemade pickled red onions I had on hand.
The first two meals were a big hit but unfortunately, the last meal wasn't quite so much. Consisting of just a salmon filet, zucchini and tomatoes (along with rubs, seasoning and honey of course), the honey salmon meal wasn't quite what I'd call a meal. In defense of Home Chef though, this is one of their "carb conscious" meals, so perhaps this would work for someone following a strict low carb diet, but it just wasn't going to cut it for my boyfriend and me. Luckily, he's a bit of a chef (shout out to you Alec xoxo) so he whipped up some crispy seasoned potatoes as a side dish, and it rounded out the meal quite nicely!
Overall, I think the meals are great, just be careful not to choose carb conscious (unless of course, that's something that will work for your diet and lifestyle). Some could use a little extra in the way of seasoning, I did notice myself adding a dash of this or a squeeze of that here and there with all three recipes, but that's just my personal preference. I do apricate that the meals are not overly complicated, so anyone can make them and there is the freedom to add your own twist to just about any recipe.
I think the pros and cons of meal delivery services can be debated (as you are paying more than grocery store prices but as I said earlier, you're paying for convenience) however, for those who choose to use meal delivery services, Home Chef is definitely worth a try. They even offer a discount for college students, check it out and happy cooking!