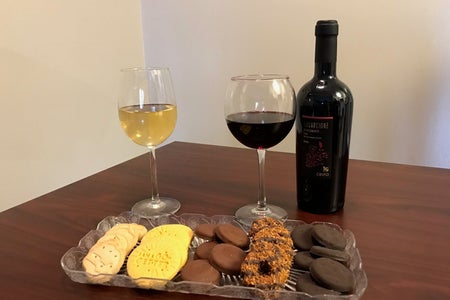 5 Girl Scout Cookie and Wine Pairings, Because We Are Adults
Growing up, Girl Scout cookie time was always so exciting. I loved going door to door through the neighborhood, schmoozing my teachers into buying boxes from me and of course insisting my mom post for all her Facebook friends to see that I was selling cookies. I may have been a bit too competitive, always scheming to sell the most boxes in my troupe (what a surprise that here I am over a decade later minoring in business - who would have thought?) but I do remember that selling aside, I loved the cookies themselves - who doesn't? Fond childhood memories always come up for me when I see Girl Scouts setting up their booths outside the grocery stores. This year I picked up a couple boxes of my favorites, and then went on into the grocery store straight to the wine section to hunt for the best pairings because I am no longer a Girl Scout but a grown-up, and what pairs better with cookies than wine? Nothing, as evidenced by 6 Christmas Cookie and Wine Pairings You Need to Try. Being a grown-up adult though, I have a budget to stick to, as I'm sure you do, too! Read on to find the perfect under-$15-a-bottle wine to pair with your Girl Scout cookies.
With so many pairings to choose from, you're sure to find a new favorite duo and hopefully, are inspired to start mixing and matching to create your own pairings. The more you taste, test and learn, the easier and more exciting it becomes!