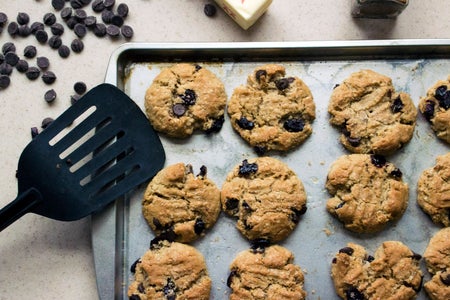 6 Christmas Cookie and Wine Pairings You Need to Try
Christmas cheer, cookies and wine, what's not to love about this pairing? Take your evenings spent making cookies to the next level by choosing the perfect wine to complement these classic holiday cookies.
1.

Iced Sugar Cookies and Prosecco

Sugar cookies are a Christmas staple! Prosecco pairs nicely with these over-the-top sweet treats as the acidity of the prosecco cuts through the creamy, rich taste of the cookies, creating an ideal balance. Plus, a bottle of bubbly makes the perfect addition to any holiday party.

2.

Shortbread Cookies and Chardonnay

"Shortbread and chardonnay," has a nice ring to it and makes for a great pairing. Shortbread cookies are simple and known for their buttery flavor, so choose a chardonnay that has been aged with oak and brings out subtle vanilla flavors that will pair beautifully with a classic shortbread cookie.

3.

Gingerbread Cookies and Riesling

This is an interesting pairing and makes a good argument for the phrase opposites attract! Rieslings are typically light and sweet, while gingerbread cookies are full of strong spices. This pairing works so well for two reasons: the sweetness of the Riesling compliments ginger really nicely and Rieslings have a very smooth texture to them, which is a perfect contrast to the rough, almost gritty texture that gingerbread cookies often have.

4.

Chocolate Peppermint Cookies and Cabernet Sauvignon

Red wine and chocolate are the perfect pair, but I'm sure I don't have to tell you that! For a chocolate peppermint cookie, getting a bold full-bodied red is key so that the strong minty flavor doesn't become overpowering. Cabernet Sauvignon also has a higher acidity, so it will balance out the sweetness of the chocolate like prosecco does for sugar cookies.

5.

Peanut Butter Cookies and Pino Grigio

When I first heard of this pairing, I'll admit I was a little skeptical, but it is a must-try. When thinking of a wine to pair with a bold flavor like peanut butter, reds probably come to mind first. While the rich, full-bodied flavor of a good port or even a red blend would be great, Pino Grigio is a refreshing alternative to provide contrast, yet still has a strong enough taste to hold its own against the peanut butter flavor.

6.

Thumbprint Cookies and Rosé

While rosé is typically more of a summer wine, the bright, floral and fruity flavors in it make for the perfect complement to those jam-filled thumbprint cookies we all love for the holidays. A strawberry jam-filled cookie would taste (and look) amazing alongside a glass of rosé!
If you're ready to take your holiday baking to the next level, these pairings will help. Plus, you may need these cookie compliments to survive the family gatherings you will inevitably have to endure!