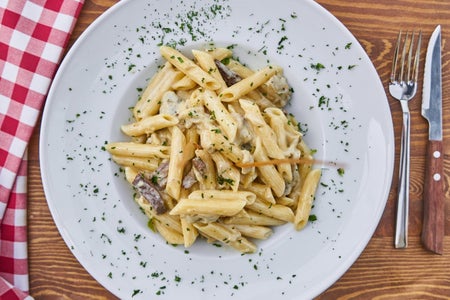 Trying A Pinterest Dinner Recipe
Sometimes it is so hard for me to find new dinner ideas, so I tend to try new recipes from Pinterest. I recently tried a Cajun Chicken and Sausage Alfredo Pasta. This recipe was so quick and easy to make you can add, remove, or substitute any ingredient that you'd like not to mention it was delicious!
Ingredients needed:
1 pound of chicken cut into bite size pieces and your choice of seasoning for your chicken
Smoked sausage (of your choice) 
1 pound of penne pasta
2 ½ cups of heavy cream 
4 oz of freshly shredded parmesan cheese
1 qt of chicken broth 
Minced garlic
4 tablespoons of olive oil
Cajun seasoning (if desired)
Parsley (if desired)
Now on to the cooking instructions! 
Step 1: Start with seasoning the chicken and placing it in a large pot (with the lid) and brown with olive oil over medium high heat
Step 2: Add your sausage to the pan and continue to cook until lightly brown
Step 3: Stir in garlic for about two minutes or so
Step 4: Then add the chicken broth, heavy cream, the dried pasta, and Cajun seasoning into the pot
Step 5: Stir everything together and bring to a simmer with medium to high heat
Step 6: Once it's simmering you'll want to reduce the heat to low and let everything cook COVERED with lid for about 15-20 minutes or until your noodles are soft
Step 7: Once your noodles are soft; you can remove pot from heat and slowly stir in the parmesan cheese
Finally, you are ready to eat! Once on your plate, you can add more parmesan, parsley, and Cajun seasoning to your liking. I hope you enjoy!