Review: & Juliet at Shaftesbury Theatre
Booking cheap tickets through Shaftesbury Theatre's website, I went to a night performance not really knowing what to expect other than some pop songs, advertised on posters in tube stations. Note: this article will include spoilers, so if you are reading and haven't seen the play yet I would just like to say that if you like a cheesy play, then this one is definitely for you, and please, for your sake, do not proceed to read this article. 
I love traditional performances of Shakespeare's plays, including Romeo and Juliet, but what attracted me to go see this play, other than the promise of some classic Britney Spears songs of course, was the fact that it was going to be a different take on this. That's literally the only other thing I knew. I particularly liked the way the story was subverted, allowing Juliet not to kill herself, and then having another twist that Romeo didn't actually die. Yet what I didn't like was how Romeo was made into a womaniser. I mean, yeah, he did 'love' Rosalina at the beginning of the Shakespeare play and then 'love' Juliet as soon as he saw her, but I wouldn't say this made him into a womaniser like how this was dramatized in the play. A few girls I could have possibly dealt with, but not the amount of girls Romeo was portrayed to be with in this play. I also found it unusual how the characters of Shakespeare and his wife were both writing the play and at the same time in the play itself, then by the end Juliet was her own character and out of the play. Don't get me wrong, I loved the empowerment of Juliet by the end of the play, but did not having her as a character of the play, which ultimately, she is, add to this empowerment?
Now, I also enjoy musicals, and I do like cheesy pop songs, especially Britney Spears who was a singer I would constantly listen to when I was younger, so I was interested to see how these songs would be used in the play. I never realised, until seeing this play, how many pop songs can actually be made into a narrative, into a story, which was actually very interesting to see performed, and it did work. However, I felt that there were too many songs that they utilised as replacing a verbal narrative, and at times it became too cheesy. Still, the performances themselves were fantastic, with amazing singers and talented dancers.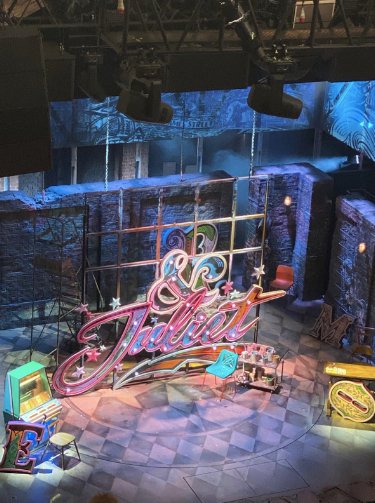 (Photo by: Leyla Mehmet)
If you want to see a non-traditional Shakespeare play with some pop songs that you can sing and dance to, in your seat of course, then go and see a performance of this play!