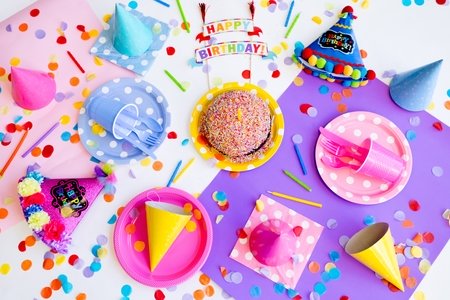 Making the Most of your Birthday During Lockdown
Celebrations and a pandemic don't exactly fit together at the best of times, let alone during a national lockdown. But that doesn't mean that celebrations are off the cards! It may not be the birthday you had in mind, but with a few simple tricks, you can still get the most out of your special day. 
1. Get outdoors
There may be a national lockdown taking place but as it stands you can go for unlimited walks and meet up with one person that isn't from your household. Outdoor markets are still open too, so you can even organise a birthday shopping trip to treat yourself. London's abundance of parks are also a great way to see a friend or family member while taking in some lovely views, not forgetting some of London's best walking routes as well! Southbank has recently added takeaway food and drink trucks to its communal spaces, including takeaway alcohol.
2. Decorate!
Seeing as some part of your day will likely be spent indoors, there is even more reason to decorate your room or flat extra special. If you are into arts and crafts then there is an abundance of DIY inspiration on Pinterest and Instagram. If not, there is plenty of reusable and affordable decorations available online. You can get creative with fairy lights, balloons, banners, candles, and confetti. You can play around with colour schemes and any themes you might have in mind; break away from the norm and go bold and bright or stick to classic colours like black and white. There is an endless list of colour coordinations.
3. Dress up
You may not be going to your favourite bar, nightclub, or restaurant but there is still every reason to feel like your absolute best. After all, getting dressed up to stay in is the new lockdown normal. You can even go all out and do fancy dress if that's more your style. Whether its your favourite party dress, your most expensive lipstick, or that new top you haven't worn yet – do whatever makes you feel amazing! Capture the moment and take some pictures of you feeling like your absolute best!
4. Quality time
Your birthday is the perfect time to take some time out from the mundane and take a break. If there is one day to allow yourself freedom from that essay, it is your birthday. You can spend your quality time in a variety of ways. This can be watching your favourite films, listening to your favourite music and having a dance with your flatmates, speaking to family and friends on Zoom or getting up early to watch the sunrise; allow yourself freedom from the mundane and do something just for you!
5. Treat yourself
If you can't treat yourself on your birthday then when can you? You can treat yourself with a gift and buy yourself that new outfit you've wanted for weeks, gift yourself a new perfume or buy yourself flowers – show yourself some self-love and do something that will make your day extra special, all for you. Nevertheless, it does not have to be a physical gift; you can treat yourself to a bubble bath or bake yourself the perfect birthday cake. Treat yourself in whatever way suits you best! 
There is no reason why a birthday in lockdown should be any less special than any previous year. Make your celebrations count in whatever way works for you!