As summer nears, so does the anticipation and hope that daily life might start to feel just a bit more 'normal' thanks to the new Covid-19 vaccine (and by normal, I mean pre-Covid-19). That being said, an increase in the number of vaccinated individuals might not ensure our ability to all head back to the library, the office, or to our favorite cafe to get our work done. There is a chance that some of us may continue to work from home through the summer. Whether you will be studying for exams, working on your dissertation, starting a new job, or doing whatever you may do at your desk, adding these four items to your home office this summer will help to keep you comfortable and motivated, even with blue skies and sunshine right outside your window.
1. A comfortable chair
A comfortable chair for you to sit in is truly essential, because it will enable you to sit for long periods without massive discomfort, allowing you to be more productive. For the last seven months, I have completed all of my university work while sitting in a squeaky, hard, plastic, fold-up chair. After suffering from stiff and sore muscles for months, three weeks ago I finally said 'enough is enough' and began searching Facebook Marketplace for a used office chair. Two days ago, I travelled home with my new chair – that I purchased for only £20 – via the Tube (yes, I disinfected the wheels after) and it was worth it. Not only is my new chair spinny, complete with armrests, but the cushioning is also very comfortable. I can see myself sitting in it for hours with no problem, which will be perfect this coming summer as I complete my dissertation and work part-time from home. Facebook Marketplace is a fantastic outlet to find yourself a used chair at a great price, and in your area! I would have loved to invest in one of those brightly-colored, velvet, cushioned bedroom chairs but they do tend to be more expensive than a used, generic office chair.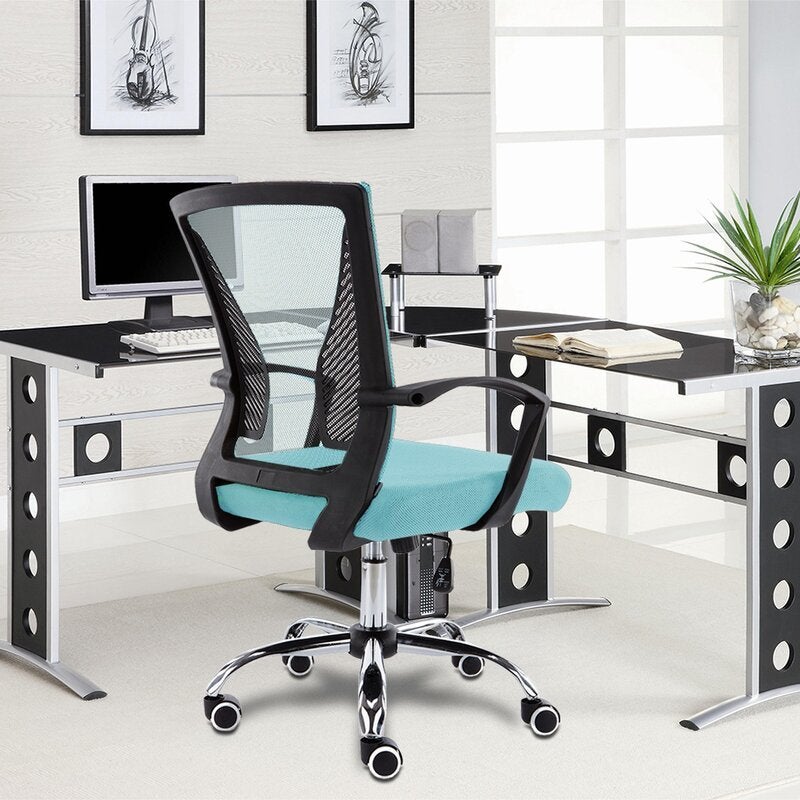 2. A wireless mouse 
I only ever associated mice with desktop computers and so I didn't know what I was missing until I was gifted a wireless mouse to use with my laptop. Using a mouse is far more comfortable than using the small scrolling pad on a laptop – no more cramping fingers! Also, if your mouse is wireless, you have the freedom to sit further back from your laptop, whether to improve your posture or keep your eyes farther from the screen. Ideally, your screen should be about an arms-length in front of you to prevent eye strain. Luckily, great quality and highly rated mice are very affordable on Amazon. Check out the links at the end of this article.
3. A laptop stand
Another great item that can help prevent eye strain is a laptop stand. Your laptop or monitor should be at, or slightly below, eye level. In this position you won't be looking down, up, or to the side – just straight ahead of you. It is nearly impossible to look straight ahead when using a laptop because they tend to be no more than a foot or so in height. Therefore, it is likely that, as you work on your laptop, you're looking down, straining your eyes, neck and shoulders. Looking down also promotes bad posture. A laptop stand will allow you to raise the height of your laptop and subsequently work with less pain and strain. I was gifted a laptop stand and I now have a hard time using my laptop when it is not at eye level.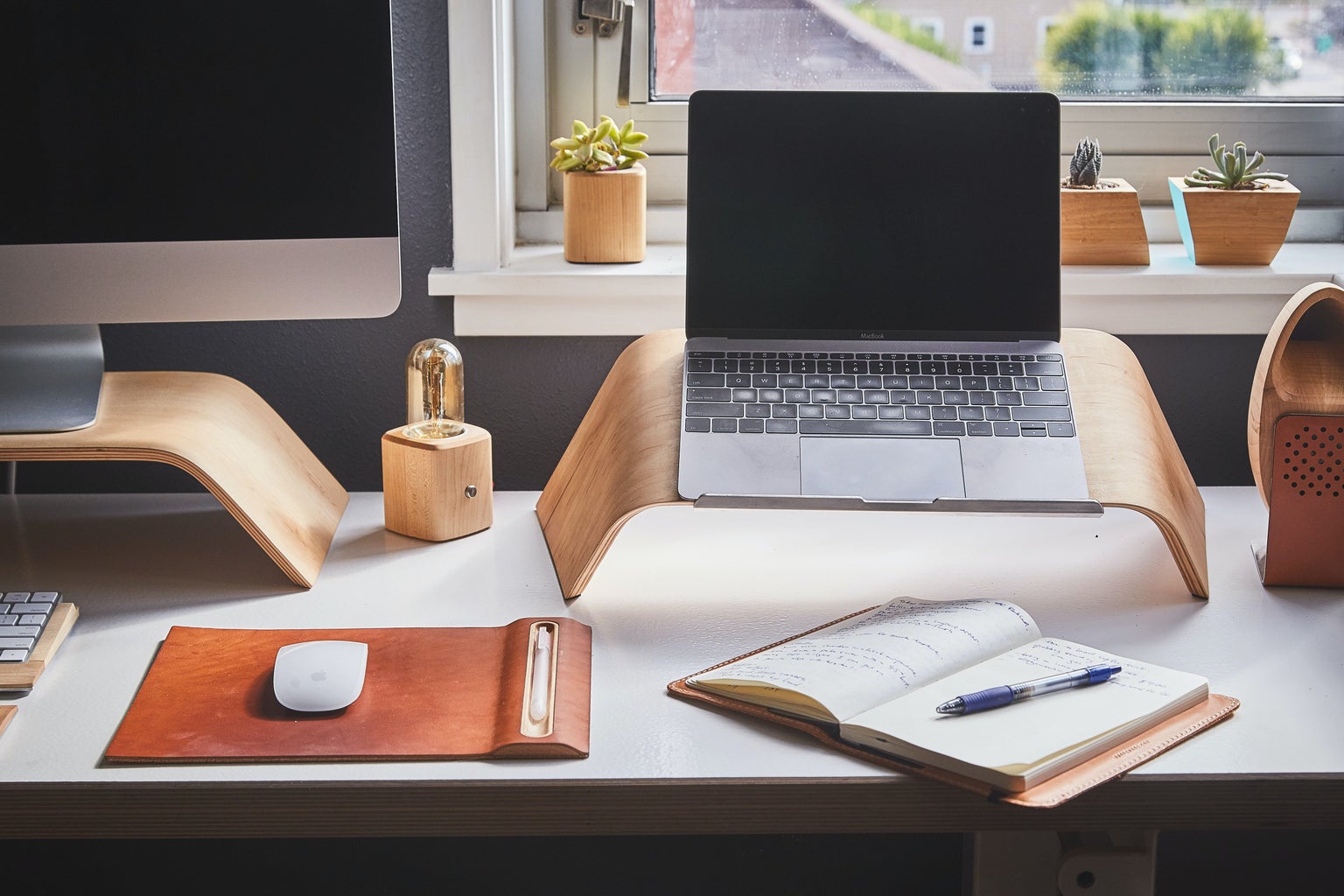 4. A coaster
This may seem like a funny item for office improvement, but it is essential to keep a coaster on your desk. Not only will it prevent water ring damage on wooden surfaces, but it will also help to prevent summertime condensation on your glass from puddling and potentially damaging your computer, cellphone, books, notes, etc. I have also noticed that because I keep my coaster on my desk in the same place every day, I am accustomed to its position and don't risk accidentally knocking over my glass of water or mug of hot tea. If anything, keeping a coaster on your desk will serve as a reminder to stay hydrated as you work furiously through the summer months!
Here are the links to these items on Amazon UK to get you started: (This article is in no way affiliated with Amazon)
Black office chair
https://www.amazon.co.uk/dp/B08Y87T92T/ref=cm_sw_em_r_mt_dp_YAC272EGPHDTD73CY25B 
Turquoise/Golden velvet chair
https://www.amazon.co.uk/dp/B084NWFWLQ/ref=cm_sw_em_r_mt_dp_QW6P1BF76TCYQ3N5NJCY?_encoding=UTF8&psc=1 
Wireless mouse
https://www.amazon.co.uk/dp/B01ESZJSUK/ref=cm_sw_em_r_mt_dp_XBTTCAD8FSVWRGG040VT
Sleek & quiet mouse (I have it and highly recommend)
https://www.amazon.co.uk/dp/B07GRSCVXC/ref=cm_sw_em_r_mt_dp_J0DCWDYKZ6JMKB0V0170?_encoding=UTF8&psc=1 
Foldable laptop stand (I have it and I am obsessed)
https://www.amazon.co.uk/dp/B08FMBT773/ref=cm_sw_em_r_mt_dp_KEH0DK2AHH186H31CD41 
Black silicone rubber coaster non-slip
https://www.amazon.co.uk/dp/B073ZQFKV4/ref=cm_sw_em_r_mt_dp_H1QXWQ6G2F0T0ZC03WP9