Hosting the Perfect Friendsgiving
Thanksgiving is meant for gossiping while eating massive amounts of food, and what's better than experiencing that with your friends instead of dealing with those distant relatives? Between the mess and the expense, hosting Friendsgiving can be an intimidating affair, which is why I found a bunch of tricks to make hosting easier and more fun. With more students staying on campus over break, here are five tips to make sure all your friends get into a food coma and no one misses home.
1. Set the Vibe
Create a fun playlist to keep everyone in good spirits and energy high; just try and resist the urge to add Christmas songs. Also, set the scent with fall candles that will greet your guests with a welcoming aroma upon their arrival.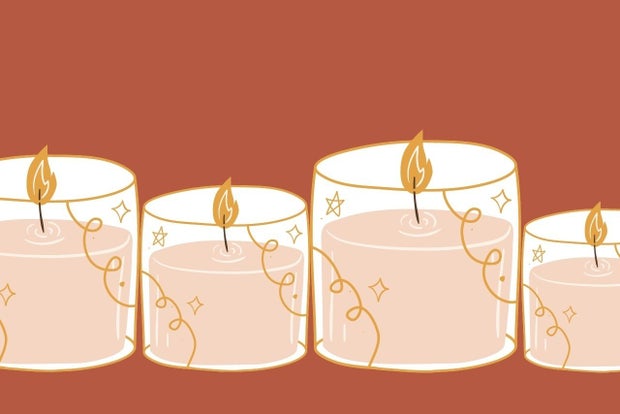 Illustration by Sketchify in Canva
2. Decorate 
Decorations are a must and you don't have to break the bank to find the perfect ones! Turn pumpkins into adorable flower vases by just carving a hole in the top and adding your favorite flowers. Pumpkins are an inexpensive way to add a pop of color and a seasonal feel to your home. Or, paint some pumpkins and turn decorating into a fun DIY activity to keep everyone entertained. Either way, you'll have super cute pumpkin centerpieces in no time. 
3. Host a Potluck
I'm not saying it's bad to have four bowls of mac 'n' cheese, but then who's gonna bring the pumpkin pie? Hosting a bunch of hungry, thirsty people in your home is overwhelming enough. Assign everyone a dish to bring and make it clear that there can't be too many repeats. Make sure you cater to all special diet restrictions like including gluten-free and vegetarian options! PRO TIP: Share a Google doc with your friends for sign-up, so everyone knows who is bringing what!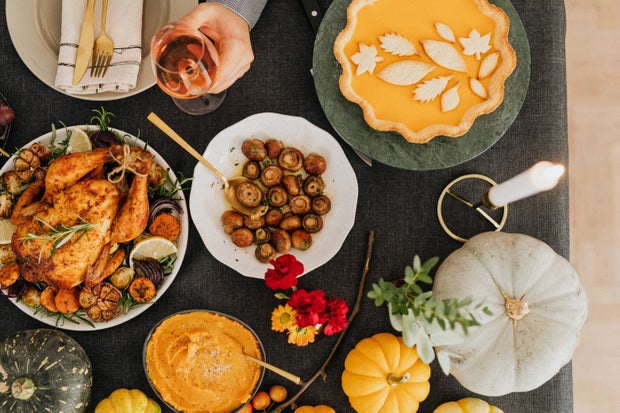 Photo by Karolina Grabowska from Pexels
4. Have Enough Food and Drinks... Especially Drinks
You may think three bottles of wine split between five people is enough, but think again! Make a big batch of cocktails in a large bowl or to cut down on costs, you can always assign each of your guests to bring a certain type of wine. Champagne is always a great place to start. Or, make a fun festive holiday cocktail! The cocktial (and mocktail) world is your oyster.
5. Have Snacks and Small Plates on Hand
Snacks are essential, especially when you are having a few friends over who will be eating and drinking all night. A fun idea is to make a whole meal out of bite-sized versions of classic Thanksgiving dishes! If you don't have a ton of room to seat all your guests around a big table (or if you don't even have a table at all), passing around a bunch of bite-sized appetizers is a great option. Plus, you'll reduce the amount of dishes you'll have to eventually wash. For example, mini mac 'n' cheese bites and turkey baked sliders are super easy to make, but hard to resist.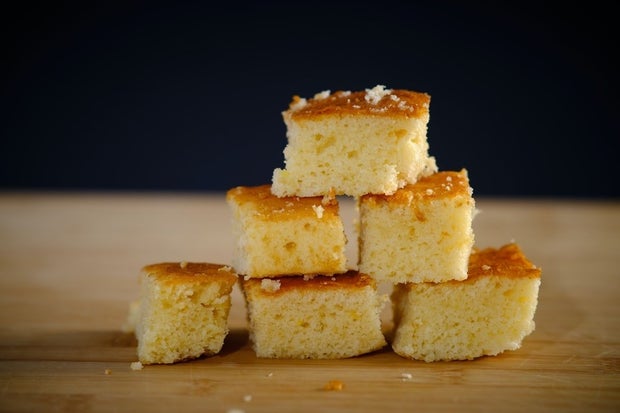 Photo by Jose Luis from Unsplash
Happy holidays and have the best, most stress-free Friendsgiving ever!