Each time we enter a new season, our skin endures a tough transition. The year 2020 has thrown another curve ball at our skin as we're now wearing masks all the time. This fall, you may need to make some adjustments to your skincare routine to minimize breakouts. Here are three tips that can help you reduce breakouts this season and make your skin radiant and clear. 
1. SPF
Even though it seems like the sun is harmless right now, it's still super important to keep using SPF every season. According to David Lortscher, a dermatologist and CEO of Curology, sun protection should be part of everyone's skincare routine year-round. Although the days are getting colder, harmful UV rays can always reach us. An easy way to make sure you're getting your SPF is to use a foundation or tinted moisturizer that has SPF in it. I recommend the "It Cosmetics" CC cream for this purpose because it's both full coverage and has SPF 50 in it. If you're looking for a facial moisturizing lotion with SPF, I'd recommend the CeraVe Facial Moisturizing Lotion with Sunscreen. It helps keep your skin hydrated throughout the day and also has SPF 30, which is the recommended amount of SPF.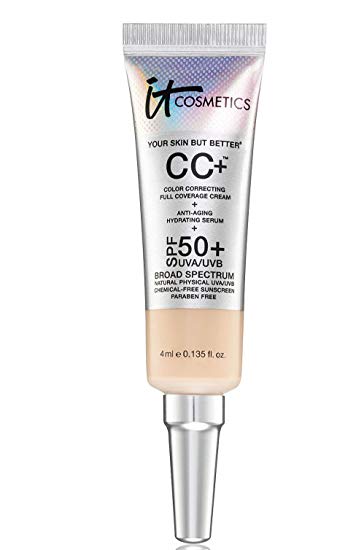 2. Stay Hydrated
Our skin will start to feel the consequences of the cold weather soon, so it's extra important to stay hydrated this fall. According to Forefront Dermatology, as the cooler air arrives, the humidity levels drop and cause your skin to lose the natural moisture leaving you with dull, dry skin. To combat this, it's extra important to stay hydrated throughout the day. Drinking water can help prevent dry, flaky, itchy skin. Also, as the temperature drops, increase the amount of moisturizer you use. If you're currently using a light-weight moisturizer, I suggest switching that out with a heavier, cream-based lotion. I recommend using the CeraVe Daily Moisturizing Lotion, that includes three essential ceramides and hyaluronic acid. If you have extremely dry skin in the fall and winter, I recommend using the Ultra Repair Cream Intense Hydration Cream made by First Aid Beauty. This moisturizer helps hydrate dry, parched skin. There are so many different types of moisturizers on the market, so it's important that you find one that works for your skin type!
3. Wash Your Masks
If you're experiencing new breakouts due to wearing masks all the time, you might want to try washing your reusable masks after each use or using a fresh disposable mask each day. Washing your masks after each use will eliminate bacteria that can cause breakouts. According to Andrew Alexis, you should also apply a facial moisturizer before putting on your mask to ensure a healthy skin barrier. Also, when wearing masks, you should try to limit make-up use to further avoid breakouts.