Amid a display framed by flashing fluorescent orange and yellow lights, students gathered on Howard University's Blackburn Terrace for the launch of Coach's Wear Your Shine: The Tour.
The event was the first of 19 stops on Coach's Wear Your Shine tour, a tour designed to showcase Coach's new Shine Collection bags and inspire people to #WearYourShine by shopping the collection's metallic purses and apparel while exploring their brightest potential.
"[Coach's Wear Your Shine: The Tour] is about representing parts of you that shine, and definitely it's outreach and also bringing brand awareness," says Shane Jesudason, assistant manager at a Coach outlet in Maryland who helped with the pop-up shop.
Coach is aiming to let a younger audience know that "there is a place for everyone at Coach," Jesudason says. "Everyone can identify and exude that [shine] in their daily life whether it's college, or whether you leave college, and whatever you do in future career paths."
As part of this outreach, almost all of the tour stops are on college campuses. The centerpiece attraction on the Blackburn terrace was a carousel-like art installation covered in mirrors, and lights, and crowned with a lit-up orange Coach sign. Students posed for photos to the tune of upbeat rap music from speakers nearby.
Others stood in line for their choice of a complimentary tea, hot chocolate, latte or mocha topped with milk foam and dusted in a cinnamon design of the Coach logo.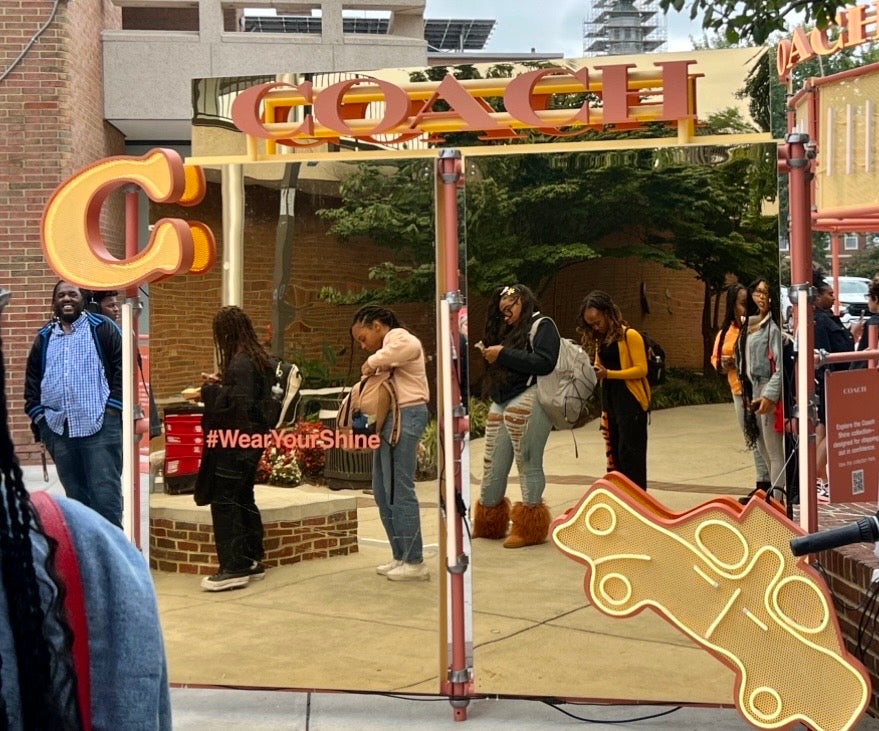 One of these students, Shjan Carter, a senior marketing major at Howard, says she enjoyed the event. "I like the two different [pieces], there's coffee and then there's an interactive piece," Carter says. "And I like how you can see the brand, the Coach logo, all the way across the yard."
Jada Edwards, a first-year business management major at Howard, echoes these sentiments.
"I like the lights and the mirrors," Edwards says. "I think they took a lot of time and put a lot of effort into it."
Morgan Stephens, a sophomore broadcast journalism major who's a social media team member of the Howard chapter of Her Campus, says the event gave students exposure to high fashion they might not get otherwise.
"People [at Howard] come from all types of backgrounds and childhoods and some people probably never even experienced holding a Coach bag or even seeing one up close and personal," Stephens says. "So I think it gives people the opportunity to think out of the box and give them that type of thing [that] shows them that these things are possible."
Stephen's fellow Her Campus member, Kiyona Turner, a sophomore broadcast journalism major and an event coordination team member of the Howard chapter of Her Campus, says she felt the same.
"I just feel like it's a beautiful opportunity," Turner says. "I'm part of the [Her Campus] event coordination team but I also took this as an opportunity for myself to strengthen my social media and content creation skills."
"I also love the display because I was actually looking to get another Coach bag," Turner says. The display included a heart-shaped fuchsia bag, metallic silver bags, and even a gold bag in the shape of a bunch of bananas, the event was an opportunity for Turner to check out new purses she wanted to add to her collection.
From the display to the sweet refreshments, Lauren Mun, a business development associate at Her Campus, says she enjoyed the event through and through.
"With really cool opportunities like this, especially in-person experiential and having that Her Campus Chapter presence here, it helps a lot of people just learn about what it is to get involved," Mun says.
Molly Hogan, the Her Campus campus and influencer marketing team senior manager says that the event also showed her the similarity between Her Campus and Coach's Shine Campaign.
"I think the underlying message of [The Shine Campaign] is confidence, which is something that I think Her Campus is always striving to promote especially amongst people in the college community," Hogan says.
Hogan says that the event allowed students to experience what it's like to make connections with brands.
"Things like this are invaluable learning opportunities for brands so I'm hopeful that, again, both of those separate entities have learned from one another thoroughly," Hogan says.