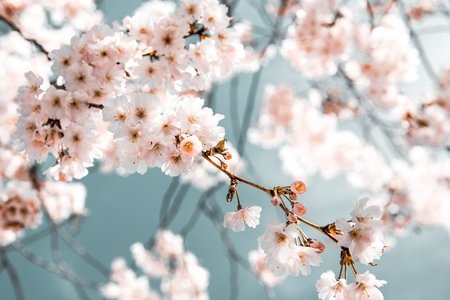 Top 10 Prettiest Spots on Hofstra's Campus
When I first visited Hofstra as a prospective student, the first thing that struck me was how beautiful the campus is. It was the summertime, so of course there was some bias, but I still knew that I felt like I belonged there. As the semesters rolled by, I've found some pretty wonderful spots. Whether you're alone and need some meditation time, with friends, or just want a bit of beauty on your walk to class, here's a list of the top 10 prettiest spots on Hofstra's campus!
1.

All of Campus During that One Week of Spring

If you've seen this campus during the springtime, you know exactly which week I'm referring to. All of the trees dawn their beautiful shades of pink and white, and flowers begin to bloom after a long, cold winter. You can suddenly wear a t-shirt to class and not be completely freezing! I can smell the flowers just thinking about it.

2.

The Field on North Campus at Sunset

If you're looking for the perfect picnic location, head towards the Fitness Center and keep walking towards a large field opposite of the Coloseum. At sunset, you can see the towers on campus light up from a distance, and the grass becomes a vibrant green. Beware of the geese, though!

3.

The Netherspan at Night

This is one those places where time truly does not seem to exist. Watching the cars drive under the Netherspan at night is one of the dreamiest feelings in the world. It's one of the most calming and peaceful places on campus, and not a lot of people come through there. I, myself, have shared a few good cries on the Netherspan. 

4.

Hofstra Hall during Christmas

Once December rolls around, Hofstra Hall becomes the cheeriest spot on campus! The large tree in front of the building lights up, as well as the building itself. It really encourages the Christmas spirit, and truly gets me through finals. I definitely recommend giving gifts to your friends at this spot to celebrate those Christmas vibes at the end of the semester.

5.

"Narnia" on South Campus

This is another one of those spots on campus that I can smell just by writing about it. The space outside of Mason Hall and Gallon Wing, where the large statue sits among the pine trees is truly, dare I say, chef's kiss. I love walking to class through there, regardless of what season it is! It's called Narnia for a reason. I half expect Mr. Tumnus to walk up to me with a parcel when I'm standing by the statue of that woman. It's the perfect place to sit between classes and meditate. 

The sensory garden. Need I say more? That place is so peaceful and the perfect spot for reading, deep conversations, or just hanging out with the koi. Whenever I'm there, I try to guess the names of all the koi, but quickly forget soon after. All the plants there are beautiful, and it reminds me of how lucky I am to be able to go to Hofstra and see these wonderful plants and animals everyday!

7.

The Roof of Berliner Hall

If you're taking an astronomy class for your science distribution, you're in luck! The roof of Berliner is the perfect spot for stargazing on campus. Make sure to stay on the black squares, of course. Unfortunately, the roof doesn't seem to be accessible to students this semester for safety reasons, so hopefully it will make a grand comeback soon! You can see all of South campus from the roof and it makes a beautiful photo spot!

8.

The Gazebo Outside Mack Arena

Right outside of the arena is a small, wooden gazebo. It's a wondeful spot to sit and chat with friends, or just be alone. Well, you're not fully alone: watch out for the Hofcats! They're so sweet and hang around the gazebo, especially at night. Catch up with some furry friends and enjoy the peaceful setting!

9.

Horse Statue Outside Roosevelt Hall

During my time at Hofstra, I always admired the beautiful horse statue right outside Roosevelt Hall. However, I never knew what it meant. The colors are so vibrant and it's my favorite statue on campus. I actually learned recently that the statue was painted by a study abroad group after they returned to campus. If you're walking to class or Au Bon Pain, stop at the statue for a moment and admire the beauty!

Last but certainly not least, the museum always has some beautiful exhibit on display! It's so wondeful to walk through the building and admire the art. Whether the exhibit shows paintings, sculptures, or photography, you know that you'll always find something beautiful and inspiring! The Hofstra Museum is right next to Emily Lowe Hall and is open to students throughout the week.
We're so lucky to have such a vibrant campus! This is only a few of the prettiest spots; it's also fun to find them yourself and have a space that you know is yours to enjoy. Have fun exploring Hofstra, and don't forget to stop and smell the roses on your way to class!